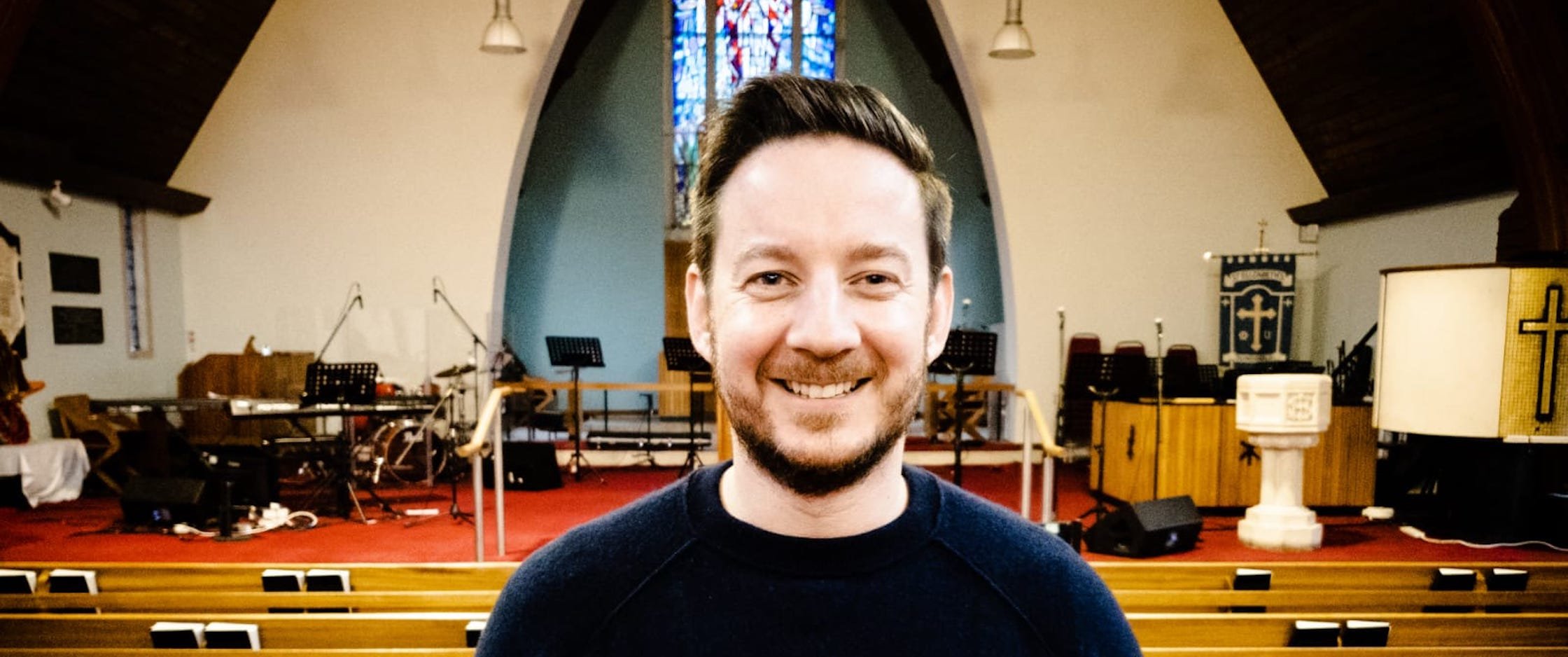 News, views, resources and online events
 Connecting People in Jesus at St Donard's Community Church, Dundrum
At present there is a small yet faithful evening congregation led by Colin Morris. They want others to join them with a new passion for the gospel, a new love for the community and a new excitement to see lives transformed by a faith in Jesus.
Colin says: "In recent weeks we have seen how new shoots are beginning to sprout at our Sunday evening gatherings. However our hope for 2021 is to grow a new Sunday morning gathering that will be a place where all in the community, especially young families, can connect to one another and also to Jesus.
"I'm thankful for the gospel vision and partnership of both Bishop David and Crosslinks as I have taken up my new role whilst also continuing with Crosslinks part time. To be asked to be Community Pastor and lead a new chapter at St Donard's is something that is humbling, exciting and nerve wrecking in equal measure but we trust God in the task he has given us. We pray that in the days ahead St Donard's will be a place that reaches out to others, that grows in discipleship, that cares for one another in fellowship and worships in every aspect of life, for the good of Dundrum and the glory of God."
Meet Colin – "I grew up in Moira and was faithfully sent to every children's meeting going. However, it wasn't until I was 15 that I came to a personal, saving knowledge of Jesus through the witness of friends and peers at my school Scripture Union. I attended St John's Parish, Moira where I was encouraged to explore ministry with young people. This led me to studying theology at Union College, Belfast before taking up roles in Donaghcloney Parish and West Presbyterian, Ballymena as youth pastor and most recently as a staff worker with the mission society Crosslinks. I married my wife Jenna in 2009 before moving to Kilkeel, joining Christ Church there and training as a Diocesan Reader. We have three children aged 6, 5 and 3, all of whom are excited as I begin this new role as Community Pastor at St Donard's Community Church in Dundrum".
Black Santa Appeal 2020 applications deadline extended
The deadline for receipt of applications for funding from Belfast Cathedral's Black Santa Appeal 2020 has been extended until November 27. This year the the 44th year of the Black Santa Annual Appeal, the Dean especially welcomes applications from organisations supporting those who have faced the greatest impact of the Covid pandemic, including charities working in the areas of Mental Health, Unemployment, Care of the Elderly, and the Arts. You can read more and download an application form from the Belfast Cathedral website –
[[] https://www.belfastcathedral.org/news/black-santa-application-deadline-extended ]
Building Blocks Conference moves online
This year's Building Blocks Children's and Family Ministry Conference will take place online on November 7.
The theme is THRIVE: How to self-care and care for children and families in a socially distanced ministry.
The conference runs from 10am-1pm, and kicks off with a Muddy Church walk – details of how to get involved are included in a package sent to everyone who registers – and the online webinars get underway at 10.30am.
Lucie Hutson, founder of Muddy Church, will speak on wandering and wondering with God. Simple, muddy and theologically profound, Lucie opens up possibilities for connection – with God, with others, with ourselves and with Creation – all in our own neighbourhoods.
Melanie Lacy, Director of Theology for Children's and Youth Ministry Training at Oak Hill College will equip participants to be confident, well-resourced leaders with thriving ministries despite the constant changes and restrictions.
Participants are also invited to take part in a Bible Study with Julie McKinley on Thursday November 5 at 8pm.
On top of this, there will be competitions, giveaways, time to connect; Q&A sessions with the experts, tips for family church, and great ideas of thinking outside the box.
The cost of the conference is £5 / €5 to cover the cost of postage of the packs. For further information, contact Lydia in the Building Blocks team on Lydia.monds@gmail.com

First live broadcast from King's this year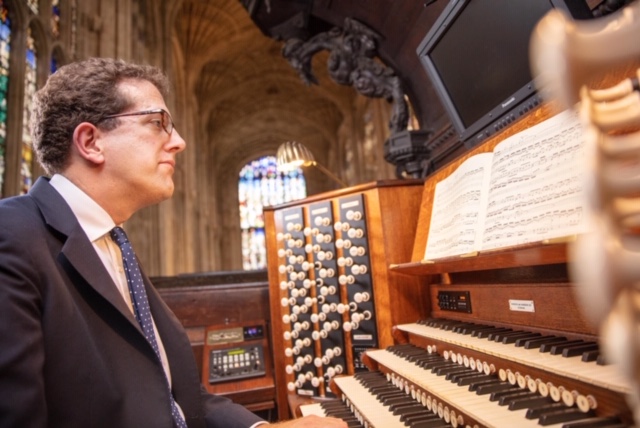 Next Wednesday there will be the first live broadcast from King's this year. Daniel Hyde will perform an unmissable, wide-ranging organ recital in a programme spanning four centuries.
There'll be music by composers including Wagner, Brahms, Elgar, Guilmant, Ad Wammes and Matthew Martin, centred around a pair of Bach chorale preludes. Listen live on BBC Radio 3 at 7:30pm on 14 October.
Episcopal Conversation on challenges of Covid and racism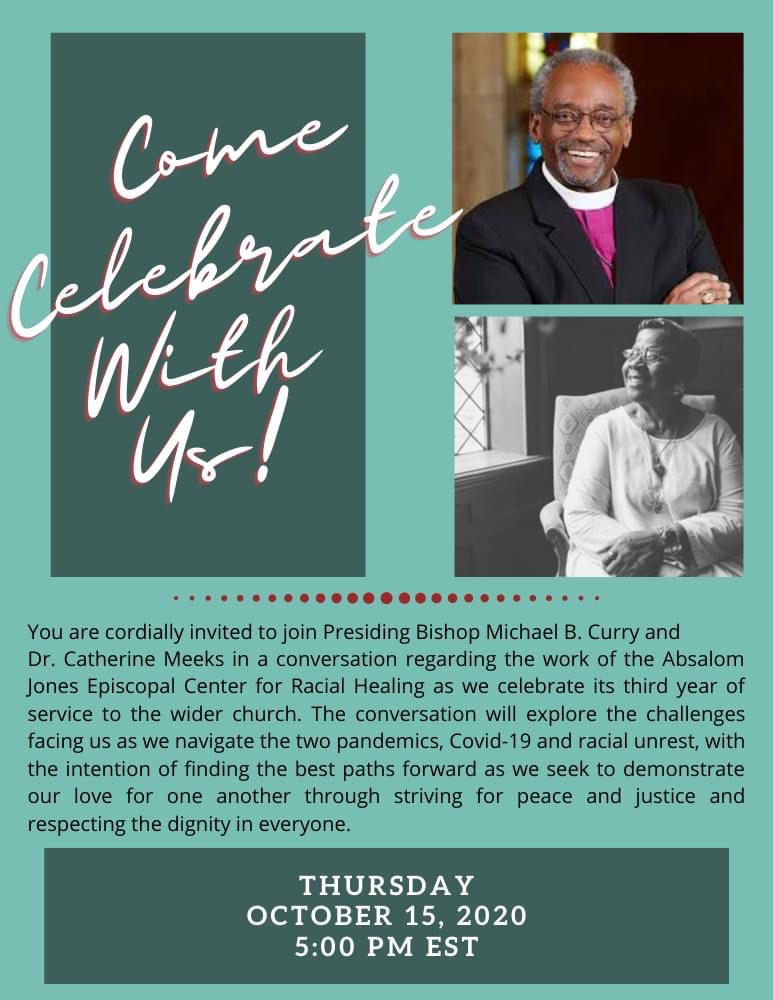 On Thursday, Oct. 15 at 3 p.m. EST, join Presiding Bishop Curry and Dr. Catherine Meeks in a conversation regarding the work of the Absalom Jones Episcopal Center for Racial Healing as they celebrate its third year of service to the Church. "The conversation will explore the challenges facing us as we navigate the two pandemics, COVID-19 and racial unrest, with the intention of finding the best paths forward as we seek to demonstrate our love for one another through striving for peace and justice and respecting the dignity in everyone."
Registration details:
[ https://us02web.zoom.us/webinar/register/WN_Yh4bpYxtSOSRwgMH346sFQ_ ]
Well said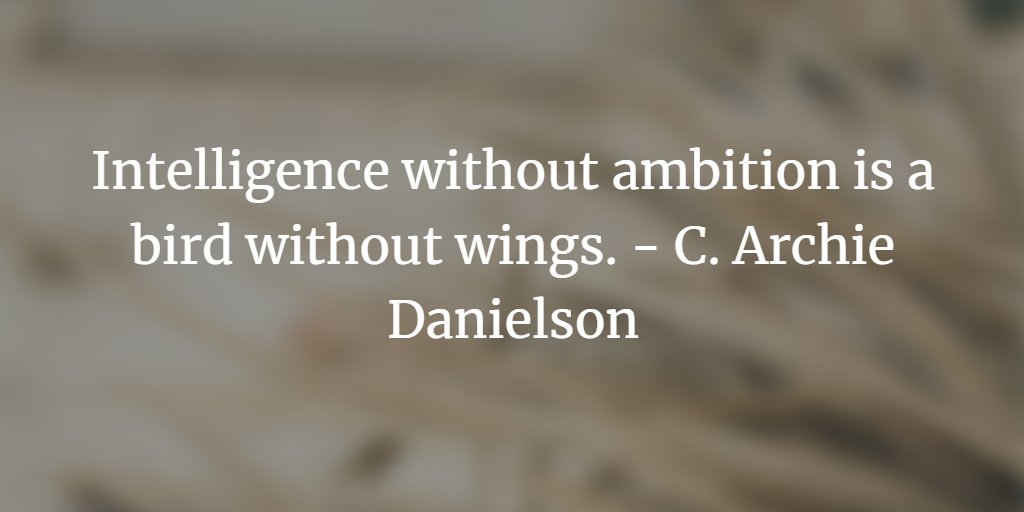 Pointers to Prayer
Today we pray for those awaiting treatment suspended during the coronavirus crisis. Missed surgeries and treatments for patients whose illnesses went undetected or untreated could lead to pressure on the NHS and some avoidable deaths.
Today we pray for the UN biodiversity summit. The summit aims to highlight the biodiversity crisis and the urgent need to accelerate sustainable development. We pray for those addressing the conference virtually and that it will lead to urgent action on biodiversity
Today we pray for people who are facing redundancy during the coronavirus crisis. Job losses are rising as businesses feel the financial effects of the pandemic. We pray for financial stability for those at risk of redundancy and job security for all workers.
Pray for the Yei Vocational Training College in South Sudan as it looks to reopen, allowing students who had started studies before lockdown to finish. Pray for wisdom and financial support to plan for future intakes. Pray for guidance for the management team.
Lord God, help us turn away from sin and the idols that keep us from loving and serving you. We dedicate ourselves to you – lead and guide us in the way you want us to go.
God in creation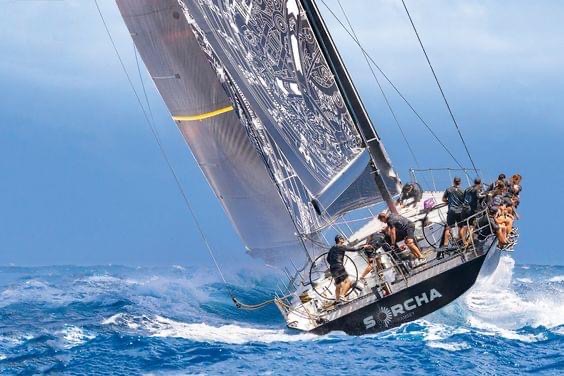 IMG_4246.jpg
QUOTEOCT10.jpg
IMG_4241.jpg
IMG_4245.jpg
ColinDundrum.jpg