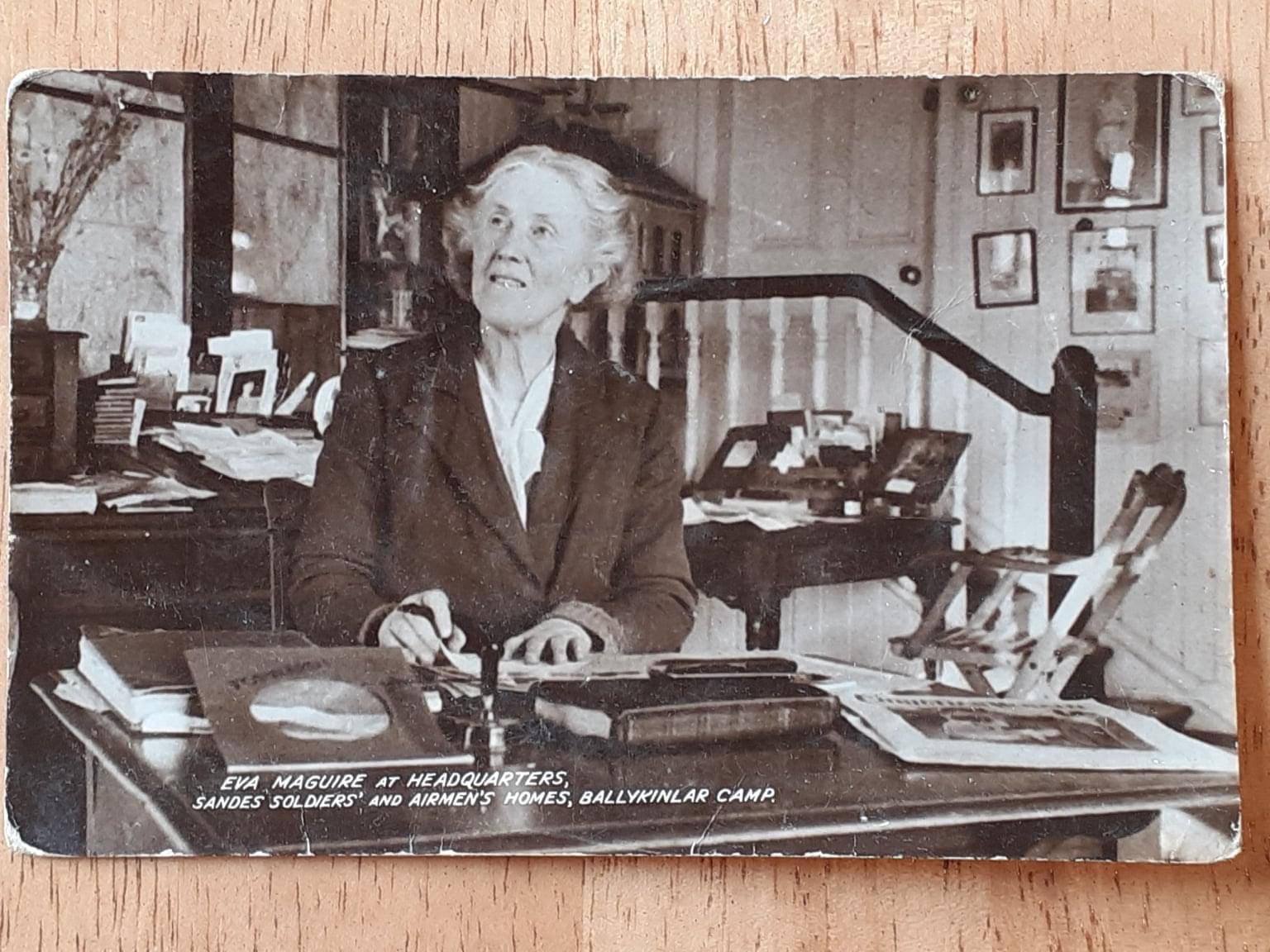 Remembering Eva Maguire and Ballykinlar Camp
Eva Maguire (Photo above) was born at Ballinderry, Antrim, in 1873, the 6th of 7 children of rector Rev. Edward Maguire, who later became Dean of Down. Eva was educated at Victoria College, Belfast, and then attended the Royal University, Belfast, where she received an honours degree and gold medal in modern languages. With the experience of conducting a men's bible class in Bangor behind her, she took up a teaching post in India. In 1898, inspired by the work of Elise Sandes, Eva became Superintendent of the Sandes Soldiers' Home in Quetta. This post began a 70-year career devoted to the spiritual and material welfare of British and Irish soldiers in many parts of the world.
In 1902 Eva suffered a serious illness and was invalided home to Ireland, where she rejoined Elise Sandes and visited Florence Nightingale. Eva became Elise Sandes' 2nd in command at the Sandes Home headquarters at the Curragh Camp in Kildare. She was witness to the Curragh Incident in 1914, when the 3rd Cavalry Brigade under Brigadier Gough refused to obey the order to march on the North. During the First World War, the Curragh Camp was a hive of activity as thousands of soldiers were trained for military service abroad, and Eva played a key organisational role in the Sandes Home, providing spiritual support and material comforts for soldiers as they prepared to go to war.
On the Partition of Ireland in 1922, Eva followed Elise Sandes north to Ballykinlar, where a new enlarged Home was constructed at the military Camp. When Elise Sandes died in August 1934, Eva became Superintendent of the Sandes Homes, and in 1939 she was awarded the CBE by George VI at Buckingham Palace. During the Second World War, Eva again turned her efforts towards looking after soldiers in time of war, when US and Belgian troops joined British troops at the Camp, preparing for service in North Africa and Europe. She welcomed them with open arms, organised films for them, and on Sunday evenings often addressed her Christian message to 1000 men at a time, frequently as they were preparing to leave the Camp.
Even towards the end of her life, Eva left her rooms on the upper floor of the Sandes Home and went swimming every day in the Irish Sea. When she died in 1967, she was buried with full military honours at Tyrella Church of Ireland graveyard, next to her mentor Elise Sandes. The funeral was headed by Lt-General Sir Ian Harris GOC NI Command, and Chief of Staff Brigadier A J Dyball. Preceded by the full band of 1st King's Regiment with muffled drums, the ceremonial gun carriage bearing her coffin was drawn by 8 senior NCOs and escorted by 96 men and two officers. Services at the Sandes Home and at the graveside were conducted by the Rector of Tyrella, Rev R L Hutchinson. Eva Maguire was a worthy successor of Elise Sandes, who said of her: ' No daughter could have been better to me.'
Eva Maguire passed away on 27th October, in 1967. (1873-1967)
New Wine 2021 cancelled
New Wine has announced the cancellation of its 2021 'United' gatherings in light of the ongoing coronavirus pandemic.
It is a blow for the church network after it had to cancel this year's large-scale events after the outbreak of Covid-19.
New Wine had been planning to hold its United A and B events in the summer of 2021 but concluded that it could not host them "safely and legally" given the normal attendance of 11,000 to 12,000 people.
"This isn't a case of lacking faith that brighter days are around the corner; we continue to pray for a move of God to change the national landscape. This concerns the reality that an event like United has a long lead-in time and events industry changes that we needed to see in recent months didn't materialize," it said.
"Even if local and national restrictions are relaxed in time for next summer — which seems increasingly likely — there simply isn't enough time to prepare for and run events of the size and complexity of ours.
Home turf for Songs of Praise
This week on Songs Of Praise Aled is back on home turf in North Wales as he takes a journey exploring how his faith has shaped his life and his singing. Sunday 15 Nov at 13.15 on BBCOne
Mix of emotions at leaving parish
The Bishop Elect of Clogher has written a message to his parishioners
Dr Ian Ellis commented –
You will have heard by now that on Monday afternoon I was elected by the Episcopal Electoral College for Clogher Diocese to be the next Bishop of Clogher.
At the moment I have a great mix of emotions – I am truly humbled and very conscious of the honour and responsibility bestowed on me yet also saddened at having to leave Rossorry where we have been so happy for these last 5 years.
Heather and I have been so blessed to have been called to serve you here in this wonderful parish of Rossorry where we have many treasured memories and friendships formed. You have been so patient and supportive to me as your Rector as I know you will continue to be so in the future.
However, we are not moving on just yet as the consecration is likely to be in the New Year. I will let you know the date as soon as the Archbishop has decided.
Heather and I would value your prayers as we begin to move forward.
Wishing you every blessing from God.
Your friend and Rector
Ian
Bishop Burrow's virtual  Disestablishment Tour underway
The tour has started. Please follow his progress on the Diocesan website www.cashel.anglican.org as he travels around the diocese and back over the past 150 years.
Donations to Bishops' Appeal literacy projects in the developing world would be much appreciated from today until mid-December via https://www.idonate.ie/fundraiser/11393201_bishop-s-150-virtual-tour.html
Also see the Feed the Minds website:
https://www.feedtheminds.org/bishop-burrows-virtualtour/
Well said
None of us do ourselves any favour by dwelling on our past negatively, ruminating over our own mistakes or other people's failures in our regard.
We need to courageously live the present while looking forward to the future with hope. Things can change. Benedictine Monks, Rostrevor
Pointers to Prayer
Archbishop of Canterbury JustinWelby – As Joe Biden and Kamala Harris
prepare to take office, may God grant them wisdom and courage to face the great challenges of leadership ahead. For all the American people, I pray for hope and a fresh vision of the common good. Please join me in praying too for Presiding Bishop Curry and the Episcopal Church- may God bless and strengthen our brothers and sisters in sharing the hope and healing of Jesus Christ over the coming months and years.
Pray for all oppressed people in our lands and around the world and for all in Church Army who seek to help people find freedom from all manner of circumstances.
This week, COP26 should have been meeting in Glasgow. This vital summit (now next November) is a tremendous opportunity for bold and ambitious action on the climate crisis. But we need to act now to ensure we don't delay the urgent changes needed. Join us in prayer for COP26.
Today we pray for those awaiting treatment suspended during the coronavirus crisis. Missed surgeries and treatments for patients whose illnesses went undetected or untreated could lead to pressure on the NHS and some avoidable deaths.
God in creation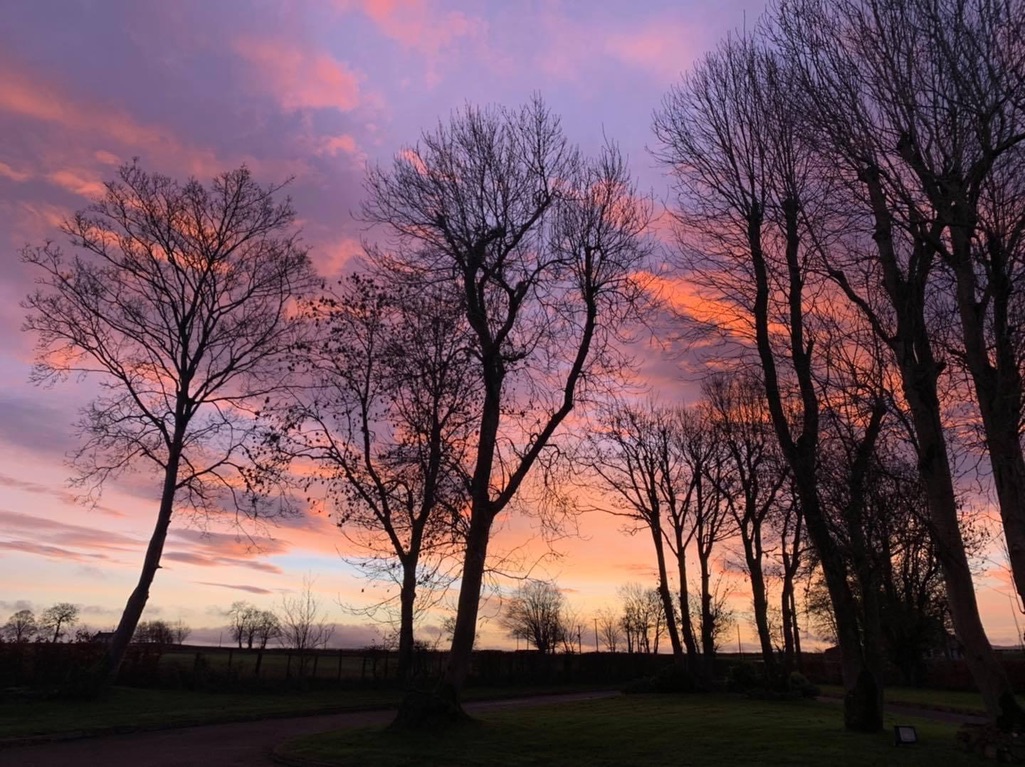 4F6381F7-311D-40F5-A6FA-9D8BDA57ED02_1_105_c.jpeg
IEvaMaguire.jpeg