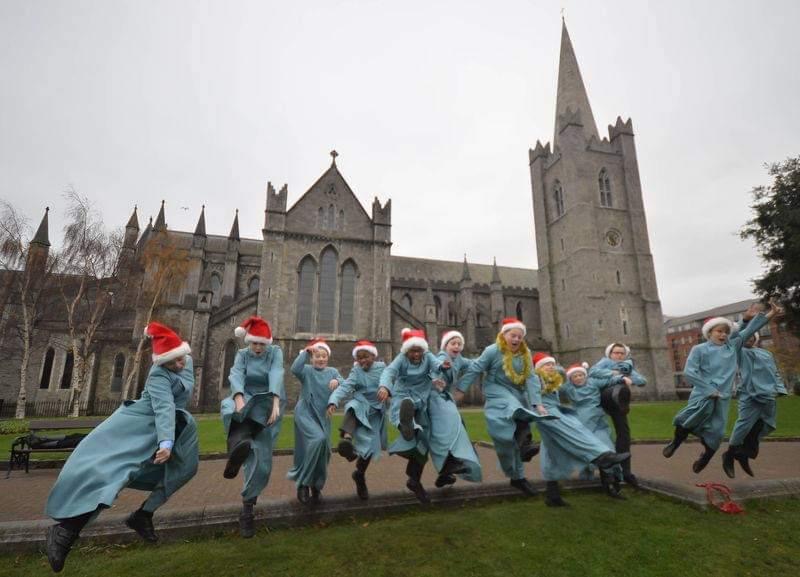 Tidings of comfort and joy from St Patrick's
If you're worried that with the new HSE guidelines regarding singing in church this Christmas will bring a little less Joy to the world and make our celebrations more of a Silent Night slap bang in the bleak mid-winter, then fear not as the Director of Music at St Patrick's Cathedral, Dublin, brings you some tidings of comfort and joy.
"Our annual Carols for All service was pre-recorded last Tuesday by the Cathedral Choir ready to be broadcast this coming Sunday at 3.15pm via our website. A copy of the order of service will also be available so you can join in from the comfort and safety of your own homes.
"All are welcome to join us online and hopefully we'll get to welcome you in person next year."
[ www.stpatrickscathedral.ie/christmas ]
Shinrone book celebrates C of I parish's bicentenary
As many of us look back over 2020, it will be remembered as the year in which Covid–19 brought much uncertainty. For St. Mary's Church of Ireland, this year marks the 200th anniversary of the building of their fine Gothic Revival church, in the medieval heart of Shinrone Village. To commemorate this milestone in the community, a handsomely illustrated hardback book has been published running to over 220 pages, which celebrates the bi–centenary through memories, events, artefacts and a dash of history.
The book is a real treasure trove of information, with a wide range of contributors, a remarkable feat for a small community in rural south Offaly. As one parishioner observed: "There is something for everyone in our book with a host of themes including family, friends, faith, social, creative and cultural events." A fellow parishioner agrees, adding: "So many memories are explored, photographs old and new brought to print, reflections on life shared, parishioners' contributions recognised and moments in the community's development celebrated."
The book is refreshingly celebratory of the living and the dead, and the vibrant energy which forms the backbone of this community is evident throughout. You really get a sense this is not a history of the community. Rather in 2020, a collective memoire and will appeal to a wide readership. Countless people have ebbed and flowed through Shinrone over the years, some returning, some settling in neighbouring parishes and counties, while others still leaving a footprint in other lands where their descendants live today. Recognising the wider diaspora, the community presented Barack Obama with a copy of the book to mark the bi–centenary, noting that the former President's Kearney ancestors were all buried in Shinrone prior to emigration, a story which will resonate with many.
As part of the book's research, a little–known Mary Lowndes stained glass window, formerly of Ettagh Church, took on new significance. Researchers identified the window was commissioned by the Earls of Huntingdon, formerly of Sharavogue House. It depicts St. Patrick in a missionary setting, quite unlike any of Lowndes' other works. One of only two intact examples in Ireland by this pioneering stained glass artist, it really is fortunate to have survived at all. Experts from Ireland and the UK have taken a keen interest in the window's future, recognising both its artistic and social importance. Funds from the sale of the book are going towards its conservation and display in St. Mary's, which the community hopes to have in place early in the New Year, for us all to appreciate.
The book has a limited print run and can be purchased online from the Offaly History Book Store (www.offalyhistory.com/shop) or in person from David Meredith on 086 311 0153 and Cyril Stanley on 087 288 9616.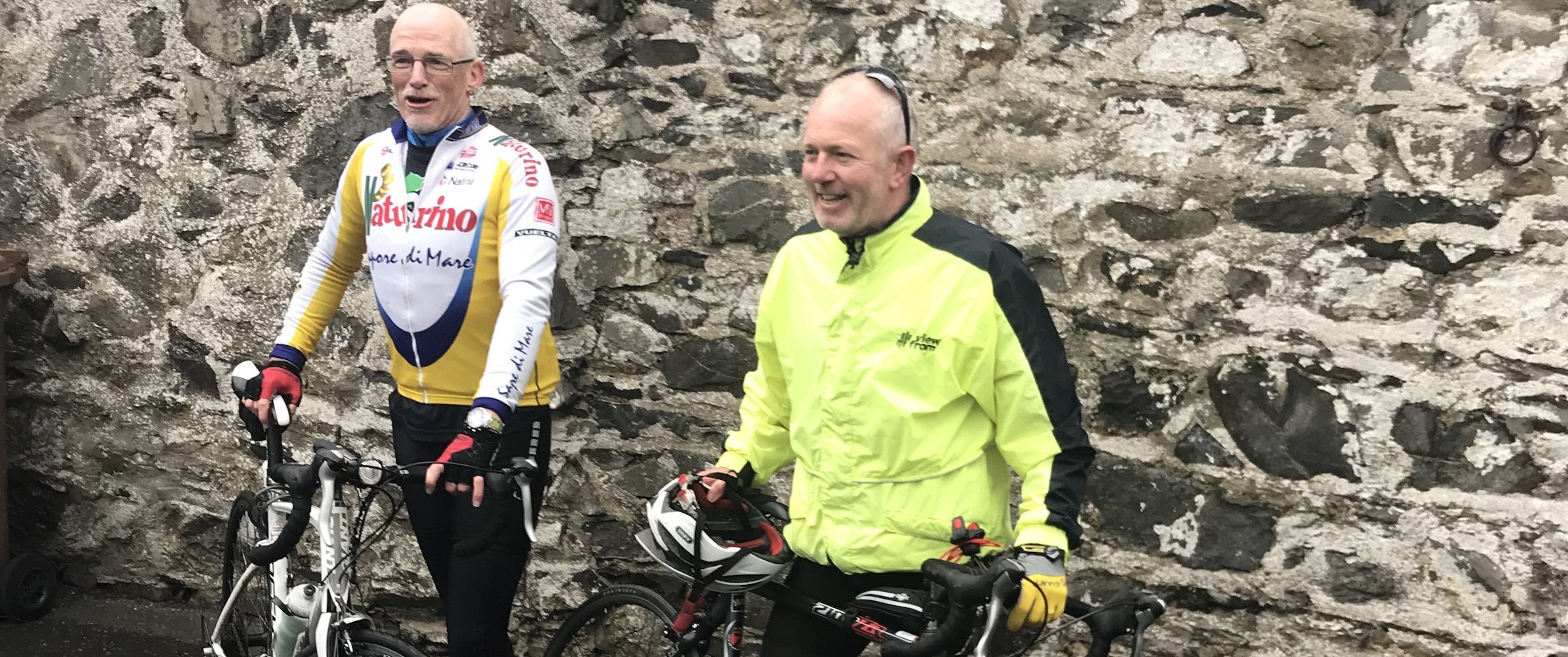 Dean of Dromore cycles for Hospice Services
The Dean of Dromore, the Very Revd Geoff Wilson, will soon be setting out on his bike to raise funds for Southern Area Hospice Services.
Each year Dromore Cathedral has a Charity Sit–Out and a Community Carol Service with all of the proceeds from both going to support the charity – around £3000 each year.
As the Carol Service can't go ahead because of COVID restrictions, Dean Geoff Wilson and parishioner, Jonny Jackson, are cycling from Dromore to Newry Hospice and back on Saturday 12 December. It's a round trip of about 45 miles.
If you would like to get behind Dromore Cathedral's support for Southern Area Hospice Services, please send cheques made payable to Dromore Cathedral to 30 Church Street, Dromore, BT25 1AA or email Dean Geoff on revgeoffwilson@gmail.com for more information regarding online transfers.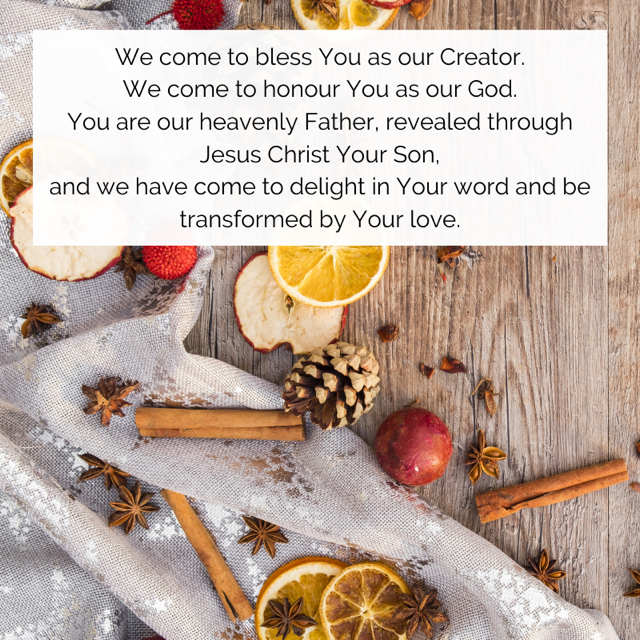 Pointers to prayer
Over the last three months, three women have been commissioned as PCI deaconesses: Heidi England (Railway Street, Lisburn), Louise Davidson (West Church, Bangor) and Paula Burrows (Ballygrainey).
Pray for Heidi, Louise and Paula, as they each settle into their new roles, for wisdom and guidance in all they do and that the Lord will bless them as they minister and reach out to others.
Lord, when we hear again the prophetic words of your messengers told many years ago, our faith is strengthened. We praise you as we contemplate their wonderful fulfilment through the coming of our Messiah, Jesus Christ.
God of Compassion, please fill God's people in Rwanda with the courage to protect their neighbours' safety, with the generosity to help the needy. May they be giving and loving, wherever they are, for as long as it takes, wherever you call them.
Today we give thanks for vaccine development around the world. A vaccine has been approved for use in the UK and the roll-out will begin soon.
Lord, we pray for all to follow Christ's example of treating women and girls with equality and respect. We pray for the dawn of a better world where justice and peace may flourish.
Pray for Keith & Lyn Scott who return to Ireland this weekend for six months of Home Assignment, and are waiting on God's leading and direction for their future steps. Pray for the Scotts and the CMSI staff as they pray and discuss possible options in the months ahead.
in Zambia where Keith & Lyn ministered, St John's Theological Seminary lecturers are planning for a new term with a reduced staff team and limited resources. Pray for the seminary as it adjusts without the Scotts. Pray for the students as they prepare for leadership roles in the Church.
Image-1-150.png
DeanDromore.jpg
StPatschoristers.jpg