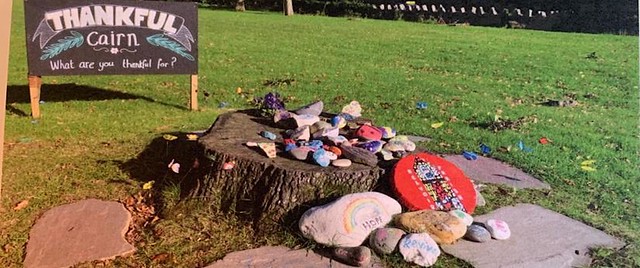 The Thank You Cairn in Belvoir's new prayer garden
A harvest of thanks goes out from Belvoir Parish
A harvest of thanks has gone out to the community and beyond as part of the Belvoir Parish Harvest celebrations on 25 October.
The novel idea began with each parishioner receiving an envelope during the week marked 'Don't open until Sunday Service'. Inside were two postcards (with envelopes) with a photo of the Thank You Cairn in the church's new prayer garden (pictured above).
"The aim was to send out a harvest of gratitude – to school teachers, shop owners, neighbours – whoever our parishioners wanted to thank," says the rector, Revd Adrian McCartney.
"Everyone was encouraged to open their envelope at the same time during our online 'Scattered Together' service and to think of the people they could send their thanks to.
"During the broadcast we have a live chat facility and our prayers this week were an interactive flood of thanks in the chat box from all over the city and beyond."
The parish's harvest appeal this year is going to one of their mission partners, All Nations Ministries in North Belfast, who are working with refugees and asylum seekers.
The new Shared Space at Manorhamilton Church of Ireland and Masterson School on Church Lane. This is a community space and it is available to organisations in Manorhamilton and surrounding locations.
Founder member of parish MU branch celebrates her 100th birthday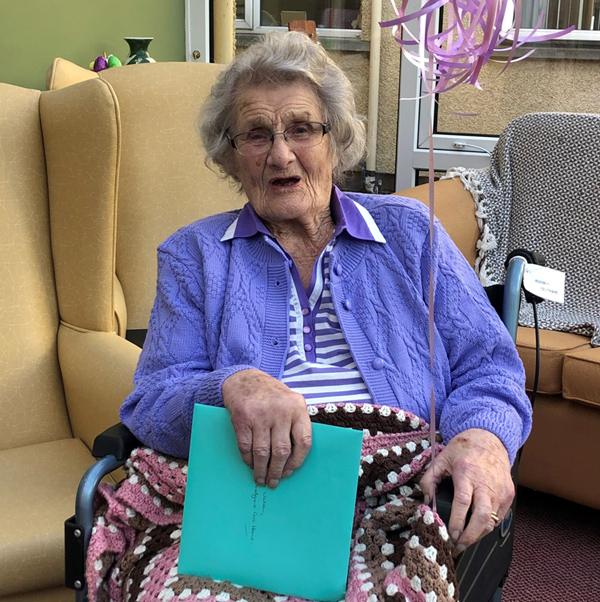 Congratulations to Dolly Watson, a founder member of St Paul's Parish Church, Lisburn, who celebrated her 100th birthday on October 8.
Dolly recently moved into a care home, where she enjoyed a socially distanced birthday visit from her rector, the Rev Arthur Young, and five other members of St Paul's. They were able to chat to her through the conservatory window and sing Happy Birthday.
"Dolly is loved by everybody and she loves us," said Arthur. "She is a lady who is vibrant, full of energy and brightens everyone's day."
The widowed mother-of-two has been a member of St Paul's since it was founded in 1962. She is a loyal member of St Paul's Mothers' Union.
Dolly used to run a boarding house in the Lisburn area, and was driving her own car up until eight months ago.
Dolly is the third Connor parishioner to celebrate their 100th birthday in Connor Diocese in recent weeks. Maisie Jameson from the Church of the Epiphany, Parish of Finaghy and Upper Malone, was 100 on September 13, and Bob Campbell, a parishioner of the United Parish of Ballynure and Ballyeaston (Ballyclare), marked his 100th birthday on October 14!
 Irish History talks live from Belfast
Every week Clifton House (1774) host fascinating virtual history talks. These short one-hour talks will give you a glimpse into 18th and 19th century Belfast: See our latest events list and book online here:
[ cliftonbelfast.com/whats-on/list/ ]
Advent – The Dawn of Hope – online retreat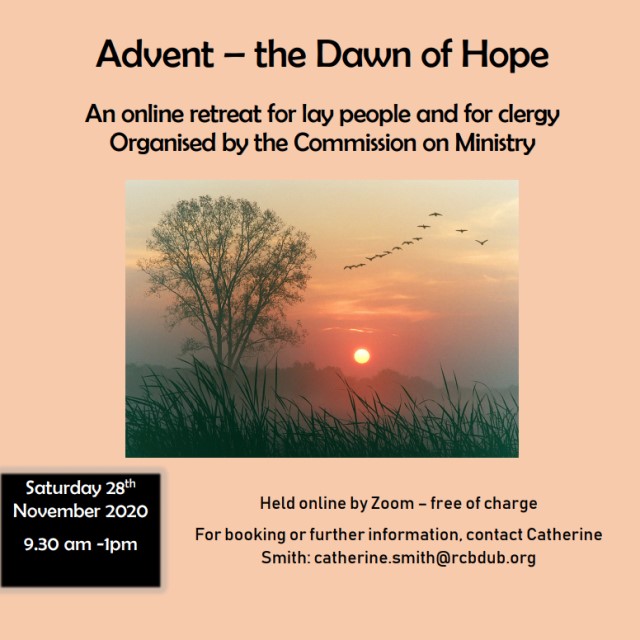 An online retreat will be conducted by the Rev Ruth Patterson on Saturday 28th November 2020, from 9.30 am – 1.00 pm. It is free of charge. For booking or further information, please contact Catherine Smith at [ catherine.smith@rcbdub.org ]
The Rev Ruth Patterson is a Presbyterian minister, and for the last 29 years has been Director of Restoration Ministries, a non–denominational, Christian organisation committed to peace and reconciliation.
In 1976, she was the first woman to be ordained in Ireland. She was the recipient of the Alumna of the Year 2000 award (Edinburgh University / Royal Bank of Scotland), in 2001 an honorary doctorate from the Presbyterian Theology Faculty of Ireland, and in 2003 was awarded an OBE for her efforts in reconciliation.
She has authored five books and numerous articles stemming from her commitment to unity and peace. She is one of four church representatives to L'Arche International and holds the post of Ecumenical Canon in St Anne's Cathedral, Belfast. She is on the Board of Oneings, a bi–annual publication of the Centre for Action and Contemplation in Albuquerque, New Mexico.
 C of I Sunday and Weekday Readings 2021 booklet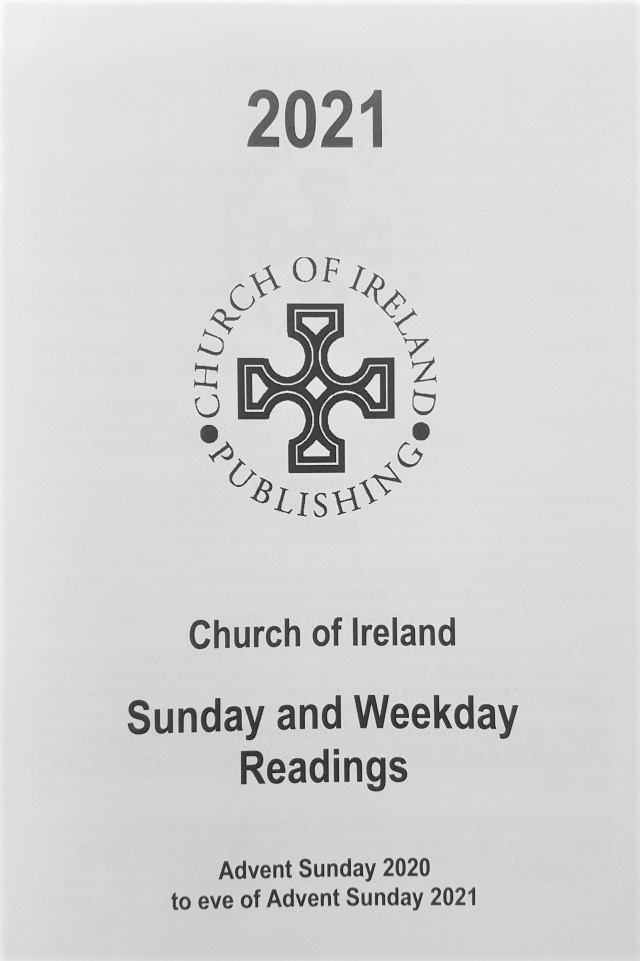 The Season of Advent begins on Sunday, 29th November, and so starts a new liturgical year and a fresh cycle of daily Scripture readings. Church of Ireland Publishing has announced that Sunday and Weekday Readings 2021 is now available.
This annual booklet is compiled by the Revd Ken Rue, who says: 'Sunday and Weekday Readings is designed to help worship planners and lesson readers know the appointed readings for Sundays and weekdays. It is also beneficial for those who wish to follow a personal course of Scripture readings which is tied in with the Church calendar.'
It may be obtained from the Church of Ireland's online bookstore
[ https://store.ireland.anglican.org ]
or from Richard Ryan at the Book Well, Belfast email:
[ info@thebookwell.co.uk ] i; mobile: 07581 143 596). The price is £3.50/€4.00 per booklet.
For further information on Church of Ireland Publishing, visit [ www.cip.ireland.anglican.org ]
Well said
"My faith demands – this is not optional – my faith demands that I do whatever I can, wherever I can, whenever I can, for as long as I can with whatever I have to try to make a difference."
― Jimmy Carter… 96 years young and still making a difference ❤️
Pointers to Prayer
Pray for the Mothers' Union in Ibba, South Sudan. Pray especially for their Development Coordinator Canon Naomi Edward and the MU Leader Mama Esther Phillip, as they work together with the other MU leaders to ensure that women are economically empowered.
Give thanks for the Trussell Trust and other groups fighting to end food poverty in the UK. In the UK, more than 14 million people are living in poverty – including 4.5 million children.
In these days of change and challenge, pray that CMSI will find new ways to help parishes around Ireland find their call to bring hope and transformation to their communities and to play their part as members of the worldwide family of God.
Today we pray for families trapped in Helmand. Civilians are caught up in fighting between government forces and the Taliban in Afghanistan's southern province and up to 35,000 have already fled their homes.
We pray for all those suffering from COVID-19 at this time, and especially today for those struggling with mental illness in isolation.
The Lord bless us and keep us, the Lord make his face to shine upon us and be gracious to us, the Lord lift up the light of his countenance upon us and give us peace. Amen.
God in creation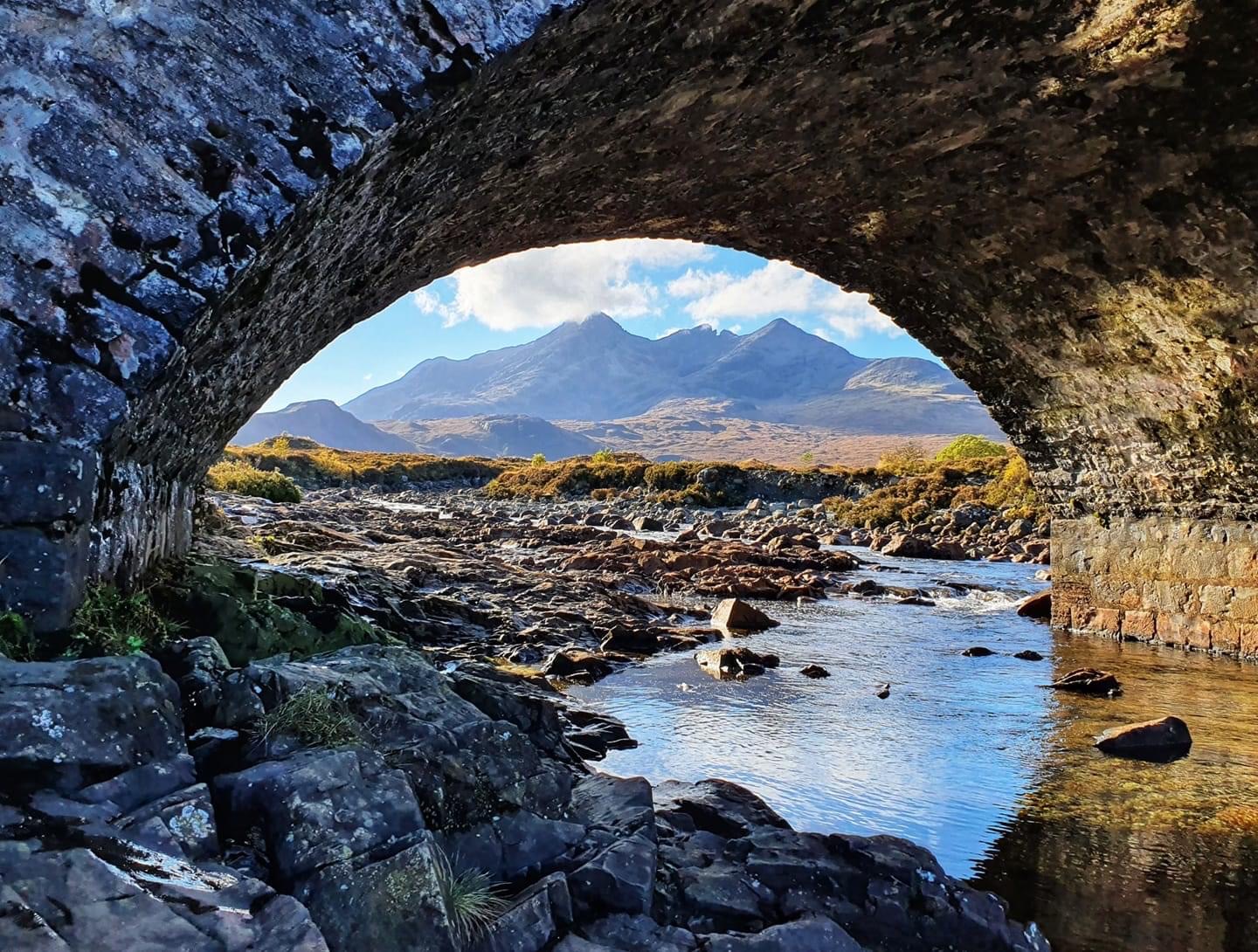 CreationOct28.jpeg
CofIbooklet.jpg
Advent-Retreat.jpg
LisburnMU.jpg
Belvoir.jpg