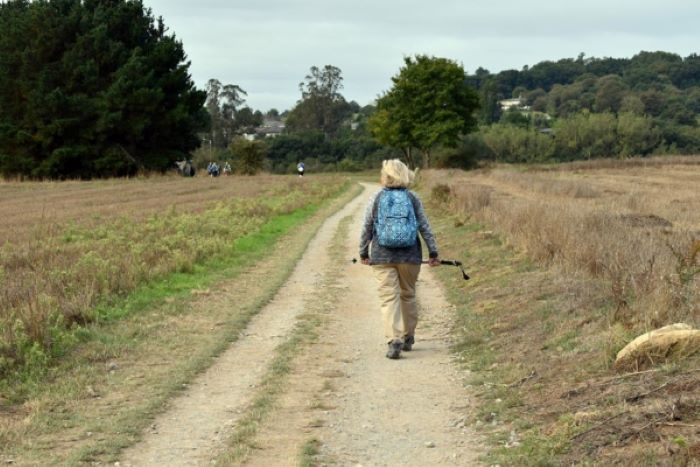 A church member from Chicago has given up her job and moved to Madrid to help the Spanish Reformed Episcopal Church set up an Anglican Pilgrim Centre in Santiago de Compostela.
When Dawn Baity arrived at the end of her 32-day pilgrimage from Saint-Jean-Pied-de-Port in France to Santiago de Compostela, she was disappointed not to be able to join in a Eucharist at the Roman Catholic Cathedral of St James.
She said: "You're there at the cathedral and you're hearing about all the countries represented by the pilgrims that arrived in Santiago that day and you're all worshiping together in this absolutely beautiful Mass, and it's a Mass of welcome. Then they get to Communion, and you are basically disinvited from the table. "Dawn Baity completed her solo walk along the Camino de Santiago de Compostela's popular 500-mile French Way last November.
Formerly a full-time grant writer in the United States, she has now become an Episcopal Church volunteer in mission serving the Spanish Reformed Episcopal Church. Part of her job is to assist the Spanish church in its plan to build an Anglican Pilgrim Centre in Santiago de Compostela, a place where all pilgrims can share in the Eucharist and where women clergy can preside at the table.
Dawn Baity, who is a member of Chicago's St. James Cathedral, said, "An Anglican centre that's ecumenical is an alternative where people can come and worship continue that spirit of community and be invited to receive Communion; it's the invitation that's the important part. The centre is not designed to exclude anyone. It is truly a place of welcome for everyone."
The Camino de Santiago de Compostela, or "the Way of St. James" is one of Christianity's oldest network of pilgrimage routes, stretching across Europe and converging at the tomb of St. James the Greater, known as the patron saint of Spain, as well as of pilgrims and laborers.
A dozen years ago, the Spanish Episcopal Church began receiving phone calls from pilgrims across the Anglican Communion and other Protestant churches who were asking for help with everything from lodging to replacing lost passports, said Bishop Carlos López Lozano, who was consecrated bishop of Spain in 1995.
"We discovered that thousands of youth pilgrims are from the Protestant churches and that they really need something," he said, while seated in a café in Santiago de Compostela not far from the three-story building where they aim to establish the Anglican Pilgrim Centre. "And we started to offer them spiritual support."
The Cathedral of St. James – also called the Cathedral of Santiago de Compostela – normally hosts at least one pilgrims' Mass daily. The Roman Catholic archdiocese has offered cathedral's Chapel of St. Andrew to the Spanish Episcopal Church to hold its own Mass. Still, so as not to offend, women cannot preside.
"We were thinking there must be an Anglican place in Santiago de Compostela for pilgrims to give them the opportunity to have a safe space where they can stay for one or two days to reflect on their spiritual life at the end of the pilgrimage," the Bishop said.
"In the Roman Catholic Church they are very clear that they do not give Communion to non-Roman Catholics," Bishop Carlos explained. "At the end of the pilgrims' Mass at the cathedral in Santiago, in five languages, English, French, German, Spanish and Galician, they say, 'remember before you take Communion you must go through confession and fast for two hours. If you are not Catholic, please do not take Communion because Communion is not for you."
Four years ago, a group calling itself Friends of the Anglican Pilgrim Centre in Santiago working alongside Bishop Carlos began laying the groundwork for the Anglican Pilgrim Centre. This year, the United Thank Offering (UTO) has joined the effort and has set aside $60,000 in matching funds. To date, $23,594 has been raised. The total cost for the centre is estimated at $5 million.
In October, 31 Episcopalians travelled to Spain for a 10-day pilgrimage organized by the UTO in coordination with the Episcopal Diocese of Northern Indiana through Insider's Travel.
For Caitlyn Darnell, a UTO board member and a candidate for ordination in the Diocese of North Carolina, coming together at the table was an important part of the journey, akin to "laying one's heart on the altar in joy."
"Walking the Camino was so emotional in ways I don't think I fully appreciated … I can't imagine having arrived here and not having the opportunity to take the Eucharist because walking a pilgrimage is a metaphor for what we're doing on this earthly journey. We're walking together, we're struggling, but we're holding each other in joy and in community as we're pushing toward that heavenly city on the other side of this life," said Darnell. "To not have the opportunity to give thanks for what Christ did so that we would have the opportunity to be with him on the other side … it seems absurd."
Last year, 327,378 pilgrims — the majority on foot and split 50-50 male and female — travelled the length of one route or some section of the Camino de Santiago. Forty-four percent were Spaniards, followed in order by large numbers of Italians, Germans and Americans and including another 173 nationalities worldwide, according to official statistics.
DraggedImage.3509cb57c68042e9b37962c76f993a13.png