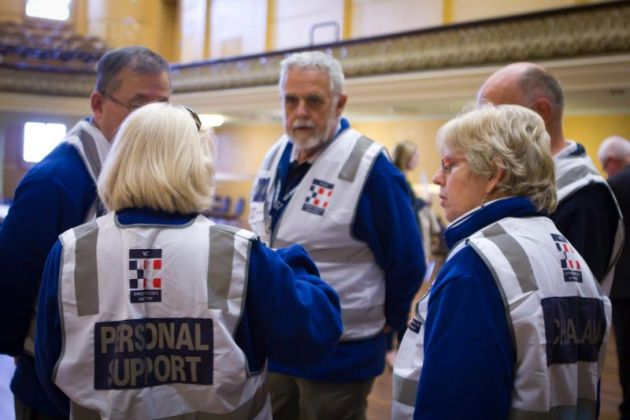 Photo above – Emergency Ministries workers in Victoria state, Australia.
Red and smoky skies at night and in the morning looming in four Australian states indicate a catastrophe of biblical proportions as killer fires engulf towns and communities, leaving tens of thousands of people stranded.
Churches have been at the forefront among the responders in both their prayers and deeds as Australians in four states including New South Wales and Victoria reel under flames, with thousands fleeing in the first days of a new decade.
The general secretary of the World Council of Churches, Rev. Olav Fykse Tveit, sent a a pastoral letter to Australian churches.
"Together with you, WCC member churches around the world are praying for respite from the heat and the flames, for the protection and encouragement of all those fighting the advancing fires, for the preservation of peoples' lives and properties, and of the unique wildlife and environment threatened with destruction," he said.
Tveit noted, "Australia has, since time immemorial, been accustomed to fire and drought."
The fires had killed 20 people by Friday, destroyed almost 6 million hectares (15 million acres), and gutted more than 2,500 buildings. Some clerics have sharply criticized the Australian government's stance on fighting climate change.
Smoke the Australian bushfires is drifting as far as New Zealand, 2,000 kilometers (1,200 miles) away, triggering a yellowy redish haze and leaving a burnt smell in the air, the BBC reported.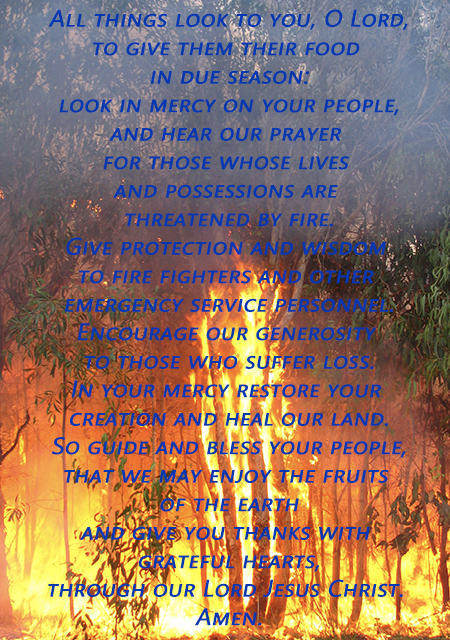 The Anglican Diocese of Melbourne has a 'graphic' prayer on its front webpage

Bishop Philip Huggins president of the National Council of Churches in Australia and director of the Centre for Ecumenical Studies at the Australian Centre for Christianity and Culture, said in a message to the WCC that many people of faith are involved in helping in all kinds of practical ways.
DraggedImage.3cfde3a0c8e941c4addb1e4916717af9.png
DraggedImage.b1e7971804da422a8e4a0d4eaae0746c.png