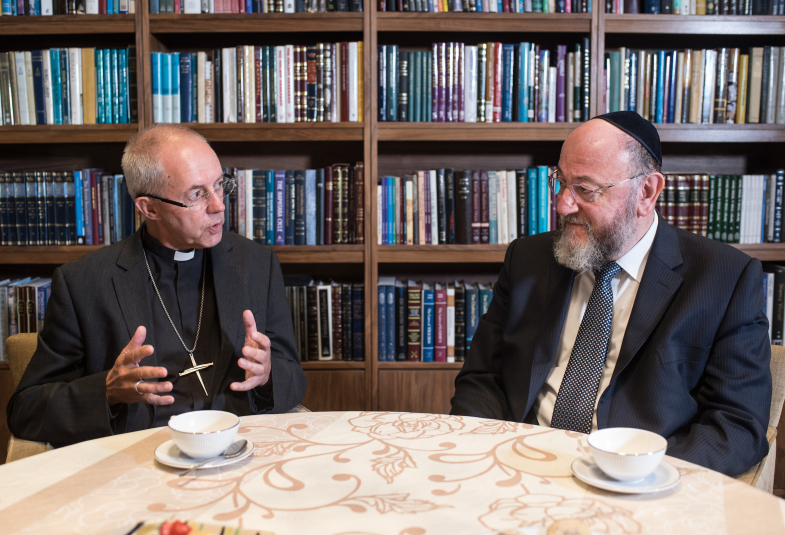 The UK's Chief Rabbi was "speaking for the majority of the community" when he warned that Jeremy Corbyn's failure to tackle anti-Semitism inside the Labour Party made him unfit to be Prime Minister, a Jewish leader in Belfast has said.
In a scathing article published in The Times, Chief Rabbi Ephraim Mirvis claimed that, in his view, "a new poison – sanctioned from the very top – has taken root" within the Labour Party.
He also claimed that "the overwhelming majority of British Jews are gripped by anxiety" at the prospect of a Jeremy Corbyn-led victory for the Labour Party after the December 12 election.
Chairman of the Belfast Jewish Community Michael Black said he was surprised at the Chief Rabbi making such an outspoken intervention.
He said that while he doesn't necessarily think it will affect the upcoming poll, he believes it does reflect a genuine feeling among members of his community, particularly around Mr Corbyn's attitude to the state of Israel.
He said: "I think he is reflecting what the community in general feels.
"It is not universal, but within the Jewish Press they do highlight some of the things that have gone on within the Labour Party and it just makes you wonder.
"I don't believe Corbyn is a religious anti-Semite, from the definition of being against the religion.
"But certainly he and many of his colleagues would not be friends of the state of Israel.
"He doesn't seem to recognise the association Jews have with the state of Israel and how it is part and parcel of our background.
"I am a proud Zionist. In certain circles that is a bad word. I get the feeling the majority of what they call the 'left-wing middle-class' circle that Corbyn would belong to, don't believe the state of Israel should exist. He is finding the anti-Semitism problem difficult to solve because there are quite a number of them in the party and difficult because he has a lot of sympathy with their beliefs.
"His record over many years would shows that.
"We are a very small community now in Northern Ireland. I don't think he (Corbyn) has much support. I don't know too many people who would support a Labour Government under Corbyn. In fact, I don't know anybody."
Mr Black reflected on how he and his community have been subject to anti-Semitism here in Northern Ireland in the past, and how in most cases it is related to ignorance about the Jewish faith.
"I've had abuse online because of my background. We have also seen issues in Belfast. There are a small number of people who wouldn't see my point of view," he added.
"There is a lot of ignorance as well. People say things not necessarily meaning anything, but just through ignorance. I meet people who have never actually met a Jew before. It is not part of their life. They wouldn't understand and know the things I would be involved in.
"It would just be another world to them."
Asked if he had any personal advice for Mr Corbyn, Mr Black urged the Labour leader to strike a balance in his comments and "be a bit more critical of the other side".
He said: "Fair enough, be critical of the government of Israel, but I never hear them criticising the likes of Hamas, Hezbollah and the Palestinian leaders."
Labour has hit back at the Chief Rabbi's claims and insisted: "Jeremy Corbyn is a lifelong campaigner against anti-Semitism and has made absolutely clear it has no place in our party and society and that no one who engages in it does so in his name."