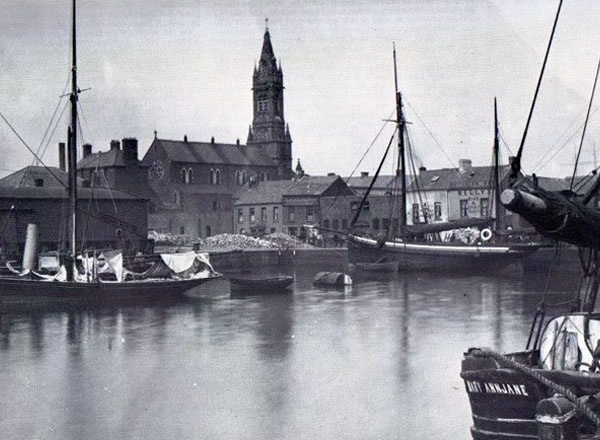 The Sailortown area of north Belfast is to be rejuvenated with a local community hub thanks to over £184,000 of National Lottery funding.
The money will be poured into the rundown St Joseph's Church to create the facility and bring local people together.
Sailortown Regeneration Group is one of six groups from Northern Ireland to share in the £727,496 of National Lottery Community Funding, with Friends of Antrim Castle Gardens, SOS NI, Drumragh Evergreen Senior Citizens Club, Multiple Sclerosis Society and Davina's Ark also benefitting.
Once home to more than 5,000 people on cobblestone streets off York Street, Sailortown survived the Blitz but was largely demolished to make way for the M2 and other developments. The local regeneration group has long worked towards bringing the church, which was deconsecrated in 2001, into community use.
It was announced yesterday, the £184,928 is being used for essential maintenance on the church including roof flashing, heating and toilets, to make it safe and suitable for community activities.
The money will also be distributed over the next two years to employ staff to coordinate the renovation and set up a programme of community activities in the hub. These will include a parent and toddlers group, young people's creative art, parents/grandparents meet ups, older people activities, ex-seamen's sessions and social events. Plans are also in motion to develop the building further and fully refurbish it as part of a wider strategic plan for the area.
Local resident and Chair of Sailortown Regeneration Group, Pat Benson welcomed the regeneration of the historic church. Pat, who was born and grew up in the area, commented: "We are delighted that the National Lottery Community Fund are supporting us in our work to bring the historic docks area back to life. There are no community facilities at the moment so having a place where past and present residents can come together will make a huge difference.
"This funding means we can keep a historic building in community ownership and that it can be used for people led regeneration in Belfast. We're really looking forward to opening the doors of St Joseph's again after almost 20 years of campaigning."
NI Director for the National Lottery Community Fund, Kate Beggs said: "I am delighted to announce these grants today. The money is being used for everything from this community hub in Belfast's Sailortown, through to support for people affected by addiction and café style meet ups for people with Multiple Sclerosis. It's great to see National Lottery money being used by people who are taking the lead in developing great ideas to help their communities thrive.
"This year we're celebrating the 25 birthday of the National Lottery, and I want to thank all the National Lottery players who have helped make work like this possible."
DraggedImage.e6a3e5ca0dcb4922b5ede682ddf5e673.png