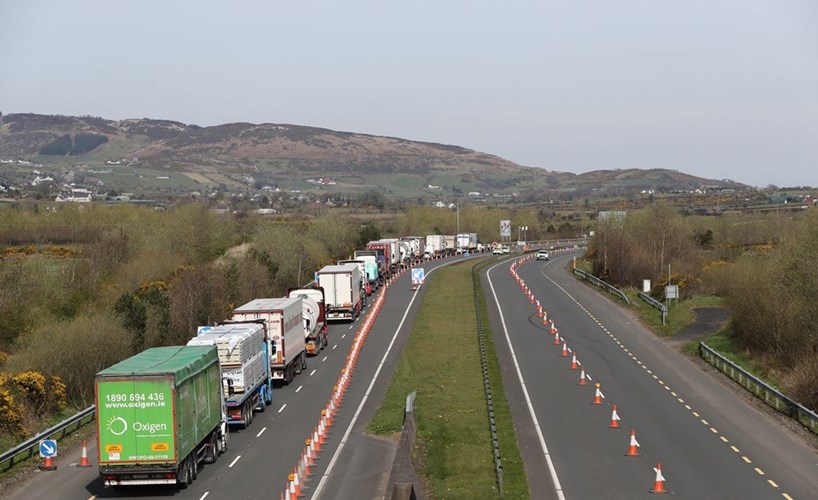 "The truth about the 'senior congressmen' who intervened in Brexit"
No issue or place is off-limits when a politician gets the scent of power in his or her nostrils. And so it is with US presidential hopeful Joe Biden, who gratefully seized on the UK's growing embarrassment over its proposal to break the deal Boris Johnson signed with the EU just last year, Steerpike a resident essayist at The Spectator writes.
The Internal Market Bill, if passed as it stands, would violate international law.
Mr Biden said that the Good Friday Agreement could not be allowed to become a casualty of Brexit.
He is essentially repeating the views of his fellow Democrat Nancy Pelosi, Speaker of the House of Representatives, who said no trade deal could be made between the US and UK if the new legislation was enacted.
Hers is no empty threat, because an international trade deal requires a two-thirds majority in the House of Representatives, which the Democrats currently control.
While the anti-Brexit parties in Northern Ireland welcomed Mr Biden's intervention, unionists rounded on him. That is hardly surprising.
The US was a strong supporter of the peace process, with former president Bill Clinton central to getting the Good Friday Agreement over the line.
Senator George Mitchell is also fondly remembered as an honest broker during his time in the province.
Unlike Mr Biden, whose interest in Ireland is remarkable only for his previous lack of comment, US politicians, particularly Democrats, have a long-standing interest in, and influence on, events here.
That is due in no small measure to the lobbying of the late SDLP leader John Hume, who had the vision and intelligence to realise that the dynamic of Northern Irish politics had to be changed if the sectarian conflict was to be ended.
Unionists have long been wary of US interference in Northern Ireland affairs, which is surprising given that some 23 US presidents claimed a Scots-Irish heritage.
This was a potential lode of goodwill that was never mined by unionists, who relied on the UK government to be their guarantors.
However, in this instance, the unionist parties have a valid argument when they say that the Good Friday Agreement is not the property of one section of the community and that consensus lies at its heart.
Brexit has been a very contentious issue in Northern Ireland and outside politicians should tread carefully when commenting on it.
If he gets the keys to the White House, Mr Biden could then perhaps make a more positive contribution to life here.
The truth about the 'senior congressmen' who intervened in Brexit
Lots of excitement in Westminster circles this morning over the four 'senior American congressmen' who have written a stern letter to Boris Johnson wading into the latest row over the Withdrawal Agreement and Ireland. The four US lawmakers have warned that a US-UK trade deal would be imperilled by any action the government might take that could undermine the Good Friday agreement.
Steerpike can't help but notice there's rather less interest in the fact that, of the four congressmen — Eliot Engel, Peter T King, Richard E Neal, and William R Keating — two appear to have been overt IRA sympathisers, and one was a close friend of IRA leader Martin McGuinness.
Back in 1982, Mr King told a pro-IRA gathering in Long Island, New York: 'We must pledge ourselves to support those brave men and women who this very moment are carrying forth the struggle against British imperialism in the streets of Belfast and Derry.'
Three years later he declared: 'If civilians are killed in an attack on a military installation, it is certainly regrettable, but I will not morally blame the IRA for it.'
This was a source of some embarrassment for King as, after 9/11, he sought to become a major voice in American politics against the dangers of terrorism. Still, that doesn't stop him lecturing the British government today about 'not inflaming tensions that still very much fester today.'
Eliot Engel, for his part, in 1988 urged President Reagan to grant asylum to the IRA terrorist Joseph Patrick Doherty, who fled his trial for killing an SAS soldier in Northern Ireland in 1980. Doherty had escaped to America after the killing and was being held in New York.
And Mr Neal, as head of the Congressional Friends of Ireland group, organised a ceremony in remembrance of 'his close and dear friend' Martin McGuinness in 2017.
It saddens Steerpike to recall that unhappy time when, for a certain sort of American statesman with Irish Catholic roots or voters, supporting the IRA over their colonial British masters was de rigueur. The past is the past, but perhaps we should all bear it in mind when considering their motives in warning Britain about the troubles in Ireland.
Steerpike at The Spectator

Bordertraffic.jpg