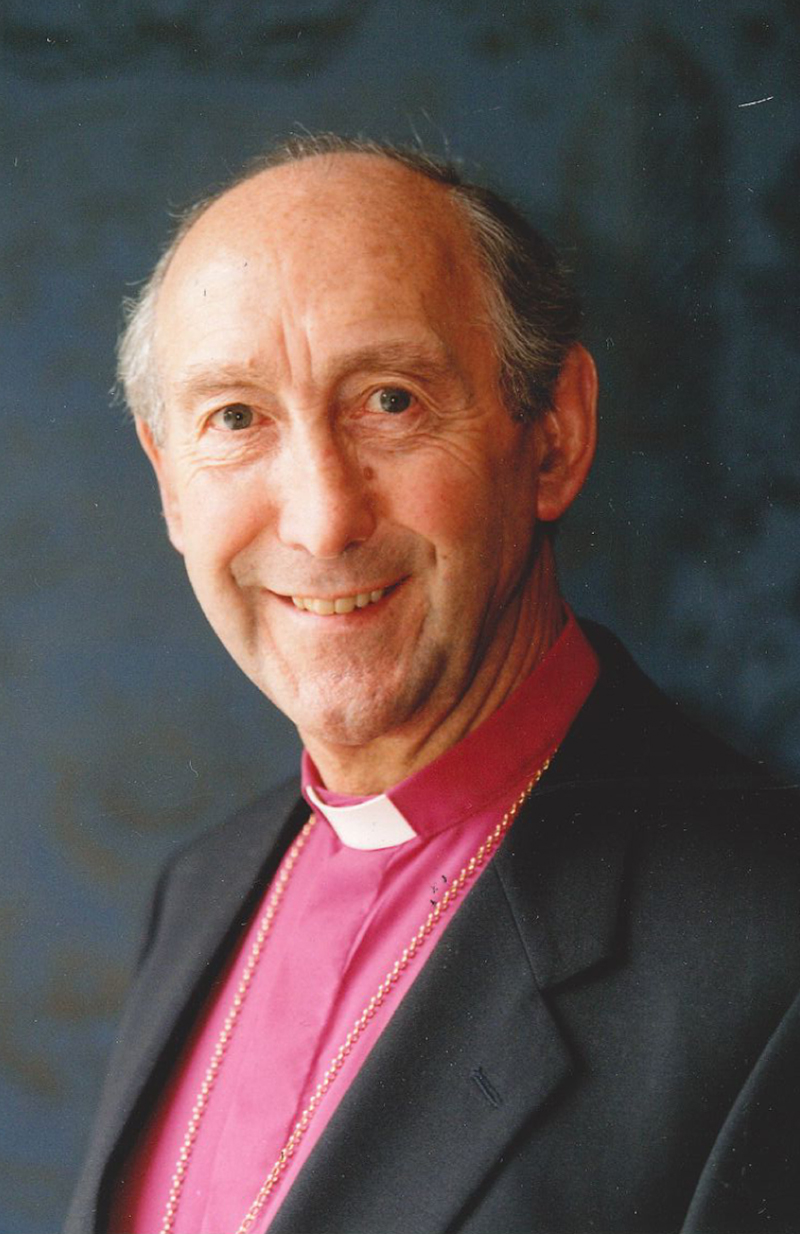 Book of Condolence opened for
Bishop James Mehaffey 
A Book of Condolence has been opened at the Guildhall in Derry in memory of the former Bishop of Derry and Raphoe, Dr James Mehaffey, who died yesterday evening. The book was officially opened this lunchtime by the Deputy Mayor, Cllr Cara Hunter, on behalf of the Mayor of Derry City and Strabane District Council, Cllr Michaela Boyle. Dr Mehaffey's most recent successor, Bishop Andrew Forster, was among the first to sign it.
The Mayor extended her sincere condolences to the Mehaffey family at this sad time and said the Book of Condolence was an opportunity for the people of Derry and Strabane to extend their sympathy and show their respect for the Bishop who officiated in the city and district for more than 20 years.
The Mayor, who is currently out of the country on holiday with family, said she was deeply saddened on hearing the news and described Dr Mehaffey as "a genuinely holy person, a peace–maker and a risk–taker who was committed to working across the political and religious divide to make a real difference during difficult times".
Cllr Boyle said Dr Mehaffey would be greatly missed: "Bishop Mehaffey was a very warm and kind–hearted man who touched the hearts of everyone who met him. He was a very religious and gentle person with a warm heart who was genuinely interested in talking to and listening to every person he met. He will be remembered very fondly by the people of Derry, Strabane and the wider North West region for his commitment to peace, his courage and commitment to building bridges."
The Mayor extended heartfelt sympathy to Bishop Mehaffey's wife, Thelma, to his children and to the extended family circle.
People who wish to do so can also record their tributes online here and messages of condolence will be passed on to the Mehaffey family.
http://www.derrystrabane.com/bookofcondolences
Modelling graciousness and mettle –
Archbishop Clarke of Armagh
The Archbishop of Armagh and Primate of All Ireland, the Most Revd Dr Richard Clarke, has issued the following statement on the death of the Rt Revd Dr James Mehaffey, former Bishop of Derry and Raphoe:
'Having known Bishop James Mehaffey for almost all my life – literally since my earliest childhood – I would like to convey sincere and personal sympathy to his wife Thelma and to their wider family. But I would wish also to express huge admiration for Bishop Mehaffey's enormous contribution not only to the life of the Church of Ireland, but also to the work of reconciling divided communities throughout his episcopal ministry in the Dioceses of Derry and Raphoe. Modelling graciousness and mettle in equal measure, Jim Mehaffey was a great example to many of us as to what it means to be a Christian leader in a world of turmoil and we thank God for that life of unstinting Christian witness.'
He led the diocese with distinction and grace, Bishop Ken Good
The retired Bishop of Derry and Raphoe, Rt Rev Ken Good,has paid tribute to his predecessor, Dr James Mehaffey
Bishop Good stated, "I was very sorry to learn of the death on Monday evening of my esteemed predecessor Dr James Mehaffey.
"It is very easy, nowadays, to take the relative peace in our society for granted but it wasn't always so. For over 20 years, Bishop James led the Diocese of Derry and Raphoe at a very difficult and dangerous time in its history. He did so with distinction and grace. He forged an enduring friendship – a lifelong bond – with Bishop Edward Daly, that was to help transform our society.
"The two leaders stepped out in faith, with prophetic courage, and modelled for us an example of Christian witness in a divided community. That kind of leadership and that kind of friendship are as relevant and as necessary today as they were almost 40 years ago.
"I thank God for Bishop James's ministry and support, and for his truly inspirational Christian witness. And I extend my profoundest sympathy to his wife Thelma, their children Wendy and Tim, and to the wider family circle."
Thanksgiving Service on Saturday
The funeral of the former Bishop of Derry and Raphoe, the Rt Revd Dr James Mehaffey, will take place at St Columb's Cathedral in Londonderry on Saturday afternoon, January 11th. The Service of Thanksgiving for Dr Mehaffey's life will begin at 2pm.
Dr Mehaffey's family have said that, in the meantime, visitors will be welcome to pay their respects to the late Bishop at the family home at 10 Clearwater, off the Limavady Road, from Wednesday morning onwards between 11am and 11pm.
Dr Mehaffey will be cremated in Belfast on Mon 13th January at 1.30pm.
Biography
The Rt Revd Dr James Mehaffey (born 1931) was ordained in 1954 and served as Curate in St Patrick's, Ballymacarrett, in East Belfast (1954-1956), Deptford, in the Diocese of Southwark (1956-1958), and Down Cathedral (1958-1960). He returned to Ballymacarrett as Curate-in-Charge of St Christopher's Church (1960-1962) and was subsequently Rector of Kilkeel (1962-1966) and Cregagh (1966-1980), during which time he was also a Canon of Down Cathedral and Diocesan Missioner (1976-1980). He was elected Bishop of Derry and Raphoe in June 1980 and consecrated as bishop in September 1980. Bishop Mehaffey retired in 2002. Bishop Mehaffey is survived by his wife Thelma, and by their children Wendy and Tim. He was pre-deceased by their son, Philip, in June 1993.
Bp-James-Mehaffey-01.b1eb77d41e81416ea949efc0b6a2c762.jpg