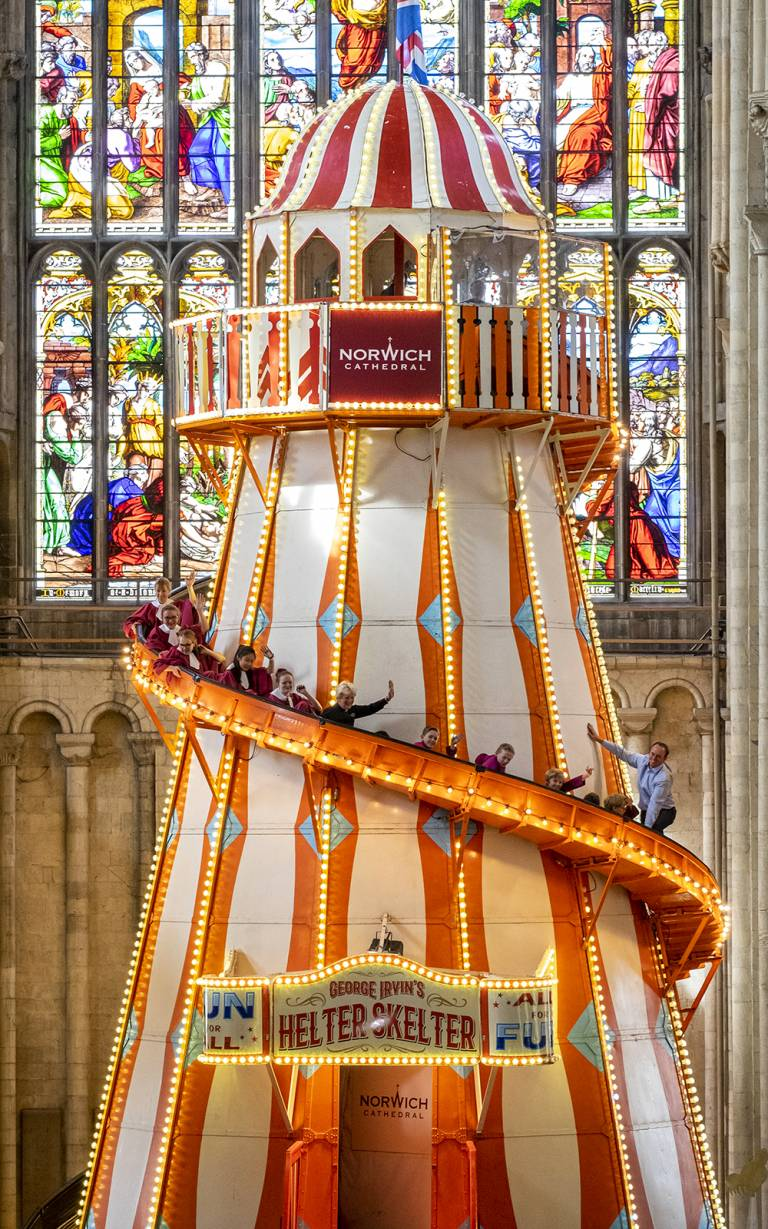 They are renowned for their architectural majesty, historical significance and – at a push – their niche gift-shop offerings.
Yet in recent years the trend for installing novelty attractions at cathedrals – with everything from an installation of a Moon-themed art exhibit to crazy golf – has sparked furious debate.
Now Norwich Cathedral has been accused of "treating God like a tourist attraction" after it installed a 55ft helter skelter in the nave to give visitors a better view of its ornate ceiling.
The Rev Canon Andy Bryant said the idea came to him when he was visiting the Sistine Chapel in Vatican City.
"The fun comes in the shape of a helter skelter," he said.
"The 'serious' comes in creating opportunities for reflective, God-shaped conversations. It is playful in its intent but also profoundly missional.
"It is the cathedral doing what it has always done – encouraging conversations about God.
"By its sheer size and grandeur it speaks of the things of God – it points beyond itself. Its sheer presence helps to keep the rumour of God alive and plays its part in passing on the story of Salvation."
For just £2 a ride, visitors will be able to enjoy a closer look at medieval carvings that depict Biblical stories.
It is part of the cathedral's "Seeing It Differently" campaign, which was devised by Mr Bryant, the canon for mission and pastoral care.
However, the Right Rev Dr Gavin Ashenden, former chaplain to the Queen, has criticised Norwich Cathedral for making a "mockery" of God.
"Instead of allowing a cathedral to act as a bridge between people and God's presence, instead it obscures it by offering to entertain and divert people," he told The Daily Telegraph.
"There's a sliding scale between mockery and blasphemy. It's a mockery, because it's treating God like a tourist attraction, instead of as the creator of the universe. To turn this into entertainment suggests cathedrals have lost their responsibility to Christ because they are preoccupied with the demands of society."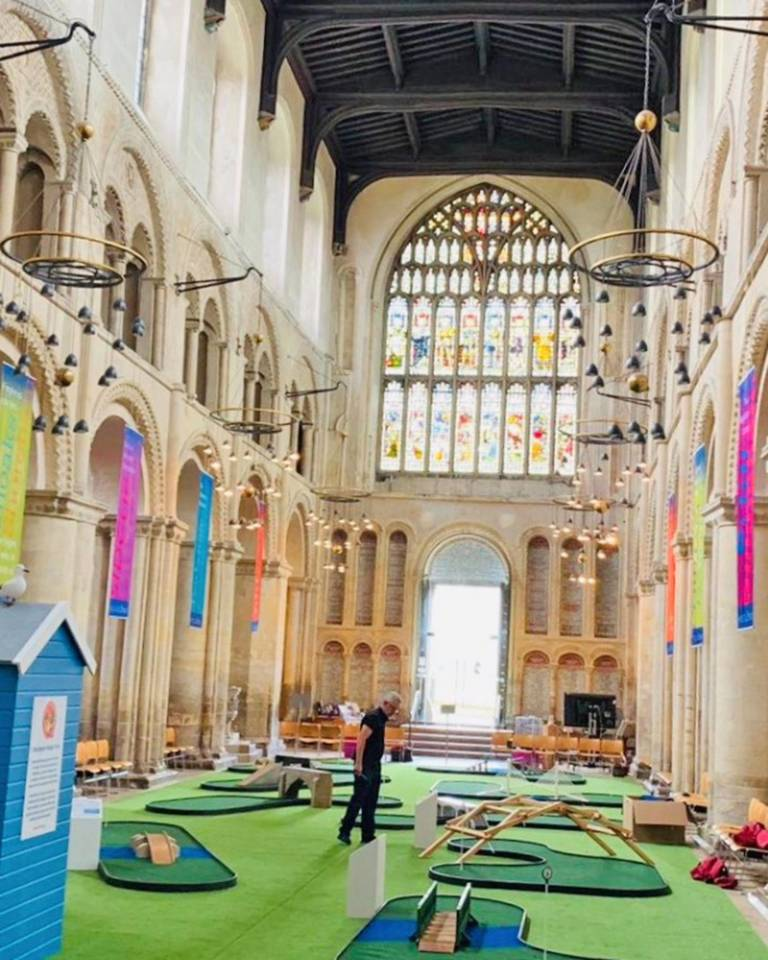 It comes after Rochester Cathedral opened a nine-hole crazy golf course allowing visitors to putt their way around the 11th century building.
In the past cathedral visitors have also skated in the aisles at Gloucester and gazed at an installation of the Moon at Liverpool.
While many cathedrals face financial struggles, congregations have risen by about 10 per cent in a decade, with 
a total weekly attendance of 37,000 people.
The Archbishop of Canterbury even told a conference last year: "The first thing I want is for people not to be bored. I want them to have fun … If you can't have fun in a cathedral, you don't know what fun is."
Prof Diarmaid MacCulloch of the University of Oxford, said while some would think the ride a "trendy", "dangerous" or "undignified" installation, the helter skelter has been placed in an area of the church often used for leisure purposes in the Middle Ages.
"But cathedrals don't have any problem at all getting people in through the doors, so this shouldn't be seen as a desperate attempt to get people in the building," he added.
"I'm not sure I would have done it, but it's worth seeing what it does."
The helter skelter, which has been hired from a funfair, will be at the cathedral until Aug 18.
Any surplus funds will be put towards cathedral initiatives.
God fun – Novelty events at cathedrals
♦ Last month, Rochester Cathedral launched a crazy golf course in its nave, dubbed "the fairway to heaven".
♦ In May, Liverpool Cathedral held the "Museum of the Moon", involving a 23ft replica of the Moon to celebrate 50 years since the Apollo 11 Moon landing.
♦ Gloucester Cathedral has hosted a skate park for a skateboard festival.
♦ Chester Cathedral is the location for the building of a Lego model of itself with 300,000 bricks.
Gabriella Swerling in The Daily Telegraph

DraggedImage.df17d8cec4f842769852890503ccb165.png
DraggedImage.3635c3f051d14ebfa8d97e82d95c707a.png