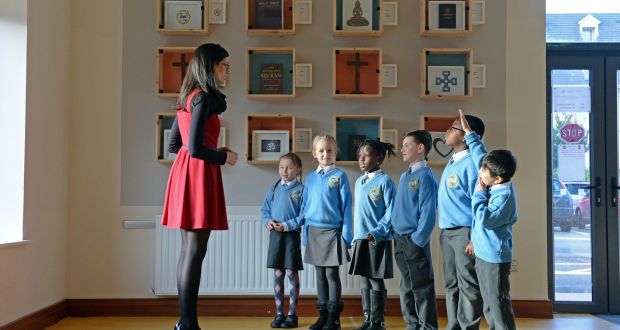 Concerns about the prominence of Catholic practices and symbols
Photo above – A selection of religious symbols on display at Citywest and Saggart Community National School, an Education and Training Board (ETB).
An unpublished document by the Education and Training Boards Ireland has raised concerns about the prominence of Catholic practices and symbols in Irish State Schools.
The document says that mandatory graduation Masses, diocesan inspections and the prevalence of Catholic symbols found in many formerly vocational schools are contrary to the Education and Training Boards' (ETBs) multi-denominational ethos.
The "framework for the recognition of religious belief/identities of all students in ETB schools" mandates that such schools must now no longer bias symbols of one particular religion and should, for example, look to balance traditional Christian symbols during Christmas with Islamic symbols at Eid.
The Education and Training Boards also lay out curriculum changes, replacing any faith formation with a general education on different religions and requiring that all religious events are only provided on an opt-in basis.
The new rules will also remove any Catholic oversight of teaching, with Religious Education teachers now exclusively trained by multidenominational bodies and with schools no longer overseen by diocesan inspectors.
The guidelines will not, however, necessarily apply to the 70 ETB schools that have pre-existing agreements with the Catholic Church on the instruction of Catholic students.
In the Irish Times, the general secretary of Education and Training Boards Ireland, Paddy Lavelle, said that the new framework highlighted "the importance of catering for children of all religious and non-religious worldviews equally".
Courtesy of Catholic Herald, published 12 October 2020
See also –
[[] https://www.irishtimes.com/news/education/catholic-symbols-in-state-schools-to-be-phased-out-1.4378103 ]
schoolsymbols.jpg