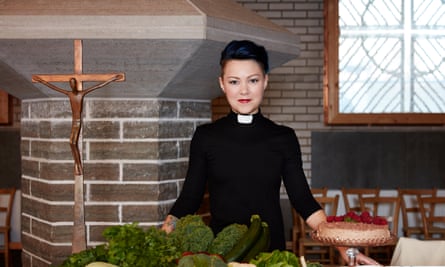 The figures represent a world first
Photo above – Rev Jennie Högberg, 38, a Church of Sweden priest.
For what is thought to be the first time in world, women make up the majority of priests in Scandinavian church – but the gender gap remains
Female priests now outnumber their male counterparts in one of the world's churches for what is believed to be the first time, it was revealed yesterday.
The Church of Sweden yesterday said a tiny majority of its priests were women, just 60 years after they were first allowed to be ordained. Of 3,060 priests in Sweden, 1,533 are female, or 50.1 per cent, said Cristina Grenholm, secretary for the Church of Sweden.
Ms Grenholm said: "From a historical perspective, this parity happened faster than we earlier imagined. A report from 1990 estimated that women would be half of the total clergy in 2090. And it took 30 years."
The Lutheran Church of Sweden has allowed female priests since 1958 and first ordained three women in 1960. The church also has a female archbishop, Dr Antje Jackelén.
Marianne Ejdersten, director of communications at the World Council of Churches, believes the figures represent a world first. Sweden and Norway were leading the way in the ordination of women, she said.
The Church of England said last month that a slight majority of the 570 deacons ordained last year were women. Almost one third of its 20,000 active clergy are female. It first allowed the ordination of women in 1994.
In 1982, the Swedish parliament scrapped a "conscience clause" that allowed male clergy members to refuse to cooperate with a female colleague.
Women have long been over-represented on theological courses, accounting for 70 per cent of those training for ordination in a 2013 study. But male priests earn around 2,200 Swedish kronor (£195) per month more than women do, according to the church's newspaper, Kyrkans Tidning.
See also –
[[] https://www.theguardian.com/world/2020/jul/23/church-of-swedens-female-priests-outnumber-men-but-are-paid-less ]
4724.jpg