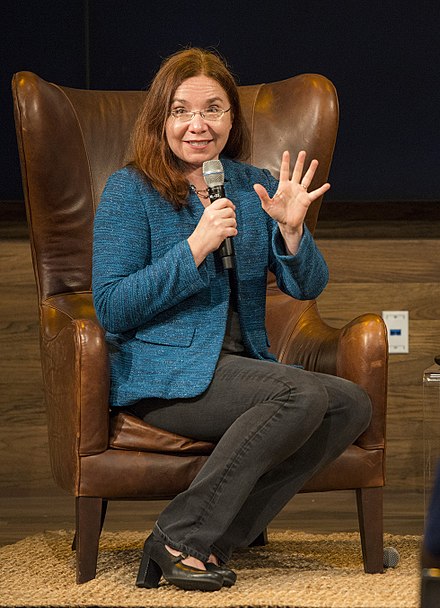 The 2020 E.T.S. Walton Lectures on Science and Religion will be streamed live
The 2020 E.T.S. Walton Lectures on Science and Religion will be given by Prof. Katharine Hayhoe of the Climate Science Center at Texas Tech University on Thursday 29 October 2020, 8 pm (Irish Standard Time).
The lecture will be live streamed on YouTube:
https://www.youtube.com/watch?v=hNGioY10blE.
This lecture was originally scheduled to be given at Maynooth University on 13 March, but had to be cancelled because of Covid19. Prof. Hayhoe also gave a Walton Lecture at University College Cork on 9 March 2020.
Abstract. Climate change is one of the most hotly debated scientific issues of today. As the scientific evidence increases, so does the opposition to solutions. Is the evidence solid? Are the proposed solutions viable? And why would anyone care? Join Katharine Hayhoe as she untangles the complex science behind global warming and highlights the key role our faith and values play in shaping our attitudes and actions on this crucial topic.
The 2020 Walton Lectures are organised by Christians in Science Ireland in collaboration with the UCC Christian Union, the Maynooth Christian Union, and Trócaire.
Katharine Hayhoe is a climate scientist working at Texas Tech University (Lubbock, Texas), where she is a professor in the Department of Political Science, and co-director of the Climate Science Center. She has a B.Sc. in Physics from the University of Toronto and an M.S. and Ph.D. in Atmospheric Science from the University of Illinois.
Her current research focuses on establishing a scientific basis for assessing the regional to local-scale impacts of climate change on human systems and the natural environment. She has published over 125 peer-reviewed papers, abstracts, and other publications, and has served as lead author on key reports for the U.S. Global Change Research Program and the National Academy of Sciences, including the Second, Third and Fourth U.S. National Climate Assessments and the 2017 Climate Science Special Report.
Katharine is the founder and CEO of ATMOS Research, aiming to bridge the gap between scientists and stakeholders to provide relevant, state-of-the-art information on how climate change will affect our lives to a broad range of non-profit, industry and government clients.
Katharine is also an outstanding communicator, who has received the Climate Communications Prize of the American Geophysical Union (2014), and the Stephen H. Schneider Award for Outstanding Climate Science Communication (2018). Her name appears in a number of lists including Time Magazine's 100 Most Influential People, Foreign Policy's 100 Leading Thinkers, and FORTUNE magazine's World's Greatest Leaders.
Together with her husband Andrew Farley, who is a pastor, she has written A Climate for Change: Global Warming Facts for Faith-Based Decisions, and she aims to bridge the gap between scientists and Christians. She frequently gives public talks on climate science, impacts, communication, and faith. More information about Katharine Hayhoe can be found on her personal webpages.
[http://www.katharinehayhoe.com/wp2016/]
The E. T. S. Walton Lectures on Science and Religion
The E. T. S. Walton Lectures on Science and Religion (Walton Lectures in brief) are a series of lectures on currents topics related to science and religion, suitable to an audience of academics and informed lay persons. Each year a speaker, who is a scientist, philosopher, or theologian of international reputation, will be invited to give a lecture, which will be held in one or more locations on the island of Ireland.
The Walton Lectures are named after physicist and Nobel laureate the late Ernest Thomas Sinton Walton. Walton's work as a scientist and his Christian commitment are well documented in the biography written by V. J. McBrierty: Ernest Thomas Sinton Walton, The Irish Scientist, 1903-1995 (Trinity College Dublin, 2003). Walton was a committed member of the Methodist church, and following the award of the Nobel Prize in Physics in 1951 jointly to himself and John Cockroft, he spoke on science and religion to audiences in Ireland, the United States, and Sweden.
The Walton Lectures are organised by Christians in Science Ireland.
KHayhoe.jpg