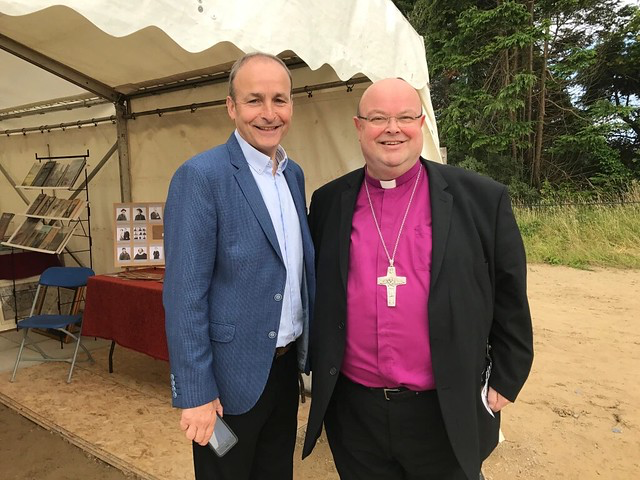 Bishop Fintan Gavin and Bishop Paul Colton have both congratulated Deputy Micheál Martin on his election as Taoiseach
Photo above – Micheál Martin, TD with Bishop Paul Colton at the West Cork History Festival in 2017.
Bishop Fintan Gavin stated –
On behalf of the people, priests and religious of the Diocese of Cork & Ross, I congratulate Deputy Micheál Martin on his election as Taoiseach of our country. This is a special day for Deputy Martin, his wife Mary, his family and his many friends throughout Cork city and county.
His election as Taoiseach will be a source of special pride to his native parish of Turners Cross, to the Presentation school communities of Bunscoil Chríost Rí, Coláiste Chríost Rí and to the sporting community of Nemo Rangers. Cork people and communities are resilient and creative in facing life's difficulties. This is also a community of proud family traditions and enduring values of faith and service. We pull together in a spirit of 'ní neart go cur le chéile'!
Micheál Martin assumes the office of Taoiseach at a time of immense challenges for our country along with many existing issues as we work towards a fairer society for all.
Pope Francis encourages us to pray for political leaders as they seek the common good. He also calls us to be courageous in our care for people on the margins, those whose life needs special protection and all who are vulnerable. We pray for 'a wise and discerning heart' for our new Taoiseach (1 King 3:12).
Deputy Martin can be assured of the prayers of our diocesan community.
As the second Cork-born Taoiseach, Micheál Martin follows in the footsteps of the late Jack Lynch who brought great distinction to Cork and to our country.
At a personal level, I wish Micheál & Mary Martin and their family every blessing at this special time in their lives. I wish our new Taoiseach every success in all his endeavours on behalf of our people.
Statement by Bishop Paul Colton on the occasion of the election of Micheál Martin, TD as Taoiseach
The Bishop of Cork, Cloyne and Ross, Dr Paul Colton, has made the following statement on the occasion of the election by Dáil Éireann of Micheál Martin, TD as Taoiseach:
'Twice each day of the year, both morning and evening, members of the Church of Ireland pray for the Government using these words: "O Lord, guide and defend our rulers and grant our government wisdom." This prayer is offered regardless of a person's own political outlook or affiliations, for the government of the day. Those prayers will continue tomorrow and are being said today, as a new government is being appointed, and a new Taoiseach has been elected.
'As Church of Ireland Bishop of Cork, however, I wish to send my warmest personal congratulations to Micheál Martin, T.D. on his election to the office of Taoiseach. In a particular way we in Cork enjoy the achievements of our own. I also extend my good wishes to his family and friends who, I know, are delighted and share in the joy of his personal achievement.
'I have known Micheál Martin for many decades. We are the same age and attended UCC at the same time. Since 1999 when I was elected bishop we have worked together in the public forum and in relation to matters of common interest. Like his fellow Teachtaí Dála and Senators in Cork he has been supportive of the work of the Church of Ireland community in key areas such as education, social work, sport, youth work and healthcare; notably Saint Luke's Home, Cork. I wish him well.
'This new Government, constituted in this particular way, is historic. On the one hand it is coming into office in one of the centenary years of our War of Independence and as the centenary of the Civil War approaches. On the other hand, it takes up leadership at a time of contemporary emergencies; our very existence is menaced by climate breakdown and the biodiversity crisis, and we are still in the midst of the CoronaVirus Pandemic. Many issues which our country faces have been accentuated by the current crisis and other enduring challenges have drifted from the headlines; but they haven't gone away and must be addressed. Now is a time for courage and hope, as well as solidarity and common purpose on the part of us all.
'I wish the new Taoiseach and Government well and will continue to pray for them daily, as I and members of the Church of Ireland have done for Taoisigh and Governments before them.'
DraggedImage.352241a76dce456baadb8988cda5d5f7.png