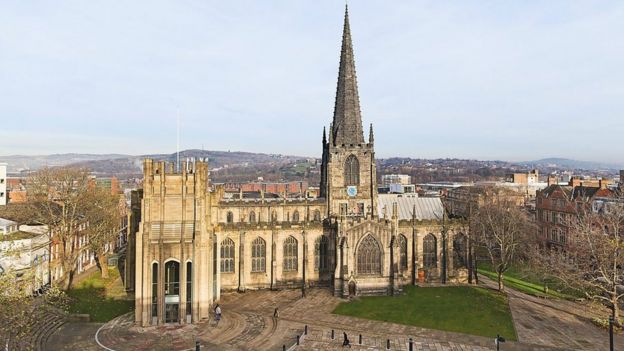 Cathedral has set up an independent enquiry over bullying allegations
Sheffield Cathedral has set up an independent enquiry over bullying allegations after chorister parents expressed concerns regarding staff behaviour, the Daily Telegraph reports.
Claims of bullying come after it emerged earlier this week that the cathedral would disband its choir because it does not meet the needs of a "mixed urban community" and should be more diverse.
The complaints, regarding allegedly intimidating behaviour towards musical staff and volunteers, are believed to have been made in April. Peter Bradley, the cathedral's dean, has now ordered an external inquiry. It is understood a member of staff was alleged to have received a 45-minute threatening phone call at midnight from an official at the cathedral.
Sheffield Cathedral choir has lost three music directors within five years. The most recent resigned without explanation earlier this month, only weeks after being appointed.
Former choristers said they were "shocked and saddened".
They added: "More must be done to make organisations more diverse and inclusive. But to use inclusion as a pretext to obscure the mismanagement of music at Sheffield Cathedral is shameful"
The dean (Belfast born Very Rev Peter Bradley) told The Daily Telegraph he "very much hoped" choristers, who would lose their place following the disbanding and re-recruiting, would re-audition.
He added: "Of course, we regret this, and we recognise the real grief.
"They've not had their membership of the cathedral taken away, they're still valued parts of the community … If we'd felt that there was a really effective way of doing this, within the gradual approach [to increase choir numbers as well as spectators] that we'd tried, we'd be doing it."
A spokesman for the cathedral said: "Whenever a complaint is made, the Dean and Chapter take it extremely seriously. In this case a formal investigation into harassment and bullying is in progress by an external body."
A BBC news report stated, "Nicholas Cox is a former lay clerk at the cathedral who ran an outreach project called Sing, aimed at reaching children from diverse backgrounds.
He said: "I'm not going to sit here and say that cathedral music is not a very male, very white and privileged pursuit, but I truly believe Sheffield Cathedral was at the forefront of trying to change that.
"To me, building upon a choir rather than disbanding it and starting again seems like a better way forward."
The choir, which was suspended over the coronavirus lockdown, is made up of about 18 children and 10 adults, who performed up to eight times each week at the city centre cathedral.
CNI note – Dean Peter Bradley grew up within the C of I, as a member of St Polycarp's Paish, Finaghy, in Connor Diocese. He was born on 26 June 1964. He was educated at the Royal Belfast Academical Institution, an all-boys grammar school in Belfast. He then studied at Trinity Hall, Cambridge. was ordained in the Church of England as a deacon in 1988 and as a priest in 1989. He became the Chaplain of Gonville and Caius College, Cambridge. He was Team Vicar of St Michael and All Angels, Abingdon and All Saints', High Wycombe before his appointment to the Deanery.
JULY27Sheffield.jpg