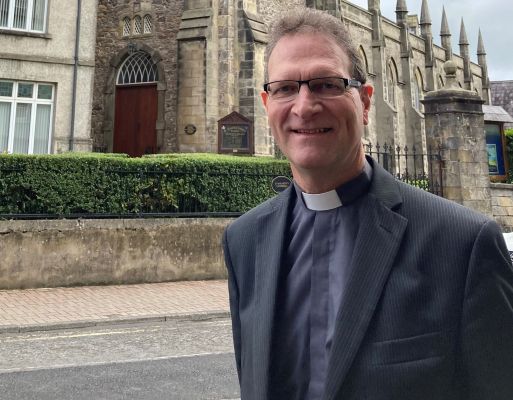 Last weekend marked an important anniversary for the Dean of Clogher, the Very Revd Kenneth Hall, who is in charge of St. Macartin's Cathedral parish, Enniskillen
It marked 10 years since he was instituted Rector of Enniskillen Parish and installed as the Dean of Clogher, holding the honour of being the only Dean of two diocesan cathedrals; Enniskillen and Clogher.
For Dean Hall, it has been a period of growth, change, community involvement and at times national recognition as St. Macartin's Cathedral hosted some prestigious civic services attracting leaders of church, monarchy and state throughout Ireland, the United Kingdom as well as internationally.
The most public event during this time was the visit of Her Majesty, The Queen, to Enniskillen in June 2012 when the Sovereign symbolically walked across the road from the Anglican St. Macartin's Cathedral to the Roman Catholic St. Michael's Church, highlighting the strong community relations work between Dean Kenneth Hall and Monsignor Peter O'Reilly. The Queen had been attending a Service of Thanksgiving in St Macartin's for the Diamond Jubilee.
Dean Hall still remembers vividly the build up to that occasion and the outpouring of goodwill afterwards. He and Monsignor O'Reilly were subsequently invited to Buckingham Palace and a separate visit to Windsor Castle. Both clerics had a private audience with the Queen.
During his decade of ministry in Enniskillen, Dean Hall has also hosted civic leaders such as the President of Ireland, Michael D. Higgins; two Taoisigh, Enda Kenny and Leo Varadkar for the official Remembrance Service as well as leaders and representatives of the governments of Northern Ireland, the United Kingdom, the US and Poland.
In terms of major church occasions, Dean Hall fondly remembers some great services attended by Archbishops as well as bishops from many other Anglican churches and other denominations. These included Archishops of Armagh; the Archbishop of York, Most Revd. John Sentamu for the pre-G8 service and the Bishop of Swaziland, the Right Revd Ellinah Wamukoya, the first female bishop to preach in Clogher Diocese as well as the Bishop of Jerusalem, Right Revd Suheil Dawani.
With his interest in mission work, linked to CMS Ireland, Dean Hall visited Kajiado Diocese in Kenya in 2012 and he has also preached in St. John's Anglican Cathedral, Hong Kong at the invitation of the Dean, Very Revd Matthias C. Der.
At the beginning of his ministry in Enniskillen, Dean Hall welcomed the Primate of the Episcopal Church of Scotland, the Most Revd David Chillingworth to the Cathedral to preach at his installation as Dean. The preacher was once a choirboy in the Cathedral.
Canon Andrew White, Vicar of Baghdad also preached in St. Macartin's.
However between these many public occasions, pastoral work and normal services have continued unabated. In the past 10 years, Dean Hall has conducted 182 baptisms, prepared 203 young people for confirmation, conducted 70 marriages, 250 funerals and led 2026 services, about half of which were services of Holy Communion.
In recent years a Garden of Remembrance has been opened in the Cathedral grounds for burial of ashes and last year, the parish hosted the launch of a history book on the Cathedral, which will become even more important when the iconic building celebrates its 400th anniversary in 2022.
The growth in Enniskillen parish is evidenced by the number of parishioners now, exceeding 1370, with 276 new families being added over the 10 years. This is why new ways of outreach have had to be developed since Coronavirus Covid-19 restrictions earlier this year.
All weekly services in St. Macartin's Cathedral are now livestreamed as well as those weddings and funerals agreed with families. Online technology is also assisting church meetings by Zoom as well as Sunday School and Messy Church also engaging with young people online.
"I have always put a lot of emphasis on pastoral visiting and getting to know the people and building the community. The Cathedral can be a home for all regardless of differences," he said.
"It has certainly been a rollercoaster as we (the parish) spent £1.3m on developing the Cathedral Hall and now about to embark on the £400,000 re-roofing of the Cathedral which could not be done without the loyal support of the Select Vestry," he adds.
In his time in the parish, Dean Hall introduced choral scholarships and eight members are currently benefiting from these to increase choir numbers to around 40.
Outside his own parish work, Dean Hall serves on a number of diocesan bodies as well as being secretary of Irish Dean's group. He is also the hospital chaplain locally and in normal times would meet with around 50 new people each week only for that work to be suspended at present.
In a reflection for his 10 years in the Cathedral on Sunday, Dean Hall reflected on the love that binds everyone together and appealed to those watching the service online to sign up as a member "at a distance" so that they can be offered pastoral care, even at the end of a telephone.
"We have had viewers from as far as Canada, Australia and London. A lot of people might be virtual but we can provide pastoral care for them too," he said.
Dean Hall has the support of his wife, Stephanie and his three sons, Philip, a gastro consultant in Belfast; Gary, a teacher in Leeds and Michael, a software engineer in Belfast.
20916Dean-Kenny-Hall-2.jpg