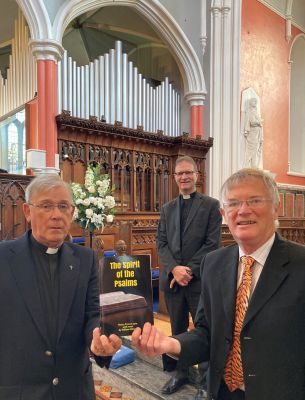 Author – Book is a tribute to a "truly mighty man of God."
Photo above – The book is presented to Canon Desmond Kingston and Dean Kenneth Hall.
A new book which brings a modern twist to one of the great works of famous hymn writer, Henry Francis Lyte, has been published by a parishioner in Clogher Diocese.
Dr. William Holmes, a member of St. Macartin's Cathedral parish, Enniskillen, used modern technology to interpret the text from poor quality photocopies of Lyte's original book, "The Spirit of the Psalms" as this book had been out of print for over 150 years.
Henry Francis Lyte worshipped in the Cathedral building when it was then St. Anne's Parish Church while he was a pupil at Portora Royal School, Enniskillen in the early 1800s. He went on to become an Anglican clergyman.
The idea of a book came about after Dr Holmes had been in conversation with the former chaplain at Portora School, Revd Canon Desmond Kingston.
The subject turned to the life and times of Henry Lyte and Canon Kingston indicated that he would love to obtain a copy of 'The Spirit of the Psalms', but as it had been out of print for over 150 years, its acquisition seemed impossible.
Dr. Holmes undertook an internet search which proved to be fruitless but did find some very poor-quality photocopies – on one of which, a person's hand obscured part of the text!
He determined that Lyte's book should be revived and used the modern technology of optical character recognition (OCR) to generate electronic text. This then had to be carefully edited to ensure faithfulness to the original, as OCR techniques can be inexact, especially where the pages being scanned are damaged or smudged. In time he finally produced an electronic book running to over 40,000 words.
As language has evolved much in the past two centuries, he found that not only were various words used by Lyte archaic, but also there were a number of expressions that to modern eyes were obscure in their meaning. Rather than alter any of Lyte's text, he therefore added notes, comments, and spelling corrections to enhance the impact of the work.
The book by Dr William Holmes
The book was first published in electronic form on various Amazon websites around the world, and more recently has been listed on the same websites, including Amazon.co.uk, as a paperback.
Henry Francis Lyte is responsible for writing some of the greatest hymns sung in churches here including the world famous hymn 'Abide with Me' which has been recorded by many performers and was even used as the backing music during a performance by 50 dancers at the opening of the 2012 Olympic Games in London. It is also sung before the FA Cup Final in London and at other major sporting events.
Although it is familiar to a great number of people, even those of no particular Christian faith, the name of its author would not be as much so.
Henry Francis Lyte, was from 1803 until 1809, a boarder at what became Portora Royal School and worshipped in the town's Parish Church of Saint Anne, which became St Macartin's Cathedral in 1923.
Lyte went on to study Divinity at Trinity College Dublin and later ordained in the Church of Ireland in 1814. In 1827 he became the vicar in Lower Brixham, Devon.
He was a prolific writer and penned many publications including poems and spiritual songs. One such work was entitled 'The Spirit of the Psalms', Lyte's paraphrases of all 150 of the Psalms of David. He intended these to be used in Christian worship, particularly in his congregation, which was largely composed of fishermen and their families. As a faithful pastor, Lyte strove hard to encourage his flock. 'The Spirit of the Psalms' was one of the ways he chose to help them to understand the teaching of Christianity and to encourage their spiritual awareness through music.
The book differed from other versions that had been published, in that Lyte allowed himself more liberal freedom in interpretation. Rarely did he attempt to keep close to the Biblical text, as he himself said in the second edition 1834 preface, where he states, referring to himself, "… he has endeavoured to condense the leading sentiments of each (psalm) into a few verses for congregational singing." Two of his most famous are probably his interpretation of Psalm 67 'God of Mercy, God of Grace' and Psalm 103 – 'Praise my Soul the King of Heaven'.
Henry Francis Lyte died in 1847 in Nice, France.
Dr Holmes said the book was produced as a tribute to a "truly mighty man of God."
Francis-Lyte-book-1.jpg