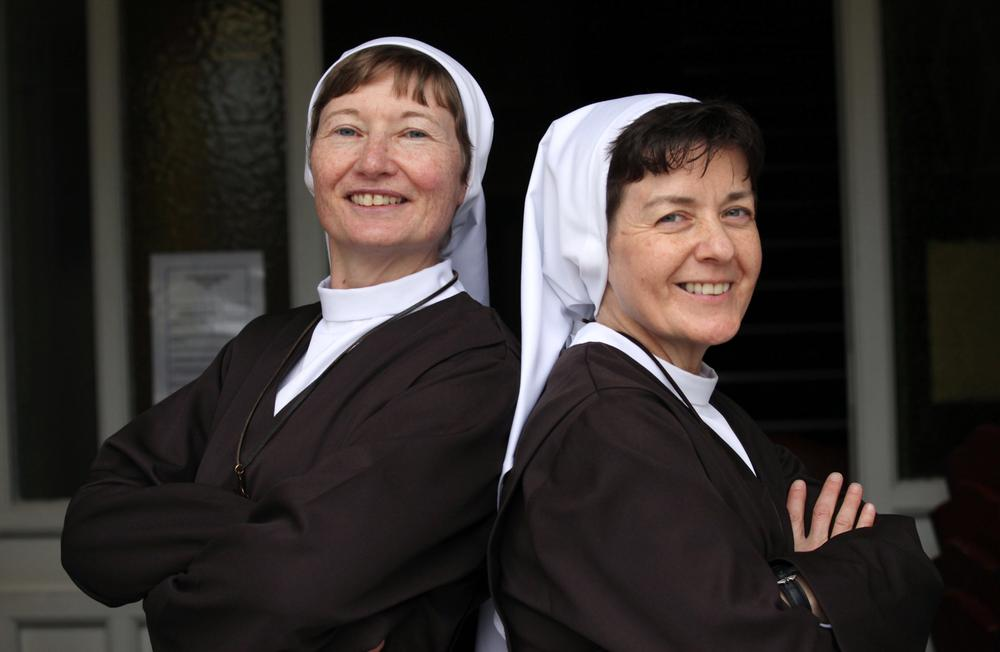 Photo above – Martina Purdy and Elaine Kelly will lead pilgrims
Former BBC political correspondent Martina Purdy and ex-barrister Elaine Kelly have launched a new Camino-style pilgrim walk in Downpatrick, Lauren Harte writes in the Belfast Telegraph.
The pair left their jobs in 2014 to join the Sisters of the Adoration on west Belfast's Falls Road until their convent grew too small to complete their training.
Martina has taken on a marketing role at the St Patrick Centre, the only permanent exhibition in the world dedicated to Ireland's patron saint.
Both women are set to lead pilgrims along the 13-mile St Patrick's Way, visiting seven locations, from next month.
They have scouted a path for pilgrims that is steeped in spirituality, history and beauty.
While practising safe social distancing, walkers will hear about the legacy of St Patrick and visit sites such as his first church at Saul, established in 432AD.
A second Newcastle route through Tollymore Forest starts on July 4 with an Irish language option, available on Sundays and led by Jean O'Neill, from July 12.
"Elaine and I were due to walk the Camino in Spain in May but this was cancelled due to the Covid-19 pandemic," Martina said. "But we found an incredible alternative on our doorstep.
"We call parts of this path the Way of Tranquillity.
"This pilgrim walk, it offers an opportunity to rejuvenate physically, mentally and spiritually.
"So please come along, and in the words of St Patrick, 'Be amazed all you people'."
Elaine added: "St Patrick's Way is a journey of self-discovery. Walking in the footsteps of the great Apostle of Ireland, we taste the mysticism of Patrick, the great treasures he gave to the world, and we imbibe the beauty and history of the Christian faith.
"St Patrick's Way will go some way to help feed the malnutrition of our souls!"
"This is an exciting new project which was designed during the lockdown to encourage people to come and enjoy the countryside and to experience the rich legacy of our patron saint and the beauty and history of Downpatrick," said Dr Tim Campbell, centre director.
"These walks are totally inclusive and truly cross-community appealing to all faiths and none."
St Patrick's Way in Downpatrick will be officially launched on July 1 at 9am when Martina will lead the first pilgrims from the St Patrick Centre to Inch Abbey and Saul Church, where they will be welcomed by guests, including clergy, politicians, business people and media for a celebration at The Barn.
Elaine will lead the second group to the remaining sites, and both will finish at St Patrick's grave.
Walkers will also be provided with a newly designed pilgrim passport, a high-viz jacket, sponsored by Phoenix Natural Gas, and a pilgrim lunch in The Barn, an inn offering hospitality in the heart of Patrick's Country.
Prices begin at £30 for half day, with full day £45 pounds.
Courtesy The Belfast Telegraph 23 June 2020
DraggedImage.dfb6cbc4e0bf4667b53772e16bc8a41c.png