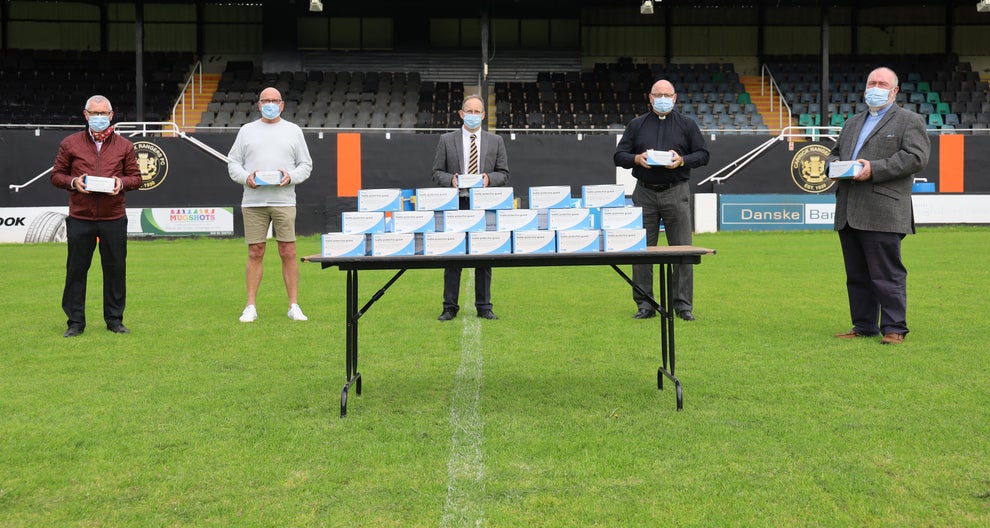 A great opportunity for our company to support our community
Paul Smith (St Nicholas Catholic Church), Lesley Addis (Woodlands Presbyterian Church), Peter Clarke (Carrick FC/Flex), Alan McCann (Holy Trinity Church) and Richard Graham (Joymount Presbyterian Church)
The club's co-owner Peter Clarke organised the get-together to hand out 18,000 free facemasks to representatives from the Presbyterian, Church of Ireland and Catholic faiths who could then pass them on to their congregations, Graeme Cousins reports in the News Letter.
The plan is to donate masks to every single denomination in the area – around 30 churches and places of worship, not just those who attended today.
Peter, also the vice president of Flex – the manufacturing company who made the masks, said: "There is no doubt that we will need to wear facemasks to help stop the spread of this virus for some time to come.
"I was aware that maintaining a personal supply can add up financially, and I thought there was a great opportunity for our company to support our community in Carrickfergus where I've been involved with Carrick Rangers for many years."
Flex does not normally make facemasks, but began doing so when it became clear it could not rely on others to protect the firm's 160,000 employees across 30 countries.
Most PPE is made in China, and disruption to air cargo and shipping capacity, together with competition for stock from front line organisations gave Flex little confidence that they could continue to protect their employees with supplies from outside the company.
Peter commented: "We estimated that we needed at least a million masks per week for factory workers alone.
"There was no choice but to manufacture the masks ourselves. That effort required a global team to work around the clock to secure supplies, coordinate logistics and learn as they went along.
"The result was that we went from never having made a single mask before, to producing 30 million masks in just 22 weeks."
With places of worship now re-opening, Peter saw an opportunity to give back to his community.
He said: "Because of the success of that project, we are able to look beyond our own mask needs and make this donation [to local churches]."
Returning parishioners in Carrickfergus will be pleased to learn that in addition to the safety measures already implemented by their respective churches, they can now receive a free facemask courtesy of Flex.
While many have returned to church, some elderly parishioners have been understandably cautious about indoor gatherings and Peter said he hoped their fears could be eased with the provision of masks.
Courtesy the News Letter
September 17, 2020
carriickmasks.jpg