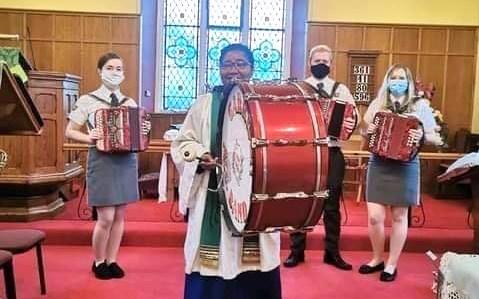 A fond farewell to Reverend Canon Ngozi Njoku
Special socially-distanced services took place recently as parishioners bid a fond farewell to Reverend Canon Ngozi Njoku, Church of Ireland rector for the parishes of Garrison, Slavin, Belleek and Kiltyclogher, as she moved on to start her new journey in Wembley after working in the Border area for seven happy years, Jessica Campbell reports in The Impartial Reporter
At Canon Ngozi's last service in Garrison, Jason Acheson, Rector's Churchwarden, thanked her for her seven years of ministry and he presented her a gift with Adrian Elliott People's Churchwarden.
Joy Graham, Church Secretary gave a special farewell speech at the service. She said: "On August 31, 2013 Reverend Chinenye Ngozi Njoku arrived in our midst and was instituted in Belleek Parish Church. She was presented with a pair of wellington boots that night."
She continued: "None of us realised the influence she would have on our churches, our families and ourselves. Our pastor and friend Ngozi was with us through good times and, for many of us, through some very difficult times. She was a comfort and immense support through everything. Her sincerity has always been her outstanding feature. She has held our hands through the darkest of days. Each and everyone of us have a special story to tell of our friendships with her. She gave us lots of laughs too, some of which we will not go into."
"Her amazing spirit and good humour always carried us through. But of course her faith and courage which she shared in her ministry not just with us but the whole community was always incredible. She shared her love of God with everyone and prayed in all houses through their difficult times," added Joy.
In her last service in Slavin Church, Canon Ngozi's thanked everyone for the way in which she was welcomed from the first day she visited the Group of Parishes and for the support she received in her journey of ministry with her parishioners.
Audrey Ovens and her sister Marina Hassard sang a hymn specially chosen, 'When we all get to Heaven'. Marina accompanied on guitar. The People's Churchwarden, Tom Ovens, paid tribute to Canon Ngozi and thanked her for seven years of ministry with us, always on call for all occasions. He presented her with a cheque on behalf of the parishioners.
During her last service in Belleek, Rachel Love, Rector's Churchwarden, paid tribute to Canon Ngozi and thanked her for the seven years she spent amongst the church family. Rachel commented that Canon Ngozi, was "a pleasure to work with" and thanked her for her drive in services and daily prayers, enjoyed by the whole community during lockdown. Rachel said that Canon Ngozi was very much a "people person" and would be missed by the whole community. She concluded by wishing her health, happiness and much success in Wembley. "Wembley's gain was our loss", she said.
Canon Ngozi's last service in Kiltyclogher was not possible owing to Level 3 Covid-19 restrictions. A harvest and farewell service was held in Garrison Church.
On behalf of parishioners at Kiltyclogher Parish, Pauline Carson, Parish Treasurer and Secretary, thanked Canon Ngozi for her work and ministry among them. From the first wedding to the last Baptism she said it was a pleasure to have worked with her.
She also said they enjoyed her wit and good humour. She had reached out to the wider community and this was appreciated.
They were very sorry she was leaving but wished her the very best in her future life and ministry in Wembley.
Courtesy The Impartial Reporter
28 October 2020
BORDER1.jpg