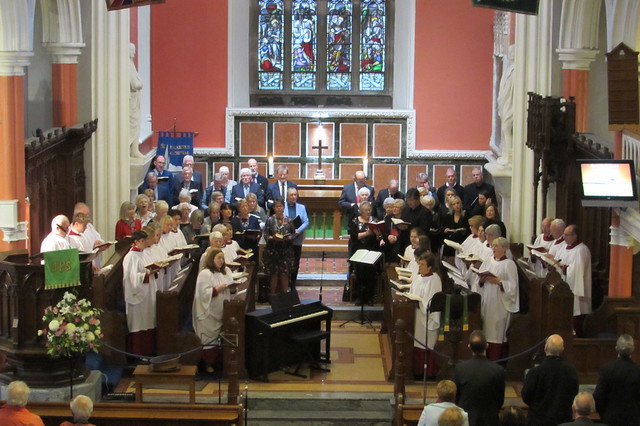 The choirs from Enniskillen's four main churches came together in St Macartin's Cathedral, Enniskillen, on Sunday evening, 29th September for a 'Big Sing', a fundraising event to raise money towards the completion of the new Enniskillen Memorial to be erected in memory of those who lost their lives during the Remembrance Day bombing in 1987.
The clergy from the four churches – St Macartin's Cathedral (Church of Ireland), St Michael's Roman Catholic Church, Enniskillen Methodist Church and Enniskillen Presbyterian Church – all attended the service and shared in the closing prayers.
The occasion resulted in a cross–community congregation who enjoyed participating in congregational hymns as well as listening to well–known traditional and modern hymns, Gospel songs and classical pieces. The main organist was Mr Glenn Moore.
'The Big Sing' was introduced by the Dean of St Macartin's Cathedral, the Very Revd Kenneth Hall, who also asked everyone to pray for those "who have suffered from the effects of terrorist violence and particularly the victims of the Enniskillen bombing and others whom we knew and in their memory we treasure."
Dean Hall read out the names of those who died as a result of the Enniskillen bombing: Wesley and Bertha Armstrong, Kitchener and Jessie Johnston, William and Agnes Mullan, Edward Armstrong, Samuel Gault, Johnny Megaw, Georgina Quinton, Marie Wilson, and Ronnie Hill.
The new Enniskillen Memorial has been granted full planning permission.
DraggedImage.77ec678c31074cb0aae1913503b55e73.png