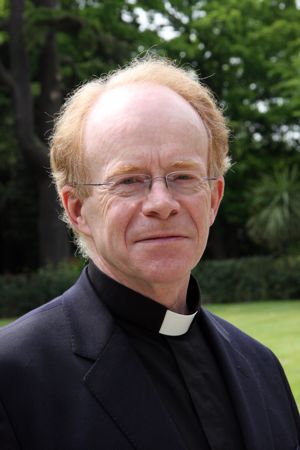 How Covid–19 Emergency Revitalised a Community
Communities throughout Ireland have been transformed during the Covid-19 lockdown. The virus has tragically taken many lives and left many isolated. But restrictions on movement also meant that people spent more time in their own areas. In Irishtown and Ringsend, an emergency programme established to combat isolation and food poverty has had a transformative effect.
The Rector, the Revd John Marchant (photo above), believes Irishtown has changed for ever as a result of hard work put in by local residents' committees during lockdown. He hopes the ancient and historic St Matthew's Church can be part of the rebirth of the community which occupies a small area between Dublin's docks and Sandymount where people who have recently arrived to work with Google or to enjoy a location that is close to the city centre, live side by side with people whose families have lived in the area for generations.
As soon as the Covid-19 pandemic hit John was asked to join a broad-based local committee for people affected by the shock. It was organised through the Ringsend Community Services Forum and tasked to distribute an emergency Covid-19 fund of €150,000 offered by Google. The tech giant set geographical limits on this: Ringsend, Irishtown, Bath Avenue, South Lotts and Pearse Street. Their concentration was on three immediate needs in the area due to COVID-19: food shortage, caregiving and prevention and mental health.
"This was an unprecedented situation in this area. The funding sources of many organisations were drying up; the difference that Google made was to seek to involve local groups such as residents' associations in flats and housing schemes, and apartment dwellers of all ages, the vast majority of whom are in local authority schemes. The focus became one of assisting those most immediately impacted by the virus: elderly people now cocooned and isolated; children and families in small apartments denied the outlet of school; and people finding the pressures of life very challenging in this very high-density living," he recalled.
The committee, which also included the local Parish Priest, Fr Ivan Tonge, along with representatives of other local churches, community activists and outreach workers, sought applications for the fund. Their requirements included that people must live locally and band together into residents' groups with committees, group bank accounts and designated officers. Well thought through plans designed to answer the immediate needs of their residents in the short term were encouraged.
People responded with imaginative, costed initiatives which had an immediate positive impact. There were practical food vouchers for local supermarkets and some fish and chips deliveries to cocooned older local people. The balcony bingo sessions for those locked down in flat complexes grabbed headlines around the world as did the socially distant sing alongs. There were children's activities such as baking, painting and colouring and free or subsidised counselling initiatives.
"I am genuinely impressed by what has happened over these weeks, the focus of which was designed to combat this crisis in areas of low income, high density living and social deprivation," John says. "What started out as an unfocused race to grab as much cash as could be blagged out of Google has developed and matured into a real, game-changing determination by the local residents to claim their own place in the sun, their own independence, and a realisation of their inter-dependence. Right now, 47 separate groups have secured practical financial support for their local communities. What I have experienced is communities of local people anxious to stand up and take control of much of their surroundings. I have no doubt whatsoever that this will irrevocably change their future in this area of Dublin."
John has been ministering in Irishtown for six years and has been building connections between the parish and the wider community. In October 2018 St Matthew's Church threw open its front doors for the first time in over 50 years in the presence of a broad cross section of the community. Access to the church had been through a side entrance. The aim of refurbishing the Georgian doors was to improve the welcome to the whole community where the church occupies a prominent position.
The parish school is thriving and he hopes that the church can reach out to families and offer a place of hospitality. Meanwhile, Google employs 10,000 people and John would like to explore ways of enabling the newcomers and the long time residents integrate.
"Irishtown has immense history but it is changing. The demographic is getting younger. There are a lot of people settling here. This is a time of change and I'm trying to bring people along. I want to reach out to people in the area and I want the parish to be part of the area. The church is well placed to be part of the community," he comments. "The community building that has happened during Covid is a microcosm of the larger picture."
Link to the diocesan magazine here –
[[] https://dublin.anglican.org/news/2020/07/28/from-fish-and-chip-deliveries ]
Revd-John-Marchant.jpg