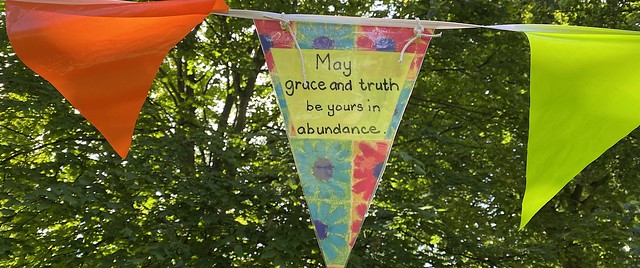 Simple art project adds to Holywood welcome
Local people frequently walk through the lovely grounds of St Philip and St James in Holywood, and the parish recently undertook a little art project to enhance the welcome.
Adults and children alike were encouraged to download a pennant template and decorate it with an encouraging word, a Bible verse or a few lines about God's faithfulness to them during the COVID pandemic.
There was a great response and bunting now adorns the leafy grounds. Visitors have been stopping to read the messages and are appreciative of the splash of colour, especially in these rather grey days!
The parish displays a banner and also makes copies of the parish newsletter available in a waterproof perspex box on the gate – several simple ways to make people feel welcome to the church and grounds.
RTÉ Sunday worship from St Columba's, West Clare
The Revd Kevin O'Brien, the Rector of Ennis with Spanish Point and Kilnasoolagh, was recently asked by RTÉ to produce a Service broadcast on RTÉ News Now on Sunday 19th July at 2pm.
Mr O'Brien has been producing Services every Sunday on YouTube during the lockdown and will continue to do so even though churches are beginning to reopen. These can be seen on www.clareanglicans.ie
Mr O'Brien said, "Our online services have been watched by a large number of viewers both in West Clare and much further afield and we feel it is important to continue them even though our churches are reopening, especially to help those people who do not feel ready yet to attend in person. Also, we see online participation as a new and growing way of many people 'going to church' into the future – we want to be there for them."
"We are grateful to RTÉ for giving us the opportunity to widen our number of worshippers still further by broadcasting it on RTÉ News Now."
The Service was broadcast on RTÉ News Now on Sunday 19th July at 2pm – a Service of Morning Prayer for the 6th Sunday after Trinity. It was led by Kevin who also preached. Members of the three churches were involved in providing readings and prayers. The service was introduced by the church organist Nigel Bridge, playing a piece of music of his own composition. The programme ended with a traditional piper playing Easter Snow.
Aurora youth and children's ministry course to start online in September
The Church of Ireland Youth Department and the Children's Ministry Network are encouraging leaders in youth and children's ministry to consider signing up for the Aurora courses, starting again this September.
This time round, Aurora will be delivered fully online. The courses, provided by working with the Diocese of Sheffield and St Peter's College, are a great opportunity to explore how you can develop your skills and ministry in this area; as the course is to be delivered online, applications are open to participants from across the island.
For more information, download and check out the following leaflets, visit
[ www.auroratraining.org.uk/eire ] or contact Steve Grasham at [ steve@ciyd.org ]
News Briefs
Coronavirus NI: Face-coverings could become mandatory in NI shops. Northern Ireland's Covid-19 tracing mobile phone app will be launched next week.
Apple and Nike urged to cut 'China Uighur ties'. This is an important part of the strategy for change. China is unlikely to change until there are economic consequences. Right now there are an estimated 1m Uighur Muslims in forced labour camps.
Sister Ruth Lewis, a Pakistani nun who dedicated her life to helping underprivileged people with disabilities, died July 20 following coronavirus complications.
24 July 1990 – Sr Catherine Dunne, a nun from Dublin, was killed, along with three RUC constables, in a roadside IRA bomb in Armagh. She was the only nun killed in the Troubles. Sinn Féin's Martin McGuinness said, "Our sorrow at these deaths is genuine."
Even in a "best-case scenario" where the amount of plastic pollution was reduced by 80% by 2040, there would still be a massive build-up of accumulated plastic, new research finds. CNN reports.
'I miss so many things about Northern Ireland… not least the Ulster fries and tray bakes' Julian Smith former NI Secretary on his staycation in NI
Let's sing series
Down & Dromore's Let's Sing is a video series where singers and musicians from around the diocese are invited to share their favourite song or hymn with us. Edwin Gray, who is the organist in St Philip and St James, Holywood, introduces 'Christ Triumphant, Ever Reigning' by Michael Saward to the tune Guiting Power. This series was recorded during the Coronavirus pandemic when churches were advised to avoid congregational singing.
[[] https://www.downanddromore.org/news/2020/07/lets-sing-christ-triumphant-ever-reigning?utm_source=dlvr.it&utm_medium=twitter ]
Food for thought
"…we should continually avoid the temptation of despair & deepen our awareness that God is present in the midst of all the chaos that surrounds us and that that presence allows us to live joyfully and peacefully in a world so filled with sorrow and conflict." Henri Nouwen
Points for prayer
Today we continue to pray for mental health. In the first month of lockdown, nearly 20% of people had thoughts of self-harm or suicide, yet less than half of them accessed mental health services. We pray for your comfort and that they will receive the needed support.
God in Creation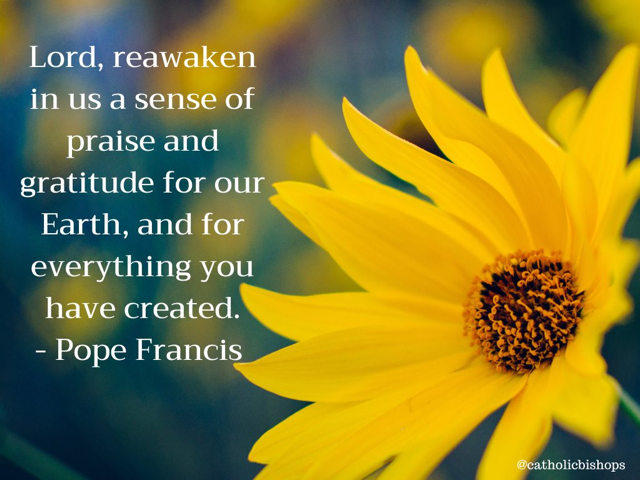 Image-1-52.png
JULY25Holywood.jpg