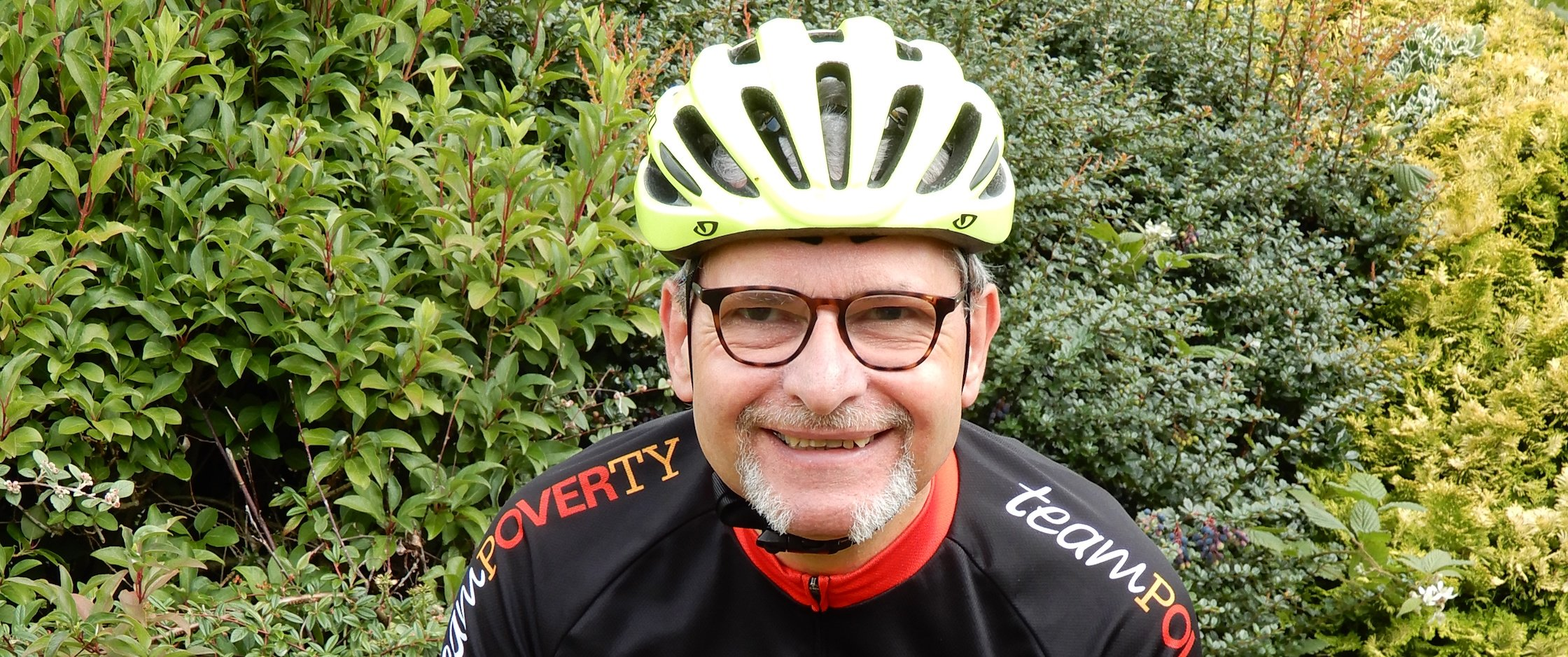 Rector raises £750 with a virtual Tour de France
Revd Brian Cadden has raised more than £750 for Christian Aid Ireland with a sponsored bike ride in the Mournes, equivalent to three gruelling stages of the Tour de France.
He was generously supported by family, friends and his congregations at St Paul's, Castlewellan and Bryansford Church where he has been rector since 2006.
Last July, Brian cycled along the highest stretch of the Tour de France route and in the Mournes pedalled 346 kms, equivalent to stages 13-15 of the famous race.
He explained what motivated him to raise money for the international aid agency:
"Lockdown meant I couldn't travel to France this year, but I still wanted to try and set myself a cycling challenge for a good cause. And with all the sunshine we've had, I could have almost believed I was back in the Pyrenees! I was delighted to receive so much support from the congregations in my parish of Castlewellan and Kilcoo."
Christian Aid Ireland Chief Executive Rosamond Bennett praised the cyclist for his fundraising efforts:
"Revd Cadden is an inspiration for staying fit during lockdown while raising funds for our work with the world's poorest people. We are very grateful to him and to everyone who sponsored him so generously."
Young violinist's talent recognised
Exceptional young violinist, Jamie Howe, aged 18, from Lisburn, has been announced as the new Leader of the Ulster Youth Orchestra, and has been presented by the Arts Council of Northern Ireland with the Milton Violin, an exquisite 240 year-old instrument made by renowned Neapolitan violin maker, Joseph Gagliano, to be played throughout his tenure as leader.
Jamie is the grandson of Canon Wm. and Mrs Murphy.
The precious violin, which is 239 years old, was generously donated to the Arts Council by Professor Alan Milton in 1980 and in the past has been used by the Leader and principal players of the Ulster Orchestra. In 2013 the Arts Council decided to loan the precious instrument to the Ulster Youth Orchestra to be used by exceptionally gifted musicians in their role as Leader.
Jamie, who faced rigorous auditions to become the Leader of the Ulster Youth Orchestra, is also a member of the viola section of the National Youth Orchestra of Great Britain and is a current student at Chetham's School of Music in Manchester, having been offered a place in its sixth form to take his 'A' levels alongside his musical studies in violin, viola and piano. From September, Jamie plans to continue his studies at the Royal Academy of Music in London.
Established in 1993, The UYO is the National Youth Orchestra of Northern Ireland and is supported by public funding and National Lottery funding through the Arts Council and offers the highest level of orchestral training in the region. Through its annual summer residential courses and concerts and outreach projects, it provides young gifted musicians with the opportunity to develop their musical skills further.
Paula Klein, General Manager of the Ulster Youth Orchestra said, "We are delighted that Jamie has been awarded the position of leader in 2020. He is a very talented and hard-working young musician and to be awarded such a beautiful instrument as he transitions to the Royal College of Music is a fantastic boost to his new studies. The directors of the Ulster Youth Orchestra are extremely grateful to the Arts Council for providing the leader of the Ulster Youth Orchestra with the opportunity of playing such a fine instrument."
You can listen to Jaimie on You Tube at –
[[] https://www.youtube.com/watch?time_continue=126&v=_MzySxyKwCg&feature=emb_logo ]
and the Orchestra playing Bring me sunshine at –
[[] https://www.youtube.com/watch?v=FkpRU8scmk8 ]
Re–opened and renewed – healing and hope in Raheny and Coolock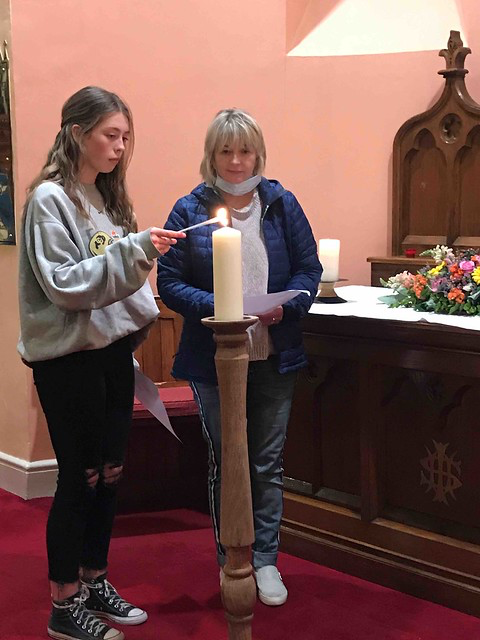 Photo above – Louise Kirwan and her daughter light the candle of Healing and Hope at the re–opening of St John's, Coolock.
One minute past midnight on Monday morning (June 29) saw the re-opening of All Saints', Raheny, and St John the Evangelist, Coolock, after 15 weeks of lockdown.
Parishioners gathered at both churches in the early hours of St Peter's Day, yellow ribbons were cut, prayers said and candles of 'Hope and Healing' were lit to celebrate the beginning of a new phase of parish life.
"The onslaught of COVID-19 and the closure of our churches brought hardship and sadness but also brought us closer together as a community. We found new ways of connecting and rediscovering that being church is not all about the buildings. Nevertheless, we are delighted to open the doors and worship together again, albeit with bleary eyes at this time of the morning. We re-open with hope, with a renewed sense of purpose and with an openness to God doing new things among us," the Rector, the Revd Norman McCausland, commented.
Triple celebration in Down Cathedral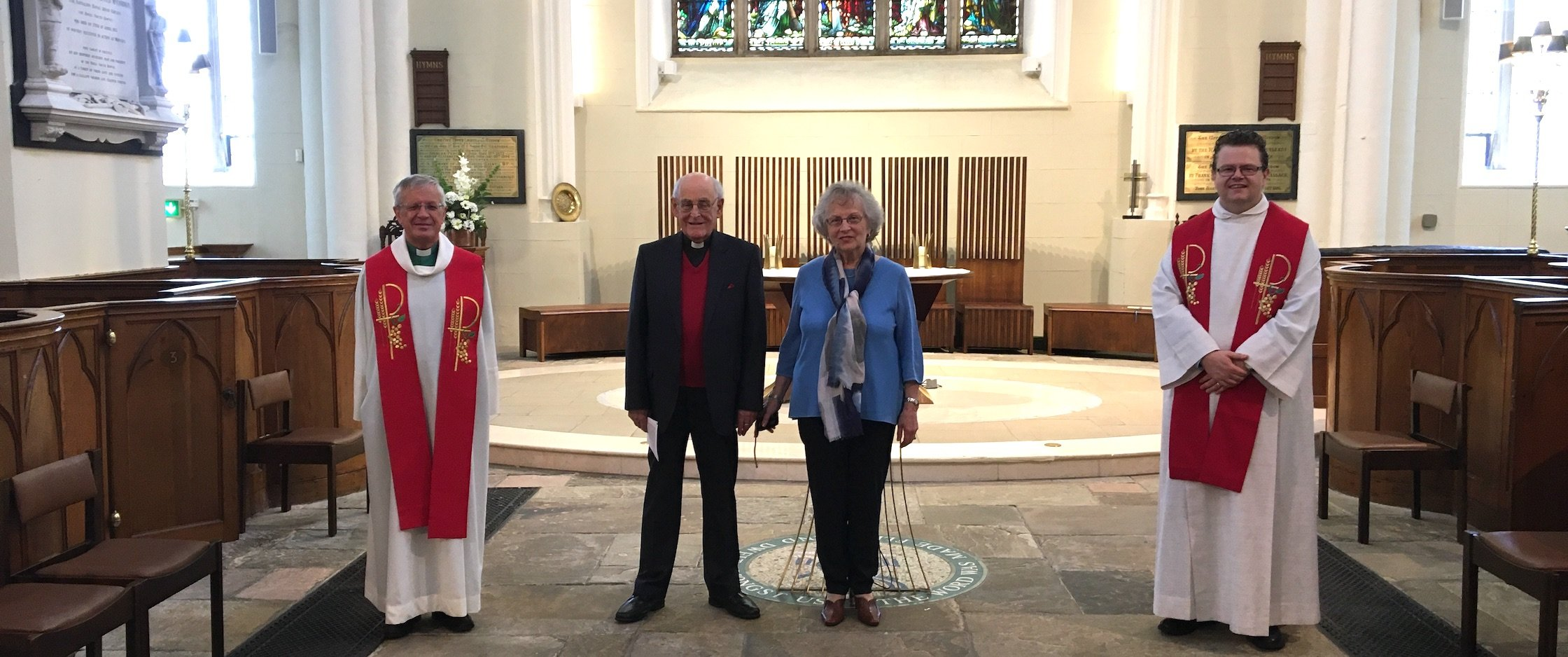 There was a triple celebration in Down Cathedral on Monday, 29 June as churches reopened for public worship.
The Dean of Down, the Very Reverend Henry Hull, was joined by team members and parishioners for a service of Holy Communion. There was great delight among those present as for most, this was their first opportunity to worship in the Cathedral since St Patrick's Day 105 days previously.
The date was also particularly significant for some of those present, but for different reasons.
St Peter's Day, 29 June this year, marked the 23rd Anniversary of Dean Henry Hull's ordination, which took place in Southwark Cathedral in 1997. Even more significantly, LAMP team member the Reverend Michael Houston and his wife June celebrated their Golden Wedding Anniversary. They are pictured above with the Dean and Team Vicar Revd Adrian Dorrian.
"It was such a pleasure to be able to reopen Down Cathedral for public worship on St Peter's Day," said the Dean. "We have been praying and worshipping together as a clergy team, and streaming these services, throughout lockdown, and we will continue to do so. The Cathedral, though, was always intended to be a place where people gather to worship Almighty God. It was particularly special to be able to preside at the sacrament of Holy Communion on the anniversary of my ordination, and we were delighted that Michael and June Houston were also able to join us on their Golden Wedding Anniversary."
Food for thought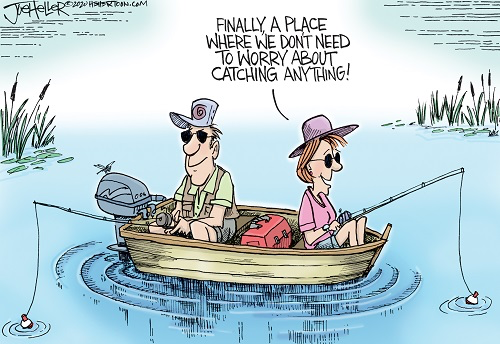 Points for prayer
Today we pray for children's mental health. There are concerns that many will need urgent support from psychologists due to the dramatic disruption lockdown has had on their lives and education. We pray for your peace and for the right support to be in place.
God in Creation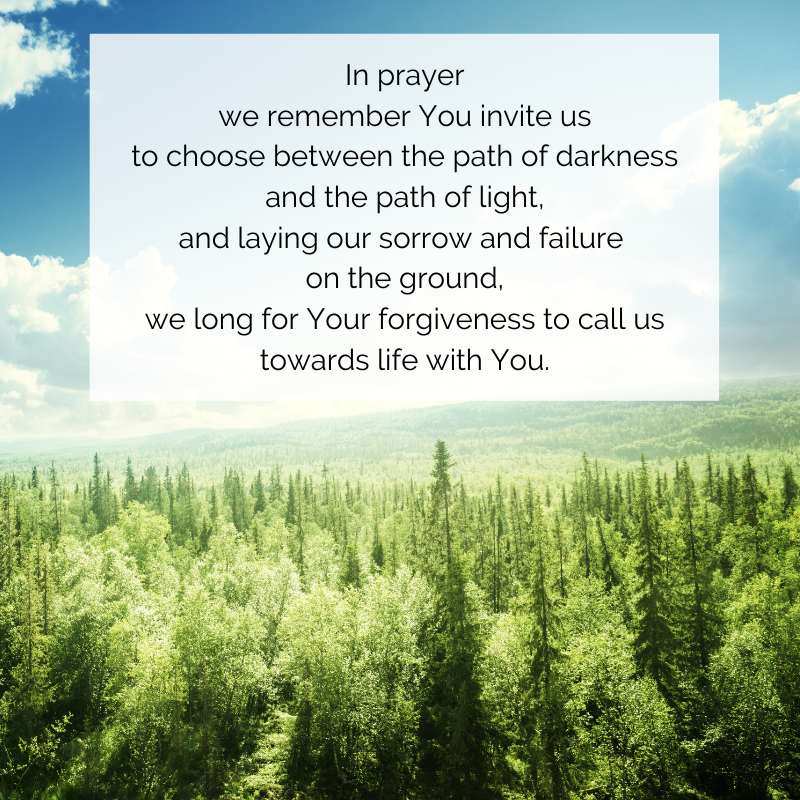 Image-1.186fb40dc20a4779afd38cea56d8cfeb.png
Image-1.5ee113bdd28e43e7b75b8bd6e847b061.png
DraggedImage.5bcf68d8be2c42f493b453820110f07e.png
DraggedImage.94f9185d347a47f4b4c5079f1b6f7cd9.png
DraggedImage.2b4c59e9c64746a3b4e0fde21c712fcf.png