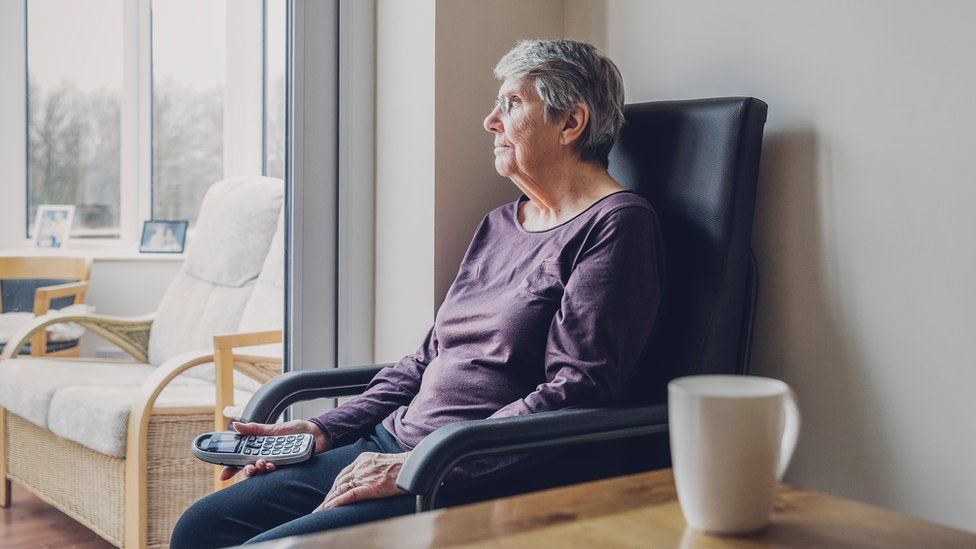 12 News briefs
1.Strategy to combat loneliness needed – More than 70 charities and organisations have called upon the Northern Ireland Executive to come up with a strategy to combat loneliness.
It comes as a report looking at the issue of loneliness is launched.
The review was compiled by the Campaign to End Loneliness over a five month period during the Covid-19 pandemic.
It pulled together existing data about loneliness, sought the views of organisations and also commissioned a survey of about 2,000 people.
The report points out that chronic loneliness can affect as many as one in five people in Northern Ireland.
Many of the GPs the report's authors spoke to stated that they see someone suffering from loneliness every day.
2. Human cells comments on new vaccine overstep the mark – NI Health minister Robin Swann has issued a statement accusing those spreading claims about the vaccine on social media of "overstepping the line" after a DUP councillor claimed the vaccine contained "human cells".
He said, "The Covid-19 vaccination programme is not compulsory. People are entitled to their own views and I fully respect that. However, they are not entitled to mislead others and potentially deter them from taking a vaccine that will protect them from a lethal virus".
His statement comes as the Department of Health announced it has recorded an additional 14 Covid-19 related deaths in Northern Ireland in the last 24 hours. It takes the DoH Covid-19 death-toll to 1,099.
3. PSNI accused of double standards – DUP Upper Bann MP Carla Lockhart has claimed a case of PSNI double standards over the "haste" employed in taking action in relation to a Co Armagh church over alleged Covid breaches and those attending the funeral of veteran Republican Bobby Storey.
Sunday services took place at Tandragee Baptist Church against specific regulations directed by Stormont that no such services should be held during the two week circuit-breaker, which ended last night (Thursday).
Pastor David Patterson, writing on Monday, set out his reasoning in a platform piece for the Belfast News Letter. He wrote: "The Executive in directing the citizens of Northern Ireland not to meet for the public worship of God, acted beyond their God given mandate, because the Executive's prohibition on the public worship of God is contrary to Scripture.
"God has never entrusted to the civil magistrate the authority to legislate concerning the worship of God."
The DUP representative has questioned the approach of the PSNI to investigating alleged Covid-19 regulation breaches, in light of the "speed at which action is being taken towards members of Tandragee Baptist Church compared to those attending the Bobby Storey funeral".
Pastor David Patterson lives in the MP's Upper Bann constituency.
4. Mary Lou hangs in – Mary Lou McDonald has repeated her belief that a united Ireland is mere years away – although her rhetoric appeared less definitive than before. The comments followed similar remarks which she made at her party conference just over a year ago.
5. Belfast bars decide to stay shut – Two more Belfast bars have released statements saying they won't be reopening due to coronavirus restrictions. The Sunflower and Kelly's Cellars both took to social media to update their customers as restrictions on the hospitality sector are set to ease.
6, Centenarian give thumbs-up to coronavirus vaccine – A 100-year-old woman was among residents at a Belfast care home to receive the coronavirus vaccine on Wednesday. Ethel Sinclair gave the thumbs up after receiving the injection at Bradley Manor, a care home in the north of the city.
7. The DUP has issued a statement on its Brexit stance – They have said 'The agreements reached on the operation of the Northern Ireland Protocol between the United Kingdom government and the European Commission are, in some respects, an attempt to mitigate the worst elements of the Northern Ireland Protocol signed last year.'
8. Supermarkets to get three-month 'grace period' from Northern Ireland post-Brexit checks – Major chains including Marks & Spencer and Sainsbury's had warned they might have to reduce supplies of certain products to the north from next month
9. Conor Murphy appeals for more cash as protocol arrangements are spelt out – Stormont's finance minister warned the north would need "considerable practical and financial support" to prepare for the new arrangements due to come into force in three weeks' time
10. Peter Weir again says exams will not be cancelled – A-level equivalents in Scotland have been cancelled, while pupils in Wales will not be required to take A-levels or GCSEs
11. More than 32,000 incidents of domestic abuse reported to PSNI in last 12 months – The aim of this year's 'Speak Out' campaign is to encourage the reporting of incidents and make victims aware of the steps they can take to stop it
12. Scottish Episcopal Church aims for net zero carbon emissions by 2030 – "We cannot challenge others if we do not challenge ourselves" was the message from the leader of the Scottish Episcopal Church as he gave his charge during the morning session of General Synod 2020.
The Most Rev. Mark Strange, bishop of Moray, Ross and Caithness and primus of the Scottish Episcopal Church, raised the difficult issues of bullying, bias and racism awareness in his opening address, and pointed to the issues that the church should speak out about, such as international aid, gender violence, modern slavery and climate change.
On a historic occasion at St. Paul's & St. George's Episcopal Church in Edinburgh, with just a few core participants present in the church building, Strange told the first-ever online General Synod, "We have questions of what sort of investments we place our money into but also questions about how we heat our churches, how often and how far we travel, about the resources we use to run this institution."
Loneliness.jpg