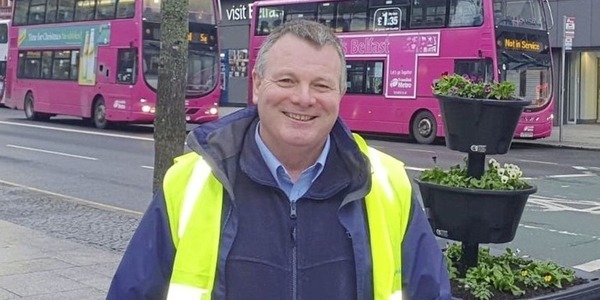 Covid 19, Lambeth legacy talks
1.Belfast bus driver (above) praised after taking detour to ensure passenger saw elderly mother after Covid vaccine. He took a lost passenger to see her elderly mother who had just received the coronavirus vaccine
2. The number of individuals testing positive for Covid-19 in Northern Ireland is continuing to rise. The 538 new infections detected in the last 24 hours takes the total number of individuals to test positive for Covid-19 in the last seven days to 3,091 and the total number of infection since the beginning of the pandemic to 57,257.
3. Arlene Foster and Michelle O'Neill have said that they would take the Covid-19 vaccine in public. Speaking at a press conference following a meeting of the Stormont Executive, Mrs Foster and deputy First Minister Michelle O'Neill confirmed they would be willing to get the jab in public."I have no difficulty doing that, I will be taking the vaccination," Mrs Foster said.
4. NI Ministers concerned at high Covid-19 death toll as restrictions ease. Circuit-breaker restrictions were relaxed Friday. Stormont's health minister has said he would have preferred stricter coronavirus restrictions in Northern Ireland in the run-up to Christmas. Commenting on the ending of the circuit-break lockdown and the reopening of shops and much of the hospitality sector, Robin Swann said he had to accept that he operated in a five-party executive.
5, Nigel Dodds rejects calls for Arlene Foster and other senior DUP figures to resign over Brexit. The former North Belfast MP described as "pathetic" Ulster Unionist Lord Empey's call for Arlene Foster and others to "consider their positions"
6. Young child present at west Belfast paramilitary-style shooting 'extremely traumatised'. The PSNI said the child and a woman "heard this brutal attack being carried out"
7. Innocent Catholic murdered by loyalists in the presence of his 13-year old son was struck by up to nine bullets, Winston Rea trial hears. In a statement, John Devine's son Sean said: "I saw all three of these men walk into the living room, where daddy was sitting. I heard one shot and then I heard my daddy groaning"
8. Lambeth Palace legacy talks: Victims' campaigner refuses to attend future meetings
[https://www.belfasttelegraph.co.uk/news/northern-ireland/lambeth-palace-legacy-talks-victims-campaigner-refuses-to-attend-future-meetings-39847777.html]
9. Ex-officer probing IRA agent shouldn't attend Troubles legacy talks, says Mike Nesbitt
https://www.belfasttelegraph.co.uk/news/northern-ireland/ex-officer-probing-ira-agent-shouldnt-attend-troubles-legacy-talks-says-mike-nesbitt-39833335.html
10. Lambeth Palace talks: Concern around secrecy is 'genuine' says UUP's Doug Beattie
[https://www.newsletter.co.uk/news/politics/lambeth-palace-talks-concern-around-secrecy-genuine-says-uups-doug-beattie-3059892]
11. Alex Kane: It is absurd to think terror groups will resolve legacy, but the governments think the peace process is too big to fail
[https://www.newsletter.co.uk/news/opinion/columnists/alex-kane-it-absurd-think-terror-groups-will-resolve-legacy-governments-think-peace-process-too-big-fail-3059995]
Busdriver..jpg