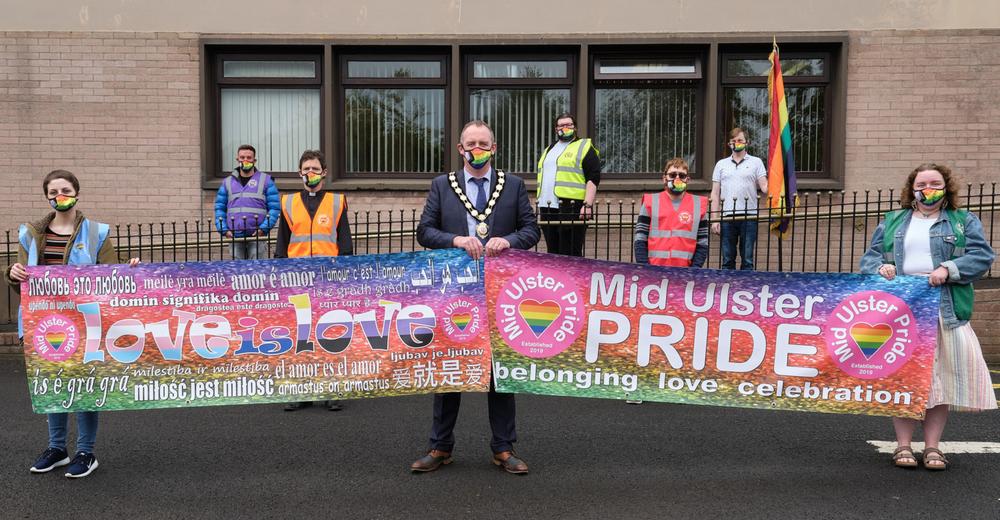 'Silent but not Silenced' protest parade
A Church of Ireland minister who criticised the institution for not carrying out same-sex marriages is to take part in the first ever 'Silent but not Silenced' protest parade at Mid Ulster Pride in Cookstown this weekend, Lauren Harte reports in the Belfast Telegraph.
The event is one of the only Pride events to be held outside this year, when others across Northern Ireland took place virtually due to the Covid-19 pandemic.
Organisers say the protest parade, which was originally due to take place in June, will be held in complete silence to show solidarity to those who have no voice, who have been silenced and oppressed for no other reason than being themselves. With strict adherence to the ongoing regulations, there will be only 15 people participating in the protest parade, each of them wearing a face covering and walking at least two metres apart.
Central to the protest parade will be a series of banners with messages including 'Love is Love' in some of the many languages spoken in Mid Ulster, and with non-binary and transgender colours.
One participant will be holding a placard which stresses how difficult it is for some LGBTQ+ people to be in a permanent 'lockdown' by having to live "a lifetime in the closet".
Mid Ulster Pride official Eli Hughes said she was very keen to ensure that the transgender community was represented in the protest parade: "We're silent but never silenced. However we identify ourselves, we should all have an equal and valued voice in the local community.
"We chose to be silent using a non-auditory and socially different way of raising awareness of issues within our LGBTQ community — feelings of isolation, being unheard, overlooked and underestimated."
Another banner will have a 'Black Lives Matter' theme and will be carried by Mid Ulster Pride's vice chairperson Rev Andrew Rawding.
Last week, the Church of Ireland cleric accused his church of being "homophobic and prejudiced" for preventing him from carrying out same-sex marriages despite a recent change in the law here permitting them. Rev Rawding, who is based in Coalisland, will be joined by Parool Patel, who is a proud 'Gaysian' from a Hindu religious background.
"Summer 2020 has been dominated in the news by the Black Lives Matter movement but what about brown lives, yellow lives and ethnic minority gay lives?" Parool said.
"We all matter — we're the new normal too. Yet our disparate voices are neither heard nor treated equally. It's time for social change where black and ethnic minority people are also respected, heard and visible," he added.
Mid Ulster District Council chairman Cathal Mallaghan said: "The impact of the coronoavirus pandemic has been felt right across society and never has it been more evident how important a sense of community and belonging is to our overall health, well-being, confidence and self-esteem.
"Our LGB&TQ community is no different and, with this event, Mid Ulster Pride is safely and clearly showing pride, celebrating progress towards equality and highlighting the progress still to be achieved."
The Mid Ulster Pride 'Silent but not Silenced' protest parade takes place in the centre of Cookstown at 3pm this Saturday, September 19
@@@
10 Anglicans urged to pray ahead of decision on new Bishop of Colombo
Anglicans in Sri Lanka are being asked by the Archbishop of Canterbury, Justin Welby, to pray as he continues to consult widely on the most suitable person to be the new Bishop of Colombo.
The Diocese of Colombo is part of the Church of Ceylon, one of the independent national and regional churches that make up the global Anglican Communion. Most of the member churches – 41 of them – are provinces – autonomous churches that completely govern their own affairs. The Church of Ceylon is an Extra-Provincial Church and, alongside the Church of Bermuda, the Lusitanian Church, the Reformed Episcopal Church of Spain and the Church in the Falkland Islands, look to the Archbishop of Canterbury for Metropolitical episcopal oversight.
Last month, the Diocesan Council in Colombo referred the election of their next bishop to Archbishop Justin after internal electoral procedures proved inconclusive. Archbishop Justin, who is now responsible for appointing a new Bishop of Colombo, has started a consultation process.
On Monday (14 September), Archbishop Justin will meet the diocese's Consultative Body, the group of clergy and lay members of the diocese who have been nominated under the constitutions of the Diocese of Colombo and the Church of Ceylon.
In a statement, Lambeth Palace said that "as well as taking the views of the Consultative Body, the Archbishop will also be listening to as many of the key stakeholders in the Diocese of Colombo and the Church of Ceylon as possible, including members of the Diocese of Colombo's Standing Committee."
Archbishop Justin said: "the Church of Ceylon is courageous, resilient and hope-filled Church that lives out the good news of Jesus Christ. It is a blessing to Sri Lanka and to the global Anglican Communion.
"As we discern the new Bishop of Columbo, I ask for the prayers of our Anglican brothers and sisters in Sri Lanka. May the Holy Spirit guide our decision-making, and enable the Diocese of Columbo and the Church of Ceylon to flourish in the years to come."
Rawding.jpg