To celebrate the 50th anniversary of the inaugural service in Christ Church Presbyterian Church, Dundonald, the Moderator of the Presbyterian Church in Ireland (PCI), Rt Rev Dr David Bruce, preached at both Sunday services yesterday (20 September).
In itself, it was not an unusual event in the life of PCI, but given these unsettled times, it marked Dr Bruce's first official visit to a congregation since becoming the denomination's Moderator in June, and the first time a Moderator has visited a congregation on a Sunday since before March's lockdown.
While the golden anniversary celebrations had to be scaled back, due to the current pandemic, Rev Richard McIlhatton, who has been Christ Church's minister since 2009 and the congregation's sixth, explained that the services were in some ways reminiscent of how it all began. "We are delighted and very thankful to be able to welcome the Moderator and hear him speak, near enough 50 years ago to the day when our church building opened," he said.
"Five years before it was built, the congregation began to meet in wooden huts, which required two services on a Sunday, so everyone could take part. Today, with the social distancing measures that we have had to introduce to keep ourselves safe, we have reverted to two services to fit in those who want to come!"
Since becoming Moderator in June, Dr Bruce has continued recording a weekly online Sunday Service for the whole Presbyterian Church family, especially those who can't get to church. He has been 'virtually' present; via specially recorded sermons for three Presbyterian congregations and in July he took part in a scaled back National Day of Commemoration in Dublin. Where possible he has also continued the tradition of visiting Presbyterian members on their 100th birthdays.
"Visiting congregations, sharing God's word, encouraging them in their work and the sharing of special days like today, are the bread and butter of the life of a Moderator. To be able to make my first visit, especially on an occasion like this was very special. While this was a first for me, it is my prayer that it is the first of many visits to congregations across Ireland," Dr Bruce said.
Congratulating the congregation on their 50th birthday, he continued, "As we all know, anniversaries play an important part in our culture, and are of course important times of celebration for families and church families alike. As one of my predecessors said a few years ago, it doesn't really matter if we are celebrating the 40th, 50th, or 400th anniversary of a church, what really matters is that faithful Christian people saw a need and began something new. They preached the gospel, sowed the seed and above all else they were faithful – and for that we can always give thanks."
The last time a Moderator visited a congregation was Dr William Henry, Dr Bruce's immediate predecessor, who took part in the 50th anniversary celebrations for Greystone Road Presbyterian Church in Antrim on 15 March, the last Sunday churches were able to open before the lockdown.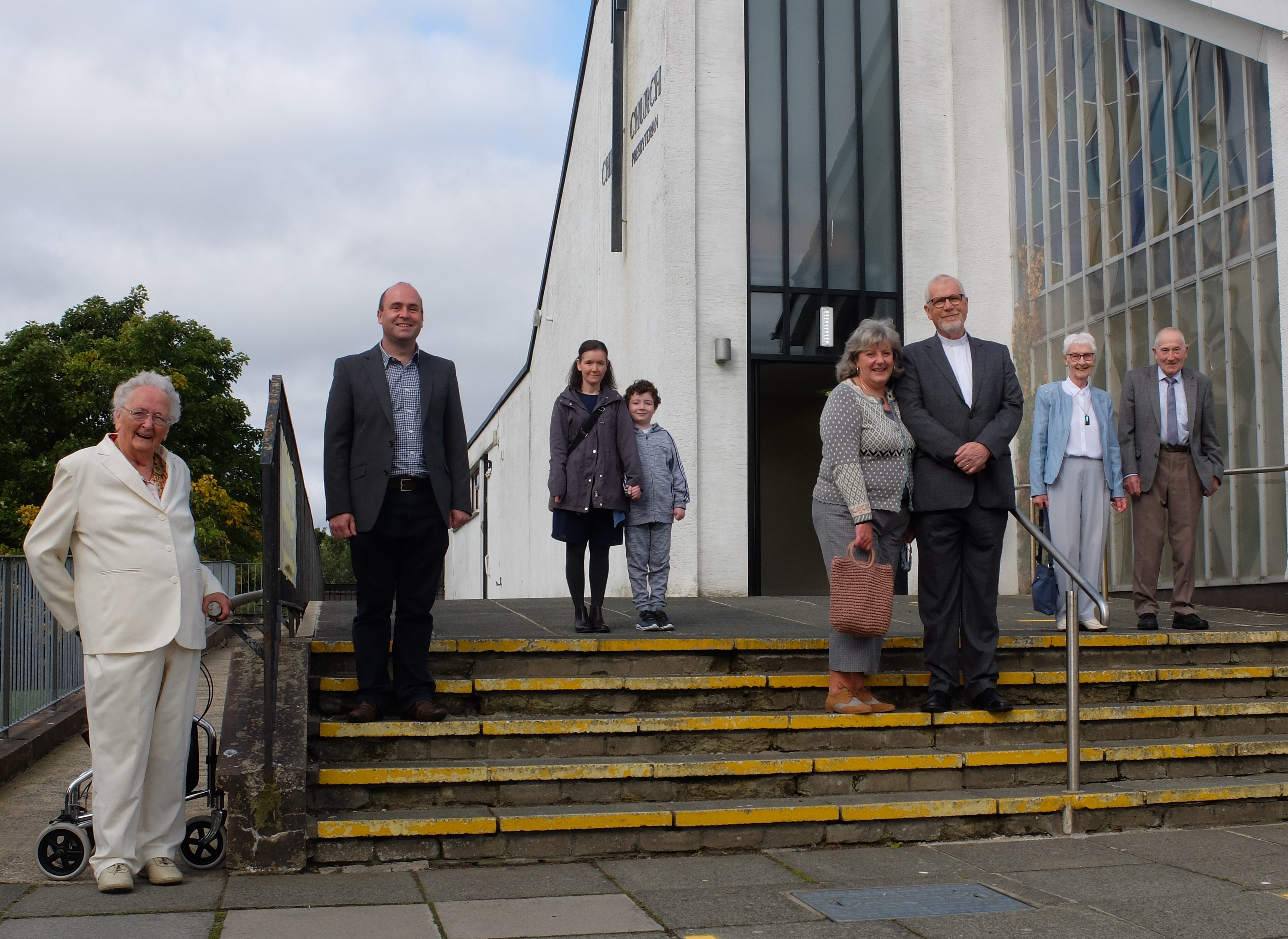 Photo – The Moderator with long term and more recent members 
In Dundonald, Christ Church started life as the Ballybeen estate was being built. As people began to move out of Belfast in the mid-1960s, a move exacerbated by the onset of The Troubles at the end of the decade, nearly 20 new Presbyterian churches were started between then and the end of the 70s.
Speaking about Christ Church's special anniversary, Rev Richard said, "Over these 50 years, many significant moments have happened within these walls as people have committed their lives to Christ, been baptised, got married and given thanks for the lives of loved ones.
"As well as these milestones, there has been the regular and faithful ministry of God's Word week-by-week. In more recent years, the building has been opened up further to the community and we want to thank God for all of these things, as well as seeking his guidance and blessing for the future."
Made up of 230 families, of over 500 people, during the pandemic the church has been a part of the 'BT16 Covid Response' community partnership, that has helped to deliver around 1000 food parcels and prescriptions. "In recent months we have been reminded that the church is not the building, but the people. Yet our buildings are useful for us to be able to meet together and we have missed being able to do this. Today has been a real encouragement to the congregation. especially at this time," Rev Richard said.
During the service, the Moderator spoke from the Book of Daniel and God's story for that particular troubled time for the Hebrew people. "We continue the story which God has started because it's not over yet," he said, adding, "Let the Gospel be our confidence."
Moderator-old-new-members-Christ-Church-Dundonald.jpg
Moderator-preach.jpg