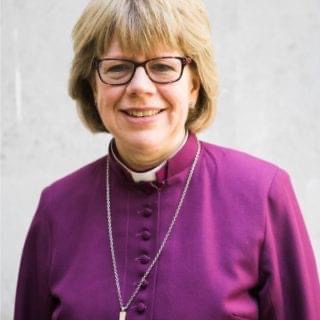 The Britain and Ireland provinces of the Mothers' Union Anglican mission agency is preparing to say a big "thank you" to key workers in the two countries in an online service on Saturday.
It has joined with the Together coalition and says that it wants its 55,000-strong membership to "come together to say the biggest thank you possible to all those who have helped us to get us through Covid-19"
On Saturday (4 July) the Mothers' Union is holding an online service of reflection and celebration for community and kindness – Love Thy Neighbour. The Bishop of London, Sarah Mullally (Photo above), will preach during the service.
The Together coalition is bringing together community groups alongside some of the UK's biggest organisations, including the BBC and the Women's Institute, with the aim of bringing people together and bridge divides, to help build a kinder, closer and more connected country. Its steering committee is chaired by the Archbishop of Canterbury, Justin Welby.
"The ethos of the Together coalition couldn't have chimed more clearly with us, not just because of the work that we do, but especially at this moment in time when we are focused on the exceptional need for recovery and rebuilding within families and communities.", the Chief Executive of the Mother's Union, Bev Jullien, said. "At our best and through our own 55,000 local members we know that when people come together locally to solve their own challenges, amazing things happen. By coming together as Mothers' Union in our new initiative to say thank you to our more unrecognised key workers, we want to create some amazing experiences and memories for them and their families."
The Mothers' Union have also announced a "thank you to key workers" appeal. Through it, they want to recognise the work of a range of professions, including nurses, delivery drivers, careworkers and cleaners, who they save have made a great deal of personal sacrifice through the lockdown, including the loss of quality family time.
The appeal will fund day experiences and short breaks for key workers to help rebuild family connections and togetherness, especially for families who have been kept apart or who are on low incomes.
You can take part in Saturday's online Love Thy Neighbour service at 9 pm BST (8 am GMT) on Saturday 4 July at –

 http://facebook.com/pg/MothersUnion.

IMG_3922.7029c986527545569483007fb3105f94.jpg