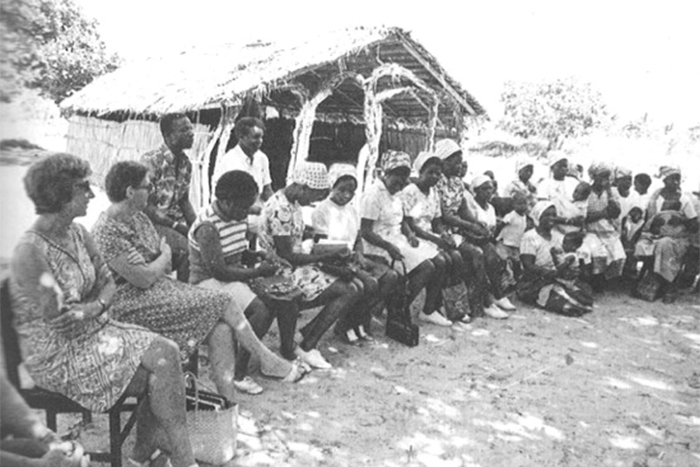 A retired missionary and advocate, who spent more than 20 years training teachers and working with the church in Mozambique in the midst of the war for independence, has died aged 98.
Joan Antcliff, who felt called to the country after serving in the British Land Army during the Second World War, led one of the few Anglican mission schools in the country, looking after 300 pupils and training teachers.
During her years in Mozambique she was a trusted colleague of the previous Bishop of Lebombo, Dinis Sengulane, who was the longest serving bishop in the Anglican Communion when he retired in 2014. Bishop Dinis is recognised internationally for helping to bring peace to Mozambique in 1992 after 16 years of civil war. His peace programme and the 'Swords into Ploughshares Project', where weapons were exchanged for agricultural and domestic equipment, cemented peace.
Joan Antcliff returned to the UK to her family home in Devon during the 1970s, when missionaries were forbidden to teach religion. In 2002 she wrote a book about her experiences called 'Living in the Spirit', which raised funds for the churches in Mozambique.
Recalling her time in Mozambique, she wrote: "The schools' and church finances were desperate and so were ours. We were not paid a salary and were given £30 a year for personal needs. I stayed through 10 years of the fight for freedom. Most of the Frelimo were my pupils who had been trained in Tanzania. It was extremely difficult to keep an aura of neutrality. One by one the pupils vanished to fight for their country. It was extremely difficult. They would send us notes telling us not to travel on the roads because they were putting down landmines."
Paying tribute to her courageous work in Mozambique, the Archbishop Emeritus of Cape Town, Dr Desmond Tutu wrote: "We owe immense debt to the intrepid women and men such as Joan Antcliff, whose riveting account of her work in Mozambique deserves a large audience."
On her return to Devon, Joan Antcliff became head of religious education in a local grammar school. She later became Editor of the MANNA magazine, for the charity Manna, which works with the four Anglican Dioceses of Lebombo, Niassa and Nampula in Mozambique and Angola. She was also Director of the Southern African Church Development Trust and acted as the Commissary to Bishop Dinis.
Joan served as a churchwarden as part of the Church of England's Haldon Mission Community, serving Teignmouth, Bishopsteignton, Ideford, Luton and Ashcombe in Devon. Through her influence, the church supported the 'guns to ploughshares' campaign and ran an annual Lebombo Sunday event.
In 1976 she received an MBE in recognition of her services in education and overseas.
Photo above – Joan Antcliff in Mozambique
DraggedImage.b12ee3611ee345be9f0d0194b067a2a3.png