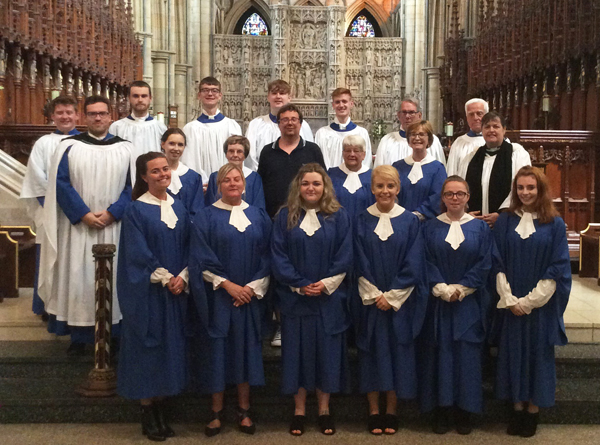 Mary Sumner Day in Derry & Raphoe
The founder of the Mothers' Union was remembered by the members of Diocese Derry & Raphoe who celebrated Mary Sumner Day in the beautiful tranquil surroundings of Baronscourt. Lynn & Elsie led an inspirational walk, to Baronscourt Estate and to Ardstraw. Baronscourt & Badoney Mothers' Union provided sumptious refreshments. "Be exhaulted, O God, above the heavens, and your glory above all the earth. Ps 108:5
Finaghy parish choir sings services in Truro Cathedral
The choir of St Polycarp's Church, Parish of Finaghy, Belfast, paid its first visit to Truro Cathedral, Cornwall, for its ninth annual summer tour. (Photo above)
The choir sang Choral Evensong on July 31 and August 1 and 2.
Previous tours have included Portsmouth Cathedral, Westminster Abbey (three times!), the chapels of three Cambridge Colleges, Chester Cathedral and both Dublin Cathedrals, St Patrick's and Christ Church.
Truro Cathedral, dedicated to the Blessed Virgin Mary, is located right in the heart of Cornwall's only city and dominates the city's skyline. The cathedral was built between 1880 and 1910 for the newly-created diocese of Cornwall in a Gothic Revival architectural style designed by John Loughborough Pearson.
Truro is one of only three cathedrals in the United Kingdom with three spires, the other two being Lichfield Cathedral and St Mary's Cathedral, Edinburgh. Another unusual feature of Truro Cathedral is the non-alignment of its nave and chancel, which can be clearly seen by visitors at the west or east end of the building.
Conducted by St Polycarp's Director of Music, Simon Neill, the choir sang the canticles on successive evenings to the settings Harwood in A flat, St Polycarp Evening Canticles by Philip Stopford and Dyson in D.
The choir also sang three anthems, successively Greater love hath no man by John Ireland; In my Father's house by Philip Stopford; and Haydn's Insanae et vanae curae ('Frantic and futile anxieties invade our minds') from his first oratorio, 'The Return of Tobias.'
The hymns over the three evenings were Rejoice, the Lord is King; Thine forever, God of love; and Praise, my soul, the King of heaven.
The guest organist was David Stevens, Organist and Master of the Choristers of St Anne's Cathedral, Belfast, who takes up a new post as part of the music staff of Wells Cathedral in September.
The New Testament lessons at the first two services were read by the Rev Louise Stewart, rector of Finaghy and Upper Malone.
Choir members were supported, as on previous tours, by a number of spouses and friends, with two past members now living and working in Manchester and London respectively travelling south especially to meet and sing again with their former colleagues.
Following the final Evensong of the tour, members and friends were invited to a reception hosted by the Cathedral's Precentor, Canon Simon Griffiths.
Canon Griffiths said that it had been a great delight to welcome St Polycarp's choir and friends, adding that 'the standard of music was excellent and choir members did St Polycarp's and the Church of Ireland proud.'
He joked that with an Irish choir, a Welsh Precentor and a Cornish cathedral, there was a 'definite Celtic connection' to the visit.
 Armagh's new Festival of Choirs
The annual Chharles Woods Summer School is looking forward to their brand new event – A Festival of Choirs: Sing Hallelujah! Five local choirs will showcase their talents in First Presbyterian Church, Wed 21 August, 7.30pm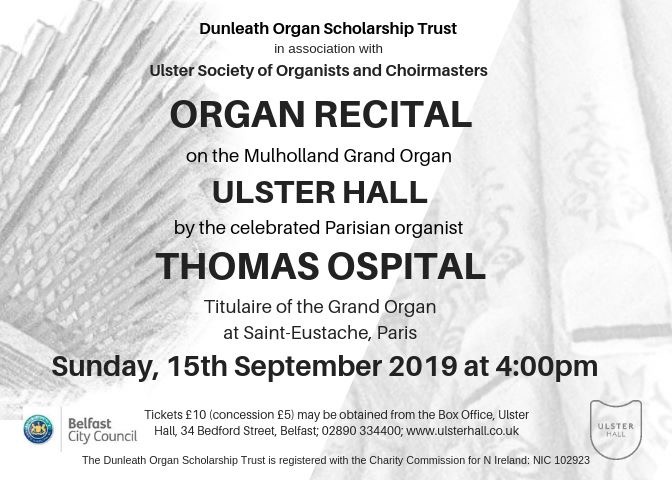 French organist extraordinaire to give Ulster Hall recital
Thomas Ospital , titulaire of the Grand Organ of Saint-Eustache, Paris, will give an organ recital at the Ulster Hall, Sunday 15th September at 4.00pm.
The programme will also include an improvisation on a submitted theme.
Do not miss this wonderful opportunity to hear one of the world's leading concert organists on Belfast's historic Mulholland Grand Organ.
Edenderry Union welcomes new rector
The parishioners of Edenderry Union inMeath & Kildare diocese have welcomed Rev Sarah Marry as their new rector. She was instituted by Bishop Pat Storey in Castro Petre Church in Edenderry on 15th August.
Edenderry Union is a rural parish, encompassing Carbury, Edenderry, Clonbullogue and Rathangan.
Rev Sarah was joined by her husband Declan, their two daughters, family and friends, parishioners and friends of Edenderry Union. Colleagues from across the dioceses of Meath and Kildare, as well as parishioners from St Anne's Shandon where she had previously been priest-in-charge, also attended the Service. Local clergy from other denominations, members of the community as well as local public representatives were also in attendance.
As well as being Priest-in-Charge of Saint Anne's, Shandon, Cork since 2015 she has also served as Chaplain to St Luke's Home, Cork since 2015.
The preacher was Rev Bruce Pierce. He is now Director of Education, in Saint Luke's Home Education Centre in Cork, where Sarah had been chaplain.
The new rector was ordained to the priesthood in 2012. She then served as curate assistant in Douglas Union with Frankfield, from 2012 to 2015. As well as qualifications in Theology Sarah is also qualified in Personnel Management (NCI). She also has a degree in Modern Languages and European Studies from the University of Bath.
At the conclusion of the Service a number of speeches were made, formally and warmly welcoming Sarah, Declan and their family to Edenderry Union and to the dioceses of Meath and Kildare.
After the Service supper everyone was invited to a reception at Edenderry Golf Club.
Tuam clerical appointments
Archbishop Michael Neary, Archbishop of Tuam, has announced the following diocesan appointments and retirements:
Very Reverend Paddy Gilligan, PP of Cong to retire;
Very Reverend Patrick Mullins, PP of Cummer to retire;
Very Reverend Enda Howley, CC of Monivea to retire;
Very Reverend Martin O'Connor, PP of Kilvine to be a member of the Cathedral Chapter;
Very Reverend Billy Reilly SP An Cnoc, to be a member of the Cathedral Chapter;
Very Reverend Ciarán Blake, returning from sabbatical leave to be PP of Cummer;
Very Reverend Declan Carroll, PP of Parke/Keelogues, returning from sabbatical leave to be PP of Cong;
Very Reverend Peter Suttle CSSp, to continue as Administrator of Parke/Keelogues;
Very Reverend Karl Burns, PP of Mountbellew to be, in addition, PP of Menlough. The priests of Athenry will share responsibility for the pastoral and sacramental care in the parish of Menlough;
Very Reverend Hughie Loftus SP An Cheathrú Rua on sabbatical leave for one year;
Reverend Clement McManus CSsR, to be Administrator of An Cheathrú Rua for one year;
Very Reverend Angelo Joy OFMCap, Administrator of Kilconly, has been recalled to his Order;
Reverend Anthaiah Pudota, Knock Shrine, to be Administrator of Kilconly
IMG_2245.a920a599ae394530aea42dd35f0bab63.jpg
DraggedImage.d4fa62b2f2254acab6601e648ad2505e.png