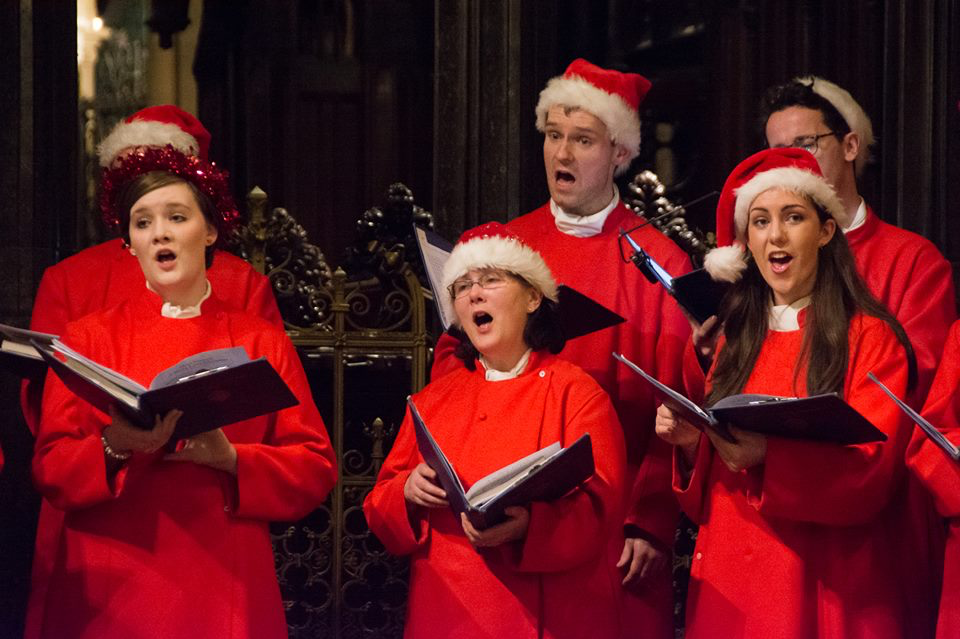 Carols By Candlelight returns for Christmas 2019
Hear the celebrated Christ Church Cathedral Choir, under the direction of Jack Oades, sing all your festive favourites in the magnificent surroundings of
Christ Church Cathedral Dublin.Tuesday 10th, Wednesday 11th and Thursday 12th December at 8pm. To purchase your tickets before they are gone visit –
[https://christchurch.bookeventsireland.com/christchurch/]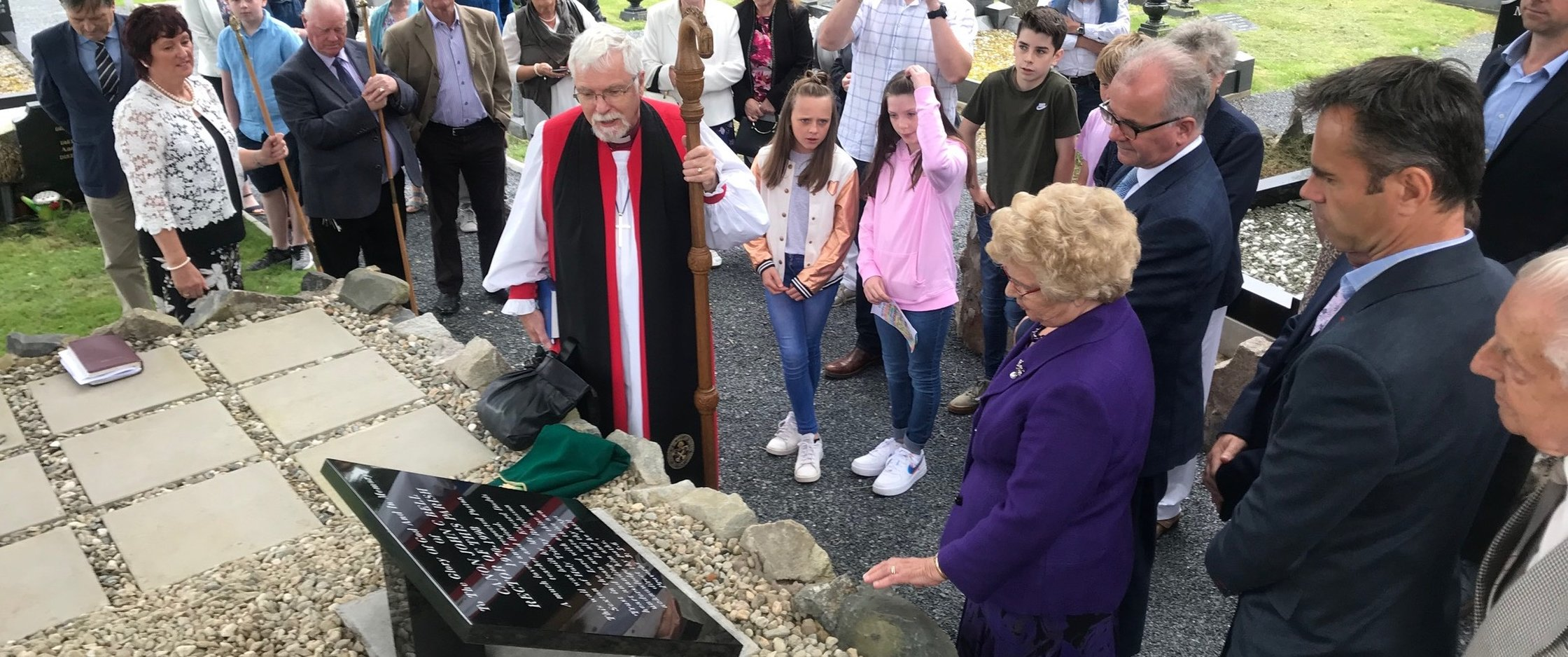 Retiring and still learning
Even towards the end of his episcopacy, Bishop Harold Miller is still experiencing 'firsts'.
On this occasion it was the dedication of a new wall and ashes plot within the graveyard at Holy Trinity Ballylesson.
The bishop also dedicated a plaque in memory of a former rector, Canon John C Bell. The wall was built by the sexton Mr Eddie Dodds, who requested that the wall be dedicated in memory of his close friend.
Bishop Harold remarked that as far as he could remember it was the first wall and the last wall that he would dedicate as Bishop of Down and Dromore!
Mrs Carol Bell unveiled the plaque along with her sons Christopher, Stephen and David. The scripture verse was a favourite one of Canon Bell and was chosen by Carol.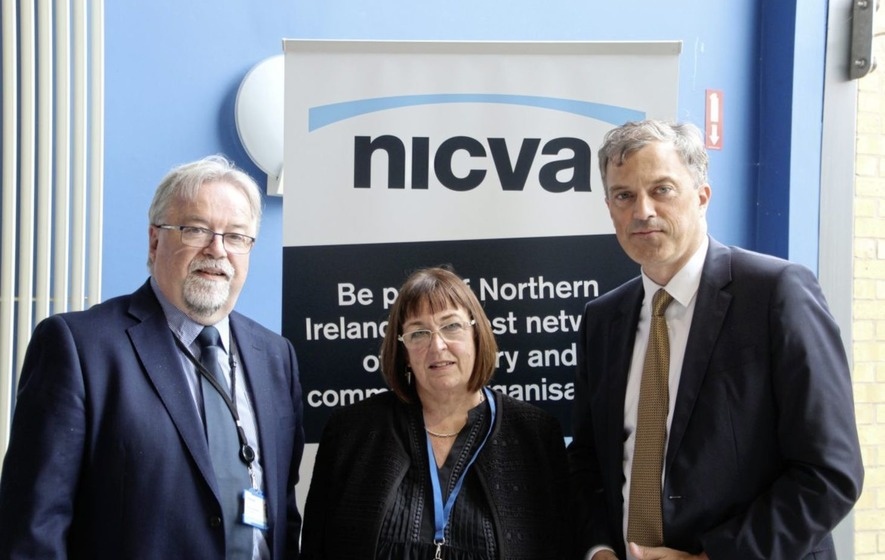 NI secretary Julian Smith urged to 'push the talks process' at Stormont
Voluntary and community sector workers have urged Secretary of State Julian Smith to "push the talks process" to restore Stormont in the face of Brexit. A delegation met with Mr Smith. Photo – Nicva's Seamus McAleavey and Olwen Lyner with Secretary of State Julian Smith
Challenge to possible change in NI abortion law
Thousands of pro-lifers from all corners of Ireland are expected to take to the streets of Belfast next month to send a clear message to London that MPs should not interfere and force abortion on Northern Ireland. Westminster has voted to force abortion up to at least seven months' gestation on the North unless the Stormont executive is formed by October 21.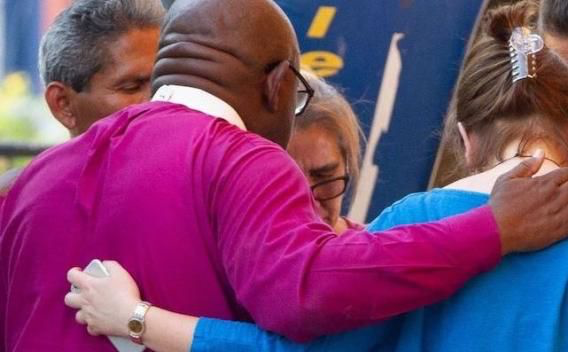 US bells to toll in remembrance of enslaved Africans
Presiding Bishop Michael Curry and Southern Virginia Bishop James B. Magness have invited Episcopal churches to remember and honour the first enslaved Africans who landed in English North America in 1619 by tolling their bells for one minute on Sunday, August 25 at 3:00 pm
Dean of Christ Church,Oxford, to resume his duties
On Wednesday of this week Christ Church, Oxford, issued the following statement on the outcome of a tribunal: "As required by Christ Church's Statutes, an internal tribunal was convened to consider a complaint raised against the Dean in September 2018. Following a thorough investigation, the tribunal has decided that the charges are not upheld and that there is no cause to remove the Dean as Head of House. However, the tribunal made some criticism of the Dean's conduct and found that there was one breach of his fiduciary duty.
"We can therefore announce that Martyn Percy will resume his duties as Dean of Christ Church, on his return from holiday on 27th August. The complaint process has now concluded."
Following the announcement by Christ Church this evening, the Bishop of Oxford, the Rt Revd Dr Steven Croft, has issued this statement:
"I am delighted to learn that this matter is now resolved. I look forward to seeing Martyn (Percy) return to the Cathedral and his duties as Dean of Christ Church. This news will be widely welcomed across the Diocese of Oxford. These have been testing times for all involved, and my prayers are with Martyn and Emma, the Chapter and wider College in the coming months."
The College Chapel at Christ Church is also the diocesan cathedral.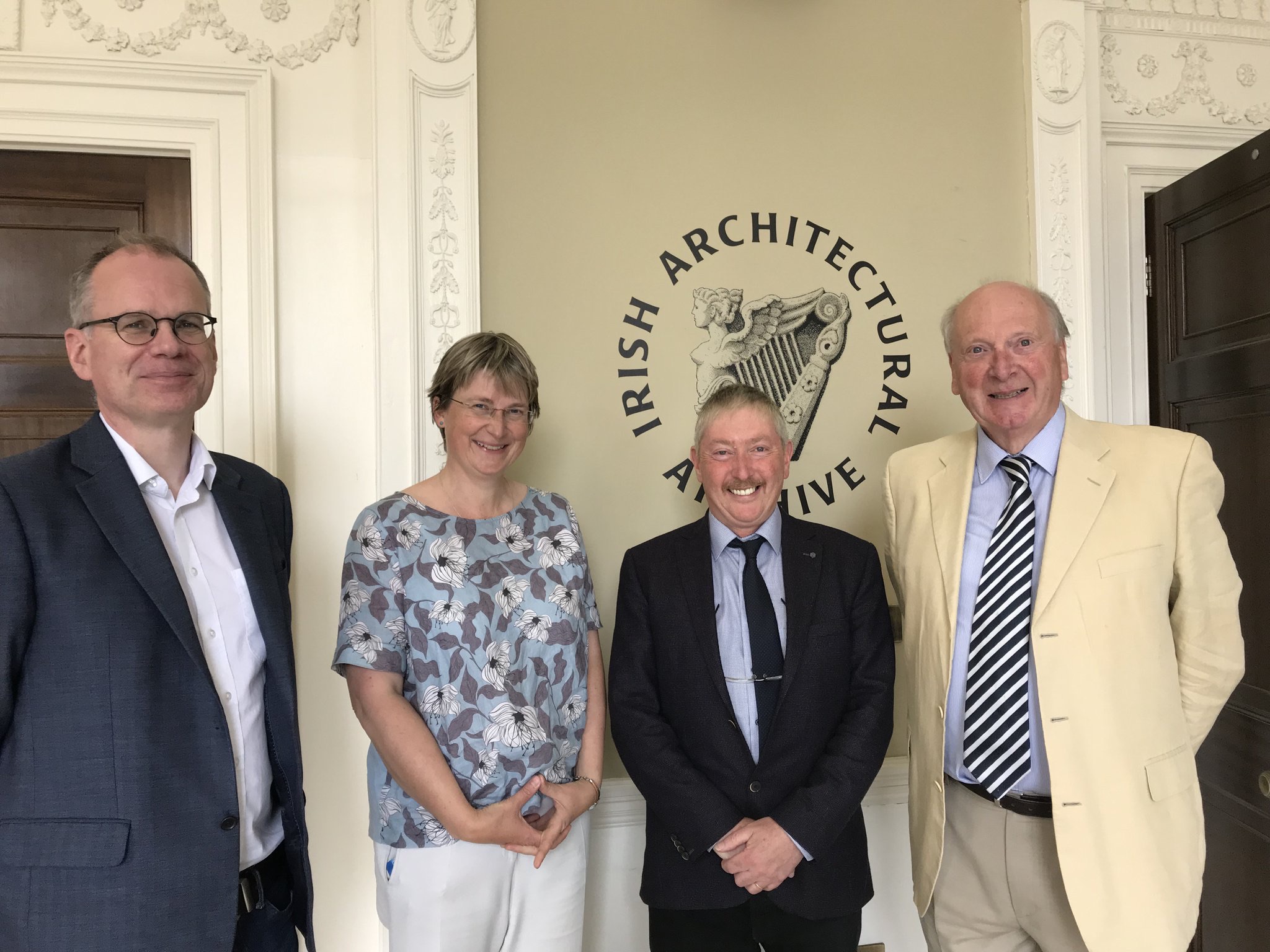 C of I architectural series
On Tuesday in the IAA, Dr Michael O'Neill (2nd right) provided a visual exploration of the Church of Ireland churches of the past. Yesterday, Bishop Michael Burrows continued the story speaking of liturgical space and re-ordering.
Clerical appointments for the Archdiocese of Armagh
Archbishop Eamon Martin has announced the following clerical appointments for the Archdiocese of Armagh, which will come into effect on 1 September 2019.
Archbishop Eamon said, "I am deeply appreciative to the priests and deacons of the Archdiocese for their continued ministry and service, and I wish them well as they take up their new appointments. I also thank the people of the Archdiocese of Armagh for their ongoing prayers and generous support of our clergy. I encourage parishes to welcome their new pastors over the coming weeks."
Very Rev Vincent Darragh, PE, AP, Ardboe has retired
Very Rev Thomas Daly, PP, Togher, to be PE, AP, Togher
Very Rev Sean Larkin, PP, Lower Killeavy, to be PE, AP, Lower Killeavy
Very Rev Brian MacRaois, PP, VF, Carlingford & Omeath, to be PE, AP, Kilkerley
Rt Rev Monsignor James Carroll, PE, Adm, EV, Monasterboice, to be PP, EV, Togher
Very Rev Aidan Murphy, PE, AP, VF, Coalisland (Ballyclog and Donaghenry), to be PP, VF, Mullaghbawn (Forkhill)
Very Rev John Heagney, PP, VF, Mullaghbawn (Forkhill), to be PE, AP, Eglish
Very Rev John Connolly, PP, Clonfeacle, to continue as Adm, Eglish
Rev Aidan Dunne, CC, Lower Killeavy, to be PP, Lower Killeavy
Rev Patrick Rushe, CC, Kilkerley, to be PP, Monasterboice
Rev Uduak Abara, MSP, CC, Middle Killeavy, to return to the Missionary Society of Saint Paul for a new assignment
Rev Brian White, CC, Haggardstown & Blackrock, to be PP, Carlingford & Omeath
Rev Paul Murphy, while continuing as CC, Saint Peter's, Drogheda, to pursue part-time a licentiate in Canon Law in Louvain, Belgium
Rev Aidan McCann, CC, Dungannon, to be CC, Haggardstown & Blackrock
Rev Milan Tomaga, on loan from Diocese of Banská Bystrica, Slovakia, to be CC, Dungannon
Food for thought
The Christian community is born of the overabundant outpouring of the Holy Spirit and grows thanks to the leaven of sharing between brothers and sisters in Christ. Pope Francis
Image-1.e63703b32a154bc2961718434ff1df75.jpg
Image-1.f356135aa80e452e9c482ab76437b34c.png
DraggedImage.8a03e77b050a489680a3a654b570ba16.png
DraggedImage.d00e8e1c4dbd422292182b10abe2b466.png
DraggedImage.25b1d85f42e94b51af535e6e6d8cef42.png