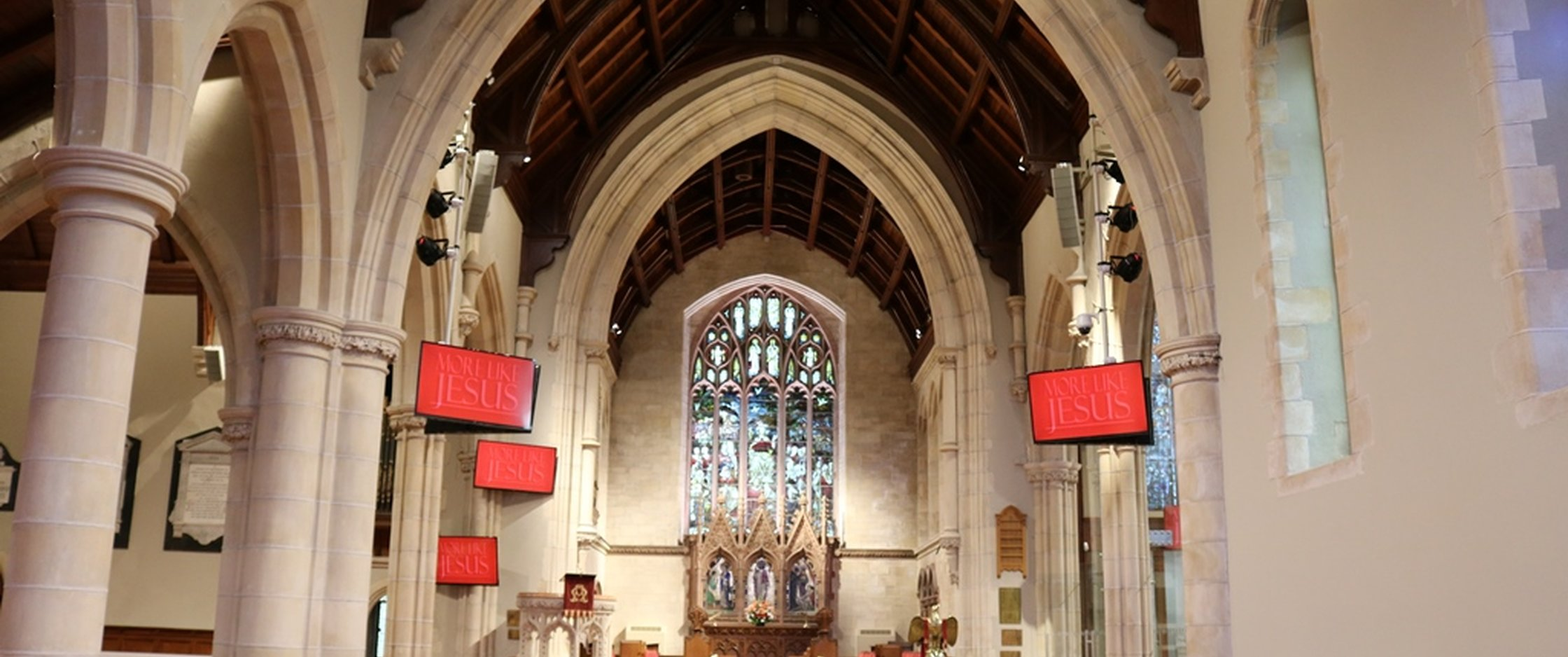 Church's architect recognised – Congratulations to Des Cairns Architecture whose work on Magheralin Parish Church has earned them a place as a finalist in The Architecture Technology Awards 2019.
An extensive refurbishment project to enhance The Church of The Holy and Undivided Trinity and create a bright, welcoming and flexible worship space was completed in January 2018.
The company is a finalist in The Alan King Award for Excellence in Architectural Technology for projects with a value no greater than £750k. The winners will be announced in early September.
The church was also shortlisted in the 2019 Royal Institute of Chartered Surveyors (RICS) awards for Building Conservation.
Connor institution – The Rev Aaron McAlister will be instituted Rector of the Parish of Derriaghy at a service in Christ Church, Derriaghy, starting at 8pm on Thursday September 26.
Belfast Parish aids Air Ambulance – The parishioners of St Nicholas raised £750 in support of the work of the Air Ambulance NI. William and Lillian Carlisle, Churchwardens of St Nicholas' Parish Church, Belfast, represented the parish on a recent visit to Air Ambulance NI.**
Kildare broadcast service – On Sunday, 8th September, the Very Revd Tim Wright and Kildare Cathedral choir will lead worship on RTÉ1 television and RTÉ Radio 1 extra at 11am.
'Summer Music in Sandford' – continues next Friday at 1.10pm in Sandford parish church, Ranelagh, where there will be an organ recital by David Grealy.
Cork's new musical initiative – St Fin Barre's cathedral will host an organ recital each Friday in August at 1.10pm, which will bring to Cork some of Ireland's leading organists. Next Friday, Simon Harden, DIT Music Conservatory Music, will play works by Franck, Escaich, Reger and Mendelssohn.
Charles Wood Festival – Baritone Malachy Frame will perform at the first lunchtime concert on Tuesday 20th August at 1.10pm in First Presbyterian Church, accompanied by Ruth McGinley
Armagh Hymn Festival – If you enjoy singing, don't miss the Hymn Festival in St Mark's Church #Armagh on Sunday 25th August at 3pm.
Job Opportunity – Youth Pastor (including children) Seymour Street Methodist Church, Lisburn. The successful candidate will help strategically develop a growing Youth Ministry, nurturing young people as disciples of Jesus. Everything you need to apply  buff.ly/2YbzaXZ
Closing date: 2.00pm Friday 30 August 2019
DraggedImage.7454d20f08ca472787be0c2b2f112d2c.png