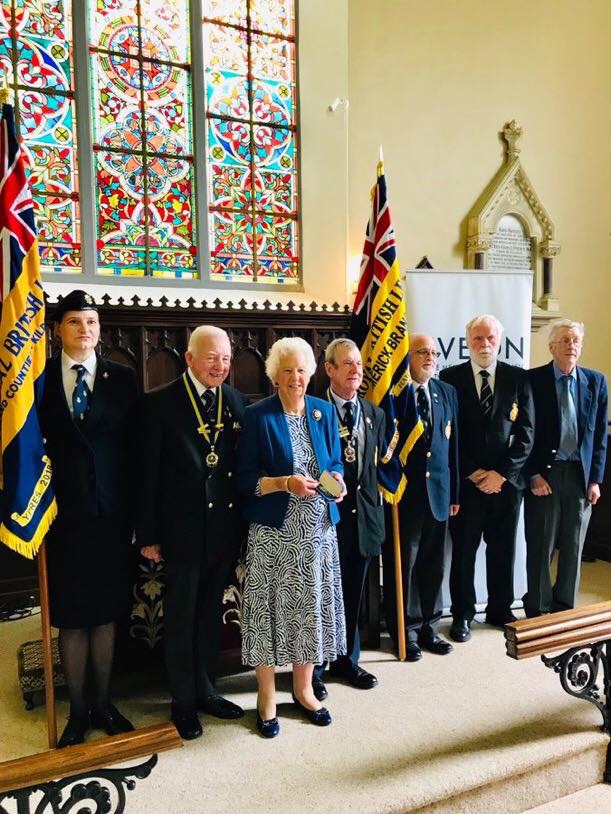 Dedicated Shinrone Poppy collector acknowledged
Royal British Legion ROI District Officers and members of the Limerick and Midlands & Kildare Branches were privileged to join the congregation of St Mary's Church Shinrone on Sunday in a celebration of 40 years of dedicated service to the Poppy Appeal in Ireland by parishioner Mrs Mabel Wallace.
Mrs Wallace, age 96, was presented with her 40 year Legion medal by Col Darren Doherty, UK Defence Attaché and a letter of congratulation to her from local TD & Minister of Justice Charlie Flanegan was read.
Mrs Wallace, whose uncle Lt John Cecil Kenny of 3 Bn RIR (18th Foot) was killed in WW1 near San Quentin, took over the Poppy collection from the wife of Col Lloyd about 1978. Every year since she has travelled the breath of her county distributing poppies to local churches and homes in Offaly, collecting donations for veterans welfare from local villages including Borisnafarney, Aghancon, Shinrone, Modreeney, Cloughjordan, Kinnity and Dunkerrin. This year Mabel is passing the baton to her niece, Mrs Rowena Kenny.
A Legion spokesperson said, "We cannot say how much Mabel has contributed to the work of the Legion over the decades but it must be considerable. Thank you Mrs Wallace, we Irish veterans thank you sincerely for your service".
Presbyterian women's event sold out at four venues
With less than one week left until the Side by Side events begin, with the first being held in Assembly Buildings. Tickets for each of the four venues have now sold out, however, recordings and resources from the events will be made available online.
The Side by Side events are designed to give those attending the opportunity to explore how they can be women who build each other up, finding fresh ways to walk and grow in faith together. At each event, women will share their side by side stories both personally and congregationally; there will be time to unpack how this could look different contexts and The Good Book Company will have a range of relevant, recommended resources available to purchase.
Archbishop's Mass with Polish community marking WW2
Archbishop Eamon Martin celebrates Mass with the Polish community to commemorate 80th anniversary of the invasion of Poland and the outbreak of the Second World War.
Archbishop Martin said –
We gather today to recall the invasion of Poland which marked the outbreak of the Second World War, exactly 80 years ago, on 1 September 1939. I welcome in a special way the many members of our Polish community who have joined us in Newry today. This is my first time to concelebrate a "bilingual" Mass with you and I take this opportunity to thank you for the valued contribution which so many Polish people have been making to Ireland – north and south – in recent decades. I also pay tribute to the Polish priests who have come to minister among us in Ireland and to provide pastoral care to our Polish communities.
You, the Polish people, have known first hand the horror and demeaning impact of the Second World War. Your people made huge sacrifices. Many of your grandparents and great-grandparents would have endured the forced partition of your country and the massive the displacement of your people, and grieved over the deaths of one-in-five of your citizens during the war.
On anniversaries like this, the advice of Pope Francis is important: to beware jealousy, envy, conflicts, and gossip which can destroy unity. Instead, the Holy Father encourages us always to nurture unity and peace through humility, gentleness, and a heart "wide-open" for forgiveness.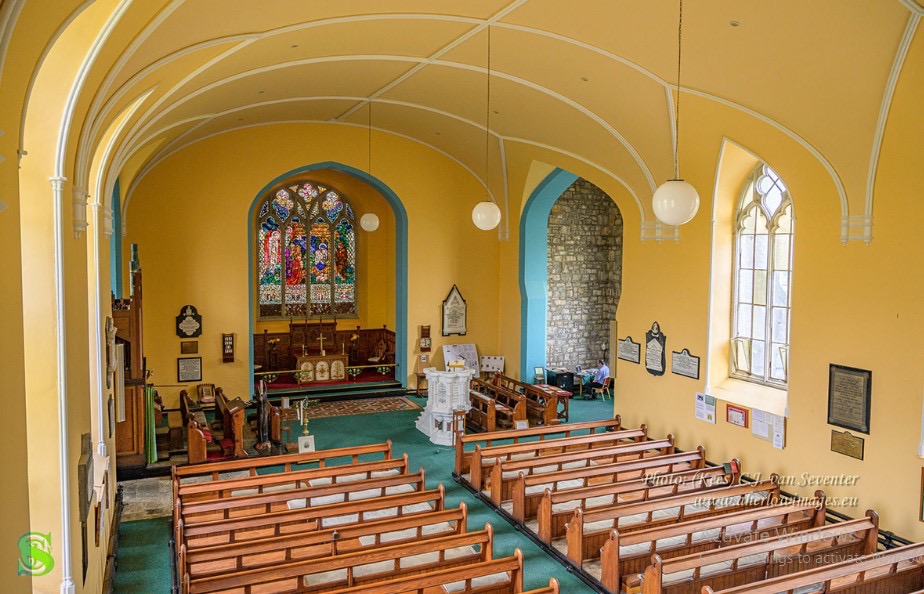 St Mary's Tipperary open this week
St Mary's will be open this week Thursday 4th Friday 5th and Saturday 6th 2 pm to 4.30 pm. There are lots of information boards around the Church highlighting events and history around Tipperary and connections to St Marys. this is the last chance this year to see them. If you would like to arrange a visit outside of these times phone Mike 086 7218744 and he will try to accommodate. Kees Van Seventer has been photographing the church. .
Charlie Chaplin Film Festival Service in Waterville
On August 25th, St Michael's Church, Waterville, was once again the venue for the ecumenical Service that forms an integral part of the annual Charlie Chaplin Film Festival.
The festival offers a mix of events, film screenings, workshops, comedy, music and street entertainment inspired by Chaplin, possibly the world's best–known comedian. Charlie and his family loved Waterville and spent many holidays enjoying the beauty of the Kerry mountain scenery which provides a backdrop to the wild Atlantic, with its marine and birdlife, not to mention the historic Skelligs, the 'islands on the edge of the world'.
The service was led by the Revd Brian Rogers, a retired Church of England priest who lives in Waterville, and the music and sermon were provided by the Rev Michael Cavanagh, Priest–in–Charge at Kenmare.
This year's service set a challenge for everyone to ensure that each and every person, whatever their background, was welcomed into society and provided with the opportunity to develop and use their unique individual gifts.
The congregation was reminded of the difficulties of Chaplin's childhood but who, with help and support, surmounted those obstacles, and how we should look to those in our own society whose gifts may be ignored, neglected or under–used.
In addition to welcoming local priests Fr Gerard Finucane and Fr Mike Curran with members of their congregations, the service was joined by Charlie himself, represented by well–known impersonator and mime artist Charlie Pakdel, his partner Lavinia De Silva and a silent Keystone Cop. The packed church once more gave witness to unity under Jesus Christ, and joy at being part of His family together.
Roses of Tralee at St John's, Ashe Street, Tralee
It has been a long standing tradition that Roses and their escorts attend the various churches in Tralee on the Sunday morning of the festival. This year was no exception as four of the Roses and their escorts attended St John's. The service was led by the Rev Jim Stephens assisted by Diocesan readers David Tough and Margaret Groves.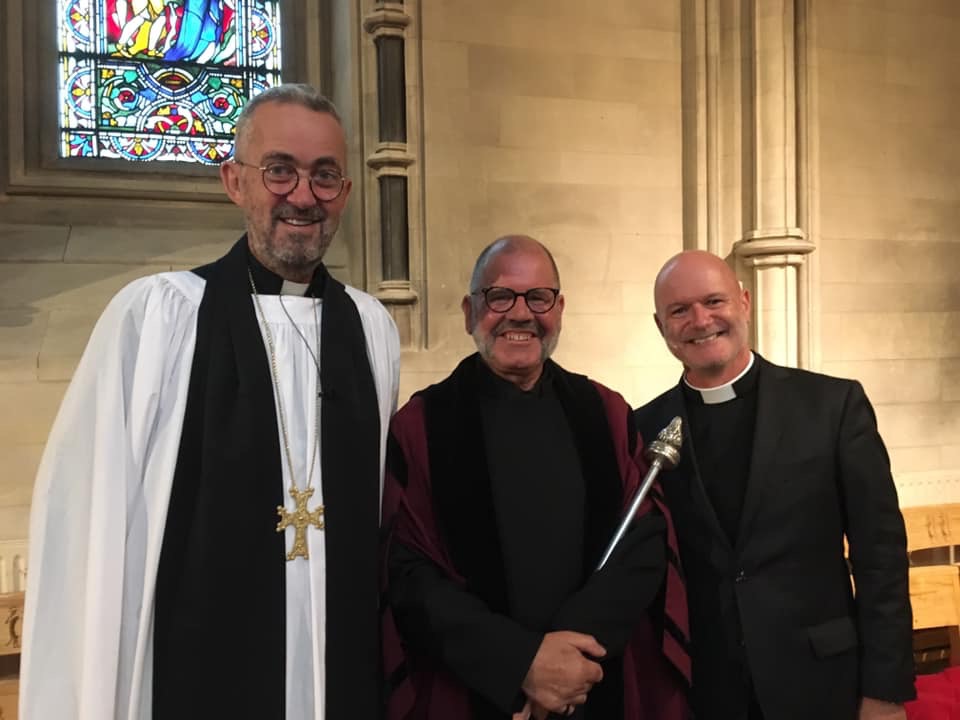 Double role for Dean's Verger
Mr Fred Deane, Caretaker in St Ann's Church, was installed as Dean's Verger in Christ Church Cathedral, Dublin on Sunday. He is pictured with the Dean, the Very Reverend Dermot Dunne and the Vicar of St Ann's Church, the Reverend Canon David Gillespie.
Food for thought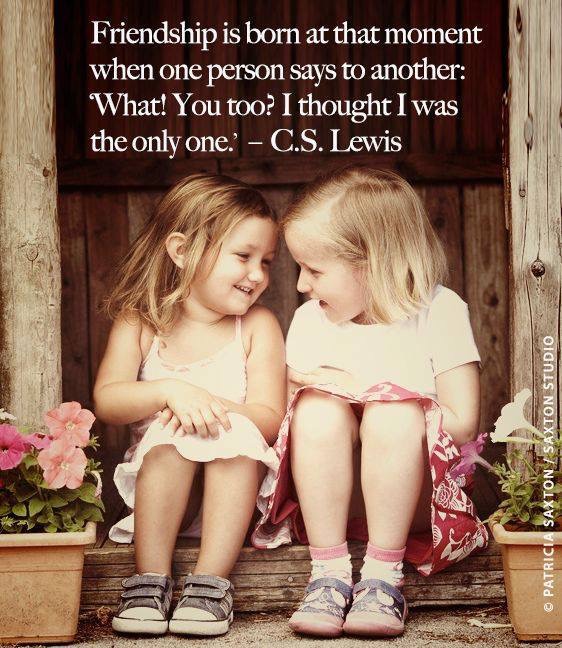 IMG_2302.abc91cb3b8534c009ecbb4bd9e571806.jpg
IMG_2343.cdcb398937ec4f279d803d9154cc77fd.jpg
IMG_2347.0fc7633225214c5ca661f2fce3188cc0.jpg
IMG_2345.a68a39a016044ea5ad999792d80d344d.jpg