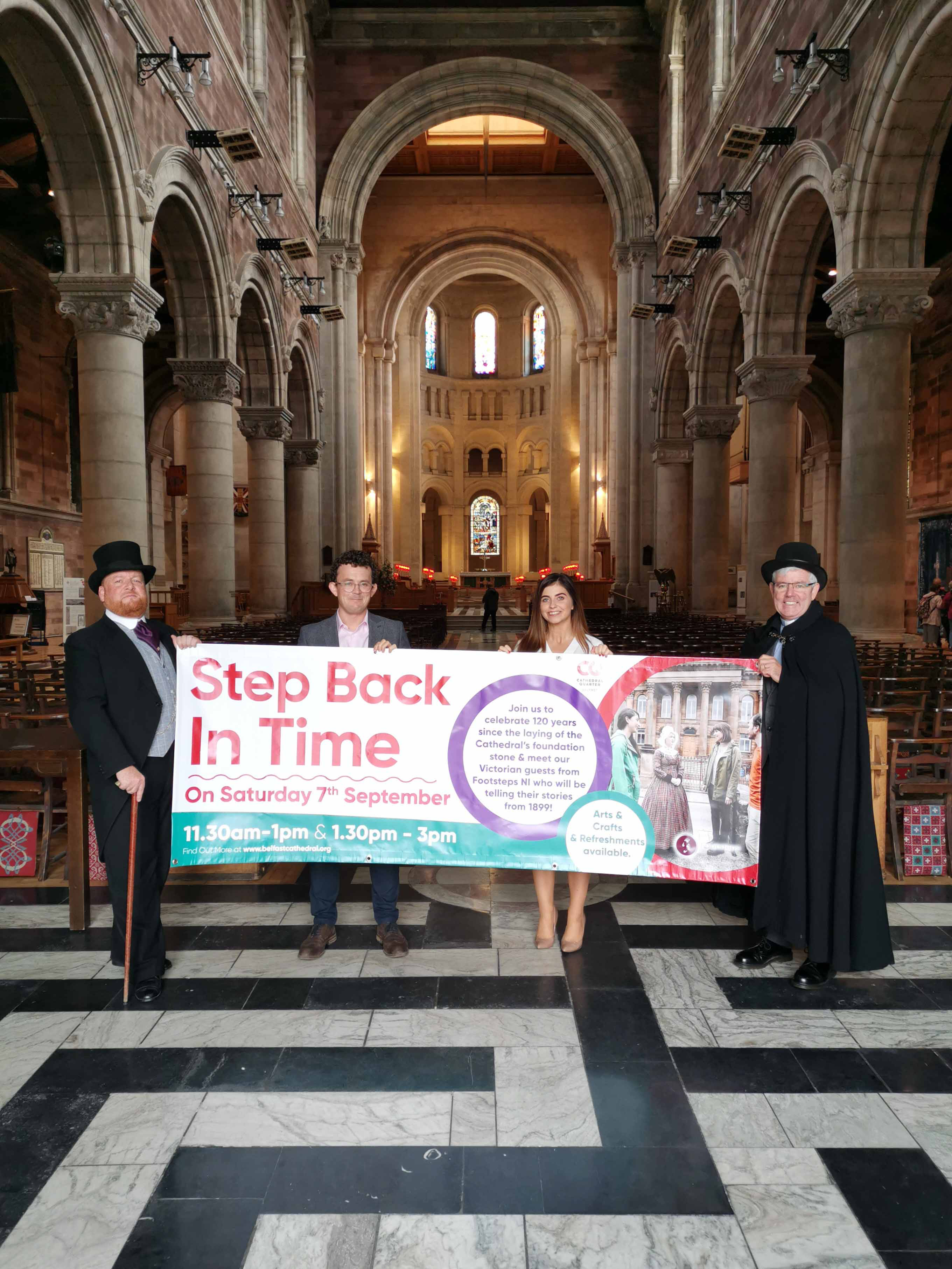 Step back in time in Belfast Cathedral
Imagine heading into your parish church to worship on a Sunday while the walls of a great Cathedral were literally raised around you.
That is what happened during the construction of Belfast Cathedral, known locally as St Anne's, called after the grandmother of Jesus.
The foundation stone was laid on 6th September, 1899. Building began around the old church, which continued to be used for services until the end of 1903 by which time the tower of little St Anne's had been dismantled and the church was no longer visible from the street. For five months, the congregation worshiped in the Clarence Place Hall in May Street.
You are invited to visit Belfast Cathedral on Saturday, 7th September, and "meet" architect Sir Thomas Drew, Constance Ashley–Cooper, the Countess of Shaftesbury who laid the foundation stone, and Henry O'Hara, the Dean of Belfast Cathedral in 1899. Victorian guests from Footsteps NI will be telling their stories and reliving memories from 11.30am to 1pm and again from 1.30pm to 3pm.
There will also be fun arts and craft activities for kids to enjoy and refreshments available. Bring your family and friends to learn more about the history of the Cathedral and the Victorian era.
BBC – Ballyclare Broadcasting Church
BBC Radio Ulster's Morning Service on Sunday, 22nd September, will be broadcast from St John's Church, Ballyclare. The preacher will be the Revd Jonny Campbell–Smyth, Rector of the United Parish of Ballyclare and Ballyeaston.
Faith in Your Teens new resource
Faith in Your Teens is a brand new resource designed to help congregations bring together parents of teenagers to discuss what it means to parent a young person today and how to walk with them in Christian faith. It is a flexible resource which can be used in one or two sessions, or however suits your needs. Video material features parents, a minister and a psychologist who raise helpful thoughts and ideas which can be discussed with the help of the discussion material.
You can download Faith in Your Teens for free at www.presbyterianireland.org/fiyt
CMSI – Uganda: Luwero Diocese visitors
Bishop Eridard and Mama Jane Nsubuga will be visiting supporters in Ireland next month. Pray that their time with Ballyholme Parish and Christ Church, Lisburn will be a source of encouragement. Pray too for their engagements with Friends of Kiwoko.
Rector installed in east Connor parish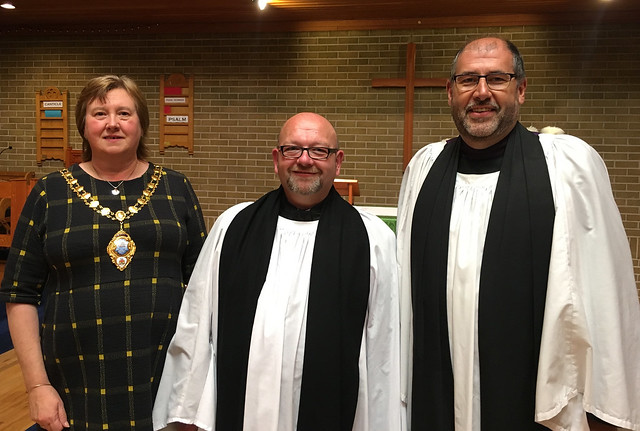 The Rev Nigel Kirkpatrick was instituted as rector of the Grouped Parishes of Kilroot and Templecorran at a service in St Colman's Parish Church, Carrickfergus, on Wednesday September 4.
Photo above – From left: Councillor Maureen Morrow, Mayor of Mid and East Antrim Borough Council; the Rev Nigel Kirkpatrick; and Bishop's Commissary, the Ven George Davison, Archdeacon of Belfast.
Nigel, 50, is married to Cristina. He was previously rector of St Dorothea's Parish, Gilnahirk, Diocese of Down and Dromore.
He grew up in Belleek, Co Fermanagh, and moved to Belfast to work as a volunteer with the Ecumenical Youth Council in Europe which organised and facilitated international youth conferences and workshops.
Nigel was appointed an intern to the World Council of Churches (WCC) Youth Department and took part in a nine–month study tour of Asia, looking at the situation of Christian minorities, and finishing at the WCC Youth Convention in Canberra, Australia, in 1991.
When he returned to Belfast, Nigel became a founder member of the Solas Community of Reconciliation, based on the 'peaceline' in north Belfast. He continued to do cross community work, before taking up a post of a hostel supervisor with the Grampian Adolescent Project.
Eighteen months later he followed the calling he had had from his student days, and went to Theological College in Dublin to train for the ministry.
In 1996 Nigel was ordained for St Columba's, Portadown, where he was a curate for three years, before taking a second curacy with the Lecale Group which included Down Cathedral.
In 2001 Nigel was appointed rector of Killinchy and Kilmood Union of Parishes, moving to St Dorothea's in 2007. He was appointed a Minor Canon of Belfast Cathedral in 2014.
Nigel was instituted rector of Kilroot and Templecorran by the Bishop of Connor's Commissary, the Ven George Davison, Archdeacon of Belfast.
Introduction of Minister–in–Charge in St Mary's, Comber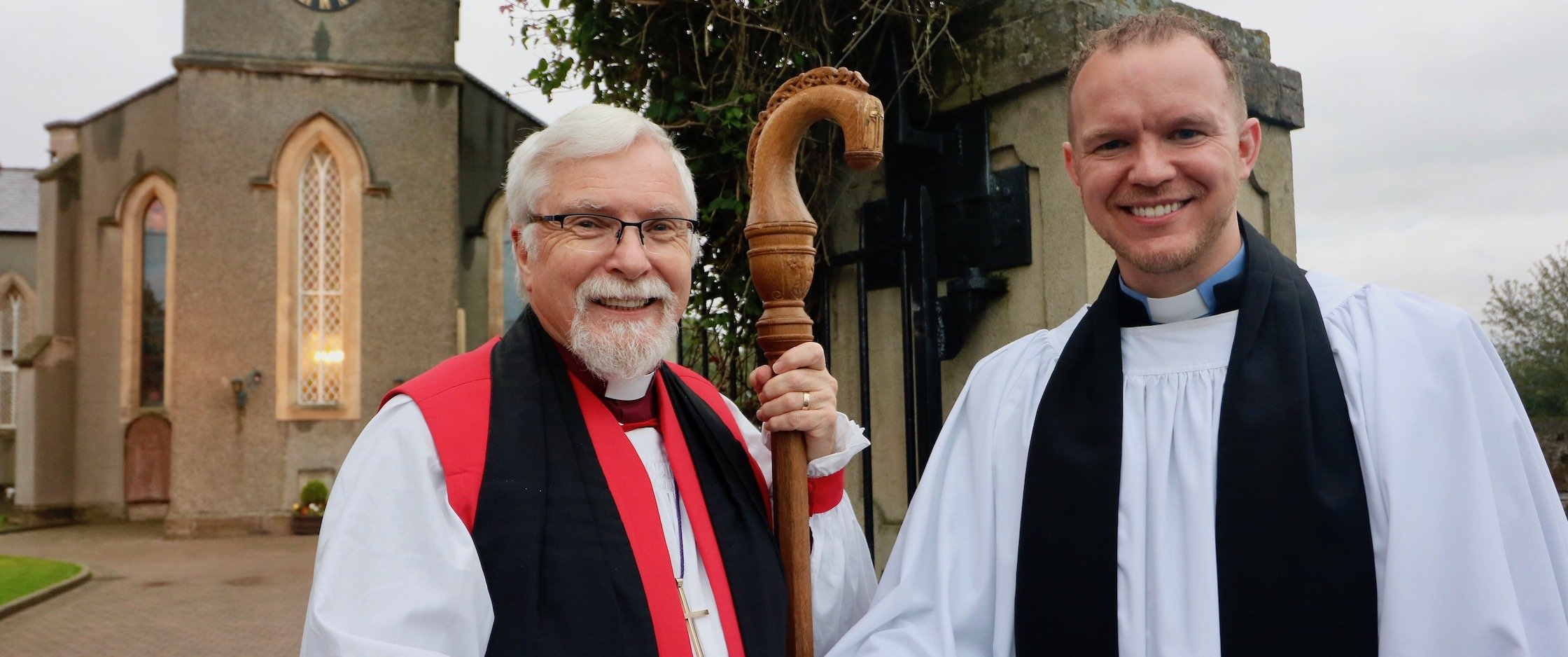 Bishop Harold Miller of Down & Dromore has introduced Revd Sam Johnston as Minister–in–Charge in St Mary's, Comber.Sam comes to Comber Parish from Shankill, Lurgan, where he spent his deacon year
Sam comes to Comber Parish from Shankill, Lurgan, where he spent his deacon year and a further four years as curate. The rector of Shankill, Revd Mark Harvey, gave the address at the service which took place on Tuesday 3 September.
Sam met his wife Gayle in Shankill. She had recently returned to Lurgan after a number of years studying and working in chemistry and the pharmaceutical industry in Scotland and Switzerland.
The pair have been married for three years, and both are excited to be joining the Comber community. They enjoy spending time in the kitchen and in the outdoors and are looking forward to exploring the coastline of Strangford Lough.
Comber is a move closer to home for Sam who is originally from Bangor. He grew up in Ballyholme Parish before studying Music and Sound Recording in England. After a few years working in the music industry, Sam returned to Ballyholme, where he served as the youth worker for two years.
"Shankill has been a great training ground – a large congregation of loving (and patient) people who have made my curacy a real blessing," says Sam.
He continues: "Leading a parish will be a new challenge for me, and one that I am very much looking forward to.
"Christians have worshipped on the site of St Mary's for many centuries, perhaps since the days of St Patrick. As I join with others, sharing the good news and the way of God's Kingdom, I am excited to see how God's work will continue to unfold in the parish and the town."
Food for thought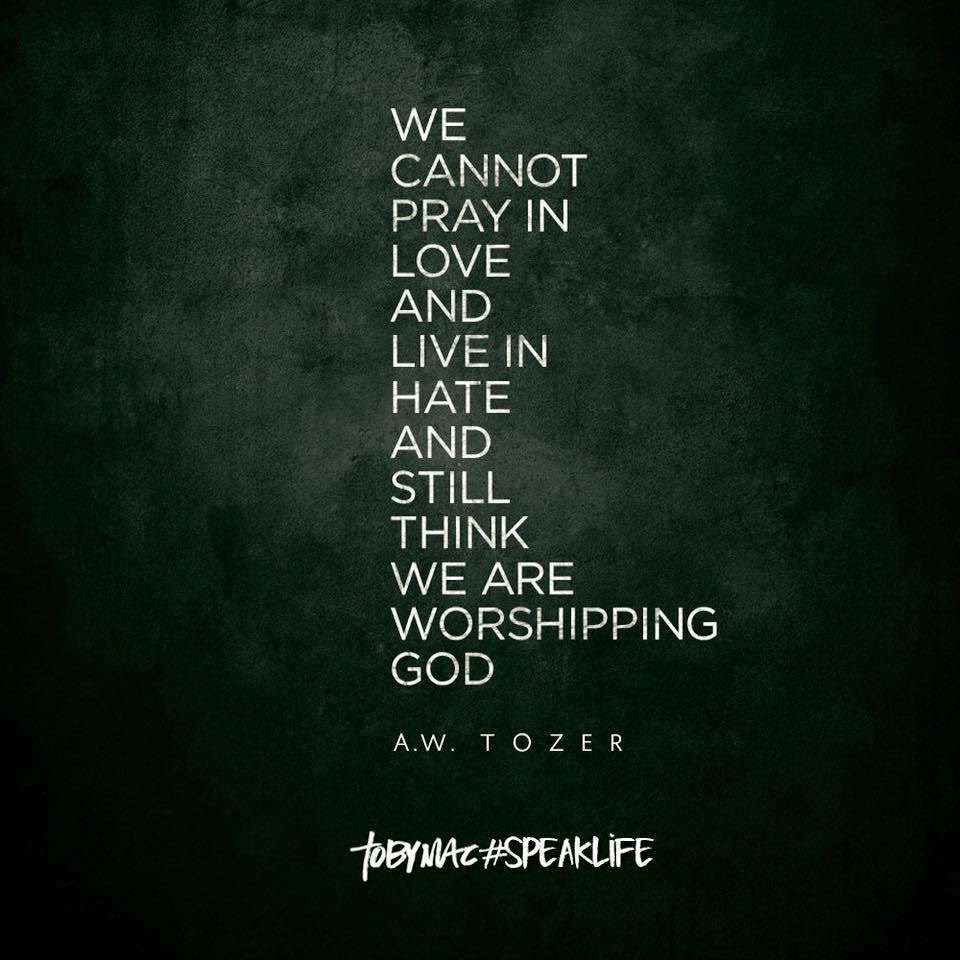 IMG_2353.a91703a0ec87418b842aaea5d48364f6.jpg
DraggedImage.9a3e975371e6457aaf338c98f9a006c5.png
DraggedImage.8ca47d9f349b44de9be94061bef535a0.png
DraggedImage.9d5110881623423f99ff3910c147071d.png