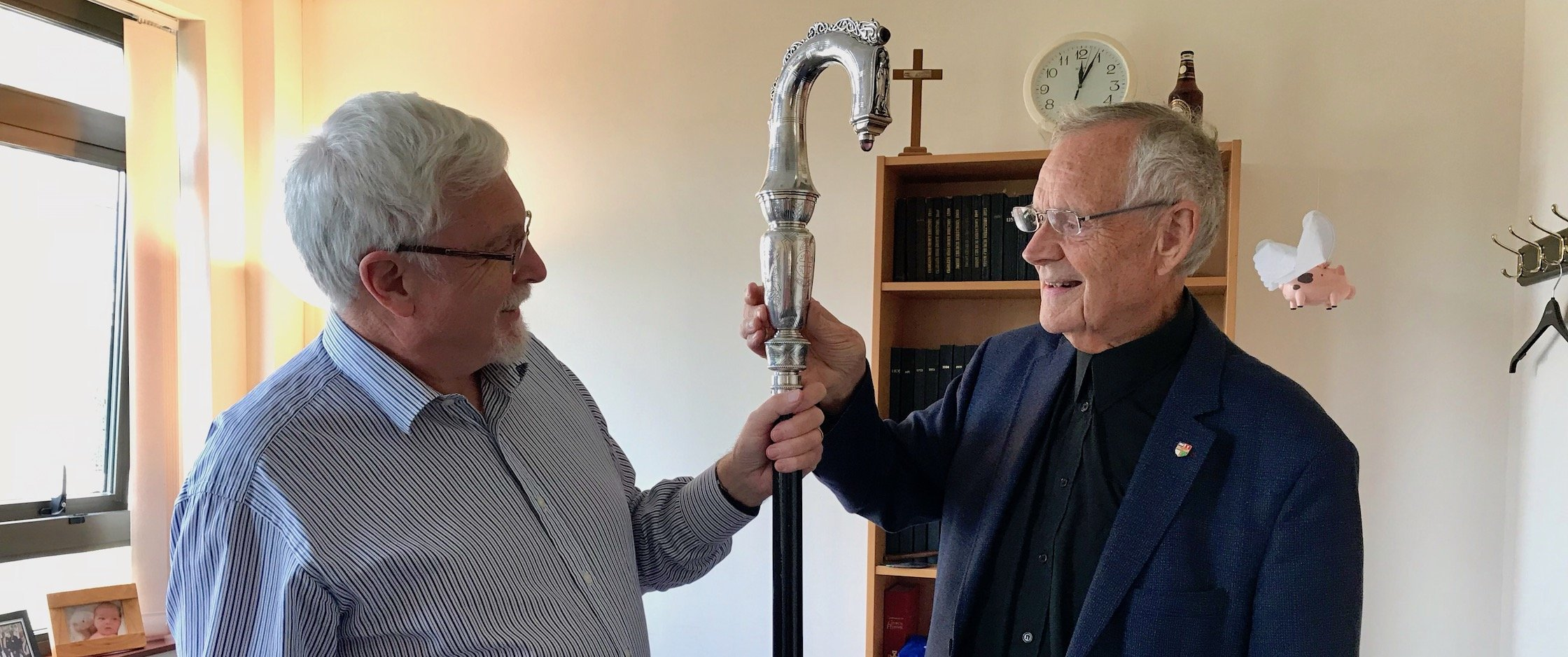 Bishop's concern for Harland and Wolff
Down crozier repaired for next bishop
SERVE programme begins in Connor
Dublin camino reminder
Piano recitals in Belfast and Coleraine
Bishop's concern for Harland and Wolff
The Rt Revd Harold Miller, Bishop of Down and Dromore: – 'The insolvency of Harland and Wolff is a troubling development for the people of East Belfast and Northern Ireland as a whole. Harland and Wolff has played a central and iconic role in the province's economy to date, and has shown innovation and resilience by adapting its business to the growth in renewable energy. The company has had an important role in passing on skills learned and built up over decades to a younger generation, which should not be lost. I encourage all in leadership to do everything in their power to secure the future of the company and for government to seek out new opportunities on behalf of its employees and their families.'
Down crozier repaired for next bishop
Bishop Harold has had some repairs done to the Down and Dromore crozier, 20 plus years after a mishap in Down Cathedral. He explains:
"One of the things a new bishop has to learn is to carry their crozier in the left hand, leaving the right hand free to give the blessing. They're not, however, warned about the hazards that await on the floors of churches and cathedrals!
"In those days in Down Cathedral the seats were down the middle, looking towards the front, which meant that you had to process round one of the sides. So, I was processing down the side and the only way I can put it in Belfast language is that the crozier 'got stuck in the gratin'. The bottom got stuck in the grating and the top came off! I ended up carrying it in two bits trying to look as though it was one. Ever since, this Crozier has caused problems because the silver was too soft, and the threads eventually wore out."
Over 22 years later and who should come to the rescue but the former Dean of Connor, The Very Revd Brian Moller. Not only is Brian a 'fixer' but he was also Bishop Harold's Director of Ordinands at the beginning of his ministry in Connor.
At Bishop Harold's request, Brian oversaw the repair which involved inserting a specially milled spigot of stainless steel which screws into a new nut and is secured with epoxy glue.
The joint and the crozier are now perfectly stable and strong such that, in the words of Brian, "You could pull a bus after you"!
Bishop Harold said, with a twinkle in his eye, "I'm glad to say that when I came into the diocese the crozier was a bit insecure but going out of it, the crozier is perfectly secure and ready for the next person."
Even if they want to pull a bus.
Bishop Harold will say 'Farewell' to the diocese with four encouragements from scripture at Bible Week 2019, Tuesday 27–Friday 30 August at 7.45 pm in Shankill Parish Church, Lurgan. Click here for more details –
https://www.downanddromore.org/news/events/2019/04/Bible-Week-2019
SERVE programme begins in Connor
From September, Connor Diocese is running the SERVE Programme for young people, developed by Tim Burns for Down and Dromore Diocese.
The course will be delivered by the Rev Philip Benson, Chair of Connor Youth Council, and Diocesan Youth Officer Christina Baillie, and is for young people aged 15 to 19. The course will be run for those exploring leadership in their local parish context.
SERVE will include eight sessions as well as an opportunity to serve at a diocesan event and there will be a graduation event in November. The eight sessions will run weekly from September 17 to November 12 with a break for half term, on Tuesday evenings from 6pm to 9pm in The Hub Chaplaincy, Elmwood Avenue, Belfast.
Cost to participate in SERVE is £50 per person, to cover dinner each week, handbook, sweatshirt, graduation ceremony and certificate.
The SERVE Graduation will take place on Tuesday November 19 from 7.30pm for participants to attend along with friends, family, leaders and clergy.
Apply online for SERVE –
https://docs.google.com/forms/d/e/1FAIpQLSdDMKcEKumbRSM8ERnkAkorSBDKYe3NYjCJpAa7GTd\_OlMmDw/viewform
Dublin camino reminder
The annual diocesan pilgrimage, the Glendalough Camino, will take place on Saturday September 14. The Camino has been growing from strength to strength and over 100 people joined the full pilgrimage from Hollywood to Glendalough along St Kevin's Way last year.
The pilgrimage has traditionally taken place on a Sunday but has been moved to a Saturday this year following feedback from clergy of the dioceses. The new day will facilitate clergy taking part in this diocesan event with their parishioners. More at –
https://dublin.anglican.org/news/2019/07/05/diocesan-pilgrimage
Piano recitals in Belfast and Coleraine
Cahal Masterson was born into a musical family – a family which includes four siblings who are all professional or aspiring violinists. He was brought up in a little village in Co Armagh – Poyntzpass – but he took his own musical education at the piano very seriously and was early on a student at the Royal Irish Academy of Music in Dublin with the renowned and arguably the best teacher in Ireland – Dr John O'Conor.
Still in his 20s, Cahal has already performed throughout Europe and North America, and as far away as Suzhou, China. Following his own star, as it were, he finished his Bachelor degree in Music Performance at the Royal Irish Academy of Music, Dublin, completed an Artist Diploma at The Glenn Gould School in Toronto, Canada, and then he graduated with a Masters in Music Performance from Shenandoah Conservatory in Virginia, as one of a select number of full scholarship students.
In April 2018, he recorded his inaugural album "Transition" at Sono Luminous Studios in Boyce, Virginia.
That CD is typical of the wide repertoire in which Cahal is most at home. At his forthcoming recital in Belfast's historic Rosemary Street First Presbyterian Church on Wednesday August 7, beginning at 1.15 pm, he will be playing Beethoven's Bagatelles Op. 126, Rakhmaninov's Preludes Op. 23 Nos V & X, and Prokofiev's Sonata No.7. Cahal will repeat that programme a few days later at St Patrick's Church, Coleraine on August 15 at 12.30 pm.
DraggedImage.278ff192bae1426f93852771f830e0ac.png