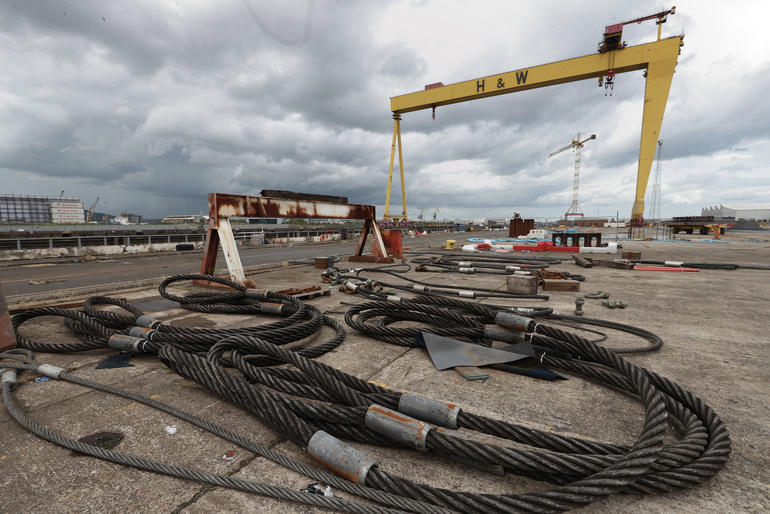 Giggle Fund at St Patrick's Cathedral
War of Independence driving route opened
Down & Dromore Bible Week
Freedom Sunday highlighting the issue of slavery
Exciting news for Knock Shrine from Rome
PCI resource Eric Says
Giggle Fund at St Patrick's Cathedral
Today Thursday 8 August there will be a coffee morning in St Patrick's Cathedral, Dublin, from 10.00 until 16.00. They are raising money for the "Giggle Fund" which supports bringing a smile to sick and terminally ill children. This is in response to the sad passing of Cara Stokes, a niece of a staff member. Her recent death caused great sadness among the Cathedral community. Mention "GiggleFund" at the door to attend and buy lots of cake and coffee! If you cant attend in person please consider makeing a donation to https://cmrf.org/donate
War of Independence driving route opened
A driving route around Mid Cork and West Cork War of Independence and Civil War historical locations has been launched.
The Cork Rebel Way was officially launched at the Kilmichael ambush site.
The concept was launched by Helen Collins, grand-niece of Michael Collins, and Anne Hales, granddaughter of Tom Hales.
Instead of cutting a ribbon, the descendants of the pro-treaty and anti-treaty parties tied ribbons together in a symbolic act of reconciliation.
Tim Crowley, who initiated the project said: "This bottom-up, community-led initiative aims to bring tourism into the smaller towns and villages of West Cork to commemorate the people and places by telling their stories."
The event was attended by 150 local people including many public representatives. An ecumenical blessing was led by Fr Pat O'Donovan (Catholic), Rev Greg Alexander (MethodistMinistry) and Rev Cliff Jeffers (Church of Ireland).
Copies of the Cork Rebel Way are available at libraries and tourist offices.
Down & Dromore Bible Week
Rt Revd Harold Miller, Bishop of Down and Dromore, is the speaker at Bible Week 2019, from Tuesday 27–Friday 30 August at 7.45 pm at Shankill Parish Church, Lurgan
Bishop Harold will say 'Farewell' to the diocese with four encouragements from scripture.
Tuesday 27 August: A New Generation of Leaders (Deut 32: 44–52 & Deut 34)
Wednesday 28 August: An Anointing for the Future (2 Kings 2: 1–15)
Thursday 29 August: A Message for the World (Mark 16:14–20)
Friday 30 August: A Farewell Charge (Acts 20: 17–38)
It's our 13th Bible Week and only the second time that Bishop Harold has been the speaker. He says:
"I've had the privilege of serving as Bishop in the Diocese of Down and Dromore for over 22 years and I very much look forward to this opportunity to share words of encouragement from four farewell passages in the scriptures."
Freedom Sunday highlighting the issue of slavery
Freedom Sunday – a Sunday dedicated to highlighting the issue of slavery worldwide and praying for its end – takes place on September 22 this year.
International Justice Mission is the world's largest anti-slavery organisation – last year, IJM and its partners rescued 4,500 victims of exploitation and abuse.
They included young boys working at a water treatment facility in India. The organisation was recently highlighted in the retirement events for Bishop Ken Good, Derry and Raphoe, as one of the bishop's nominated charities.
Last year, more than 18,000 churches worldwide joined in and IJM would love to see that number increase in 2019
All the information a church needs to participate in Freedom Sunday – Resources for sermons, videos, children's groups and more are available.
Pope blesses statue for Knock Shrine
A beautiful new processional statue has been blessed in Rome by Pope Francis. It will be officially unveiled in Knock on the 140th anniversary, August 21st.
PCI resource Eric Says
Eric Says is a PCI resource based on a series of books written by Dai Hankey and published by The Good Book Company – The sessions are centered around the themes of teaching children to say thanks, sorry and please and also to help them encounter God and understand something of the part He wants to play in their lives. http://bit.ly/2Yh3Vzu
Food for thought
You whisper Derry. Beyond the walls
And the crashing boom and the coiling smoke,
I follow the freedom which beckons and calls
To Colmcille, tall in his grove of oak,
Raising his voice for the rhyming folk.
John Hewitt
DraggedImage.6c3bfe545d9d49e59c9f2aab171c15a8.png