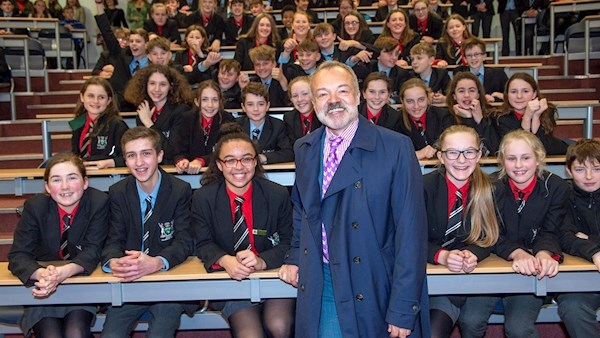 New history of Bandon Grammar School

From Bandon to the BAFTAs and back again. Yesterday Graham Norton returned to the alma mater, "that boxy building on a hill on the way to Clonakilty", and gave something of a blueprint for navigating the ley lines of youth and growing up.
Back at Bandon Grammar School for the launch of a history of the second-level facility, the past pupil recalled his own days in an ill-fitting uniform, when he made a decision to swap sports for the library.
"You have moments where you go 'how did this happen?' and 'how did I get here?'", he said when asked what it felt like to be back, almost 40 years since his student days. "It's not that I think kids want to do what I do, if you see someone from where you are from doing well, it makes things seem possible." In terms of advice to his younger self, he would urge him not to worry so much.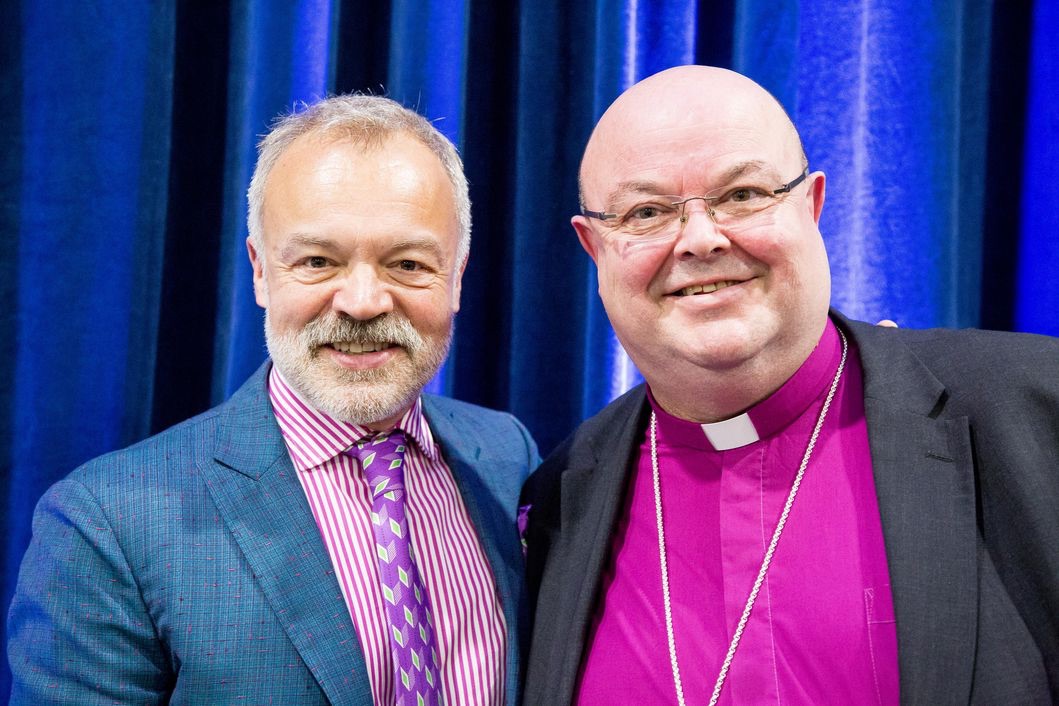 "If I could go back and talk to the boy I was, running around in a uniform that was always either too small or too big, never quite right, I would tell him to worry less. When it boils down to it, life is a series of choices and consequences. The trick is to think about the consequences before you make the choice," he said.
The book covers the history of a school that lays claim to being the oldest in Munster, dating from 1642/43. And with all due respect to them and other past pupils, such as Aston Villa's Conor Hourihane and Munster's Darren Sweetnam, none are quite as famous as the man who still gives his mum a shout-out every year while commentating on the Eurovision.
Presbyterian Herald for December/January is now available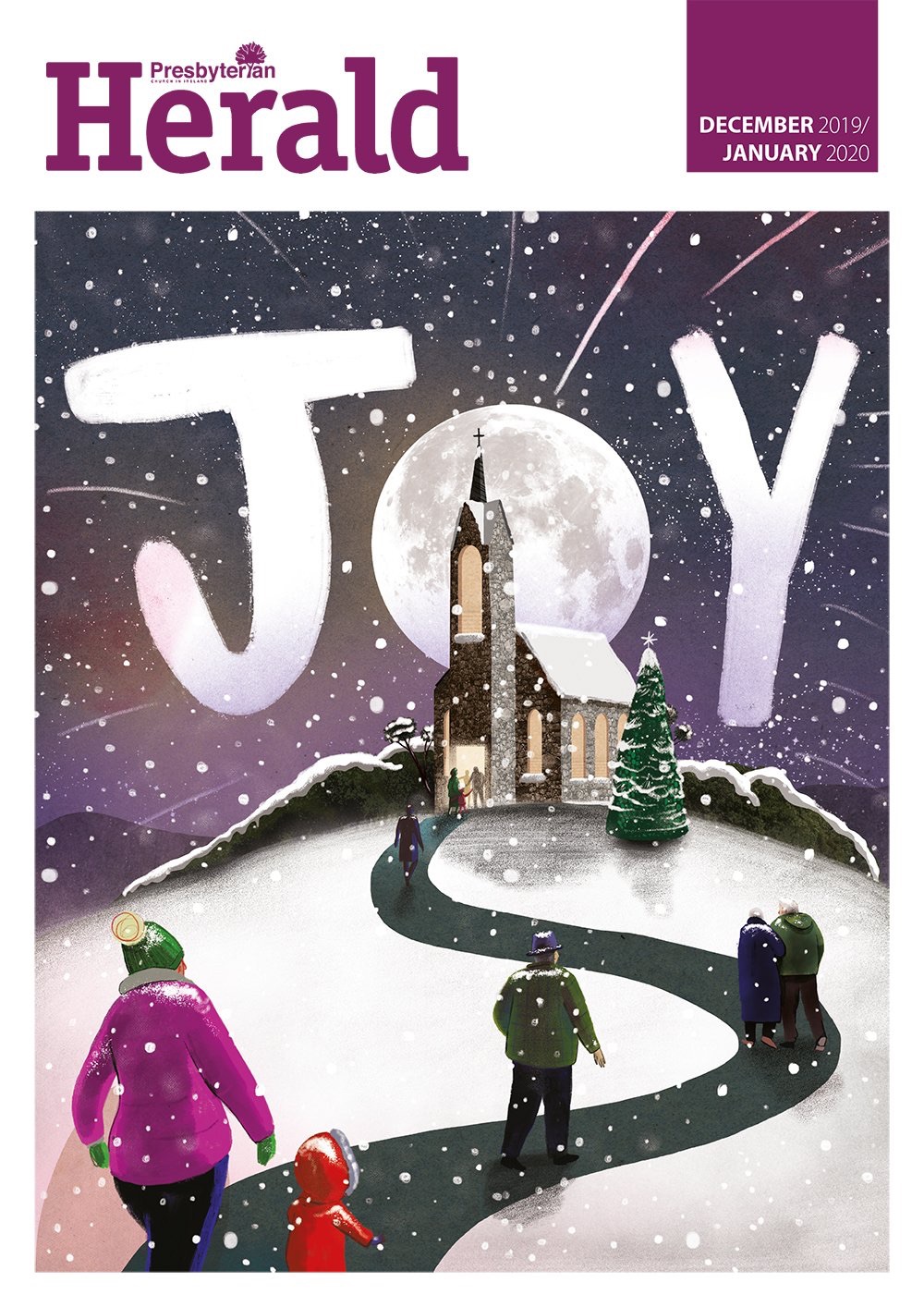 The December 2019/January 2020 edition of the Presbyterian Herald is now available. Editor, Sarah Harding, introduces this month's edition.
A recent report from the Good Relations Indicator discovered that, compared to two years ago, fewer people in Northern Ireland think relations between Protestants and Catholics are improving (a drop from 49% to 43%).
A decade ago in the Herald, as featured in 'In this month', Dr John Dunlop commented, "Sectarianism is…more contagious and dangerous than swine flu and all of us have it." It is therefore sad to think that a decade later and more than 20 years on from the Good Friday Agreement, we are not moving in a better direction for peace and reconciliation.
Perhaps this is because society in general now seems more polarised. Whether it is Brexit in the UK and Ireland, or the Trump administration in the USA, politics has created an environment where people have little respect for opposing opinions and disagreeing well doesn't seem to exist. The focus is firmly on self-preservation and fear of the unknown.
In his article 10 years ago, John Dunlop described sectarianism as: "…a good thing which has become diseased. The good thing is a sense of one's own self-worth. The diseased thing is the automatic unconscious culturally inherited denigration of the worth of someone else who is different."
In the new multicultural Ireland, 'someone else who is different' has extended beyond Protestant and Catholic, to all people of different races, colours and cultures. Pip Florit highlights a new PCI Bible study resource that explores how migration relates to our churches and communities. She points out: "The Bible does not just suggest hospitality – it commands it." At this festive season, it is poignant to be reminded of an immigrant couple arriving in Bethlehem, desperately searching for somewhere to have their special baby.
As we stand on the cusp of a new decade, Ruth Sanderson takes stock of the last one, and unfortunately it doesn't make for very cheery reading. She says, "Ten years on, the world feels very uncertain. The future is anything but clear, not politically, environmentally or globally." Yet as Christians, we know that God is in control of all things and we have no need to fear the future. The hope that we have, that began with a baby of immigrant parents, is the rock on which we stand.
Our Moderator, Dr William Henry, reminds us that the joy of Jesus is ours to treasure. I echo his words to all Herald readers at this special time of year: "I want to encourage you this Advent season to celebrate the joy of Christmas and enjoy God."
The Presbyterian Herald is the official magazine of the Presbyterian Church in Ireland. It provides a forum for debate and discussion on a wide range of topics and aims to challenge and encourage Presbyterians, as well as inform them about what the wider Church is involved in. It has a readership in excess of 25,000 and is distributed throughout Ireland. To find out more go to [www.presbyterianireland.org/herald]
Narnia weekends in Killeter
The first weekend of Termonamongan Parish's ambitious production of CS Lewis's The Lion the Witch and the Wardrobe played to full houses on both nights last weekend. And the magic hasn't stopped. St Bestius Church, Killeter will be open for viewings as 'Narnia Comes to Killeter' again over the next three weekends – from 7-9pm on Fridays; Saturdays from 12-5pm and Sundays from 2-5pm. Donations to the St Bestius Parish Church restoration fund. UTV's Sara Moore called into the church to capture the magic for TV viewers so we look forward to seeing her report in the very near future. Why don't you pop along yourself?
Cork Three Faiths Forum attend installation of Canon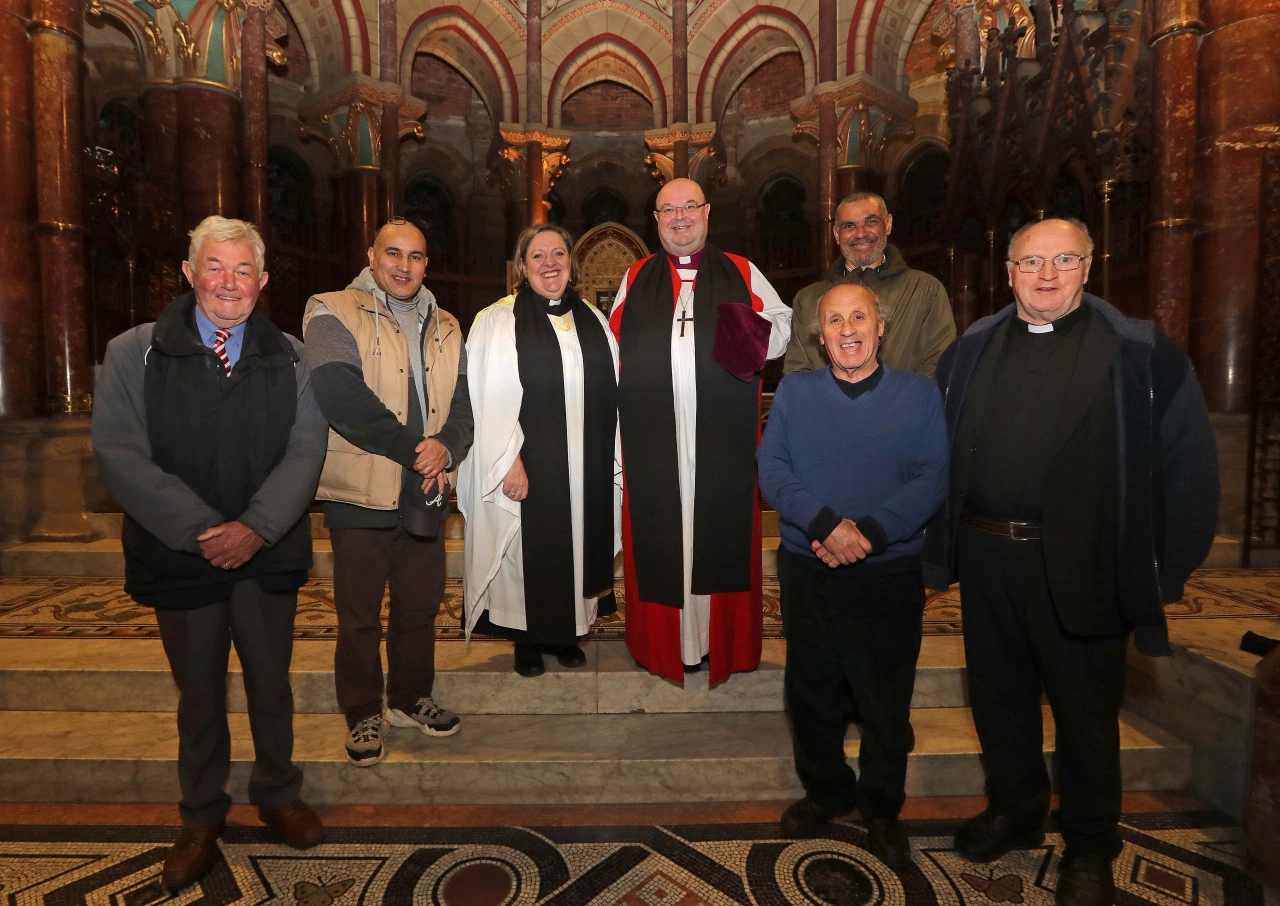 Some of the members of the Cork Three Faiths Forum with the Bishop after the Service (l-r) . Charles Payne, Ali Hamou, Canon Elaine Murray, the Bishop, David Coon (front), Stephen Gregory (back) and the Reverend Tony Murphy.
Members of Cork Three Faiths Forum attend installation of Canon Elaine Murray in the Chapter of St Fin Barre's Cathedral, Cork: A large attendance of parishioners from Carrigaline Union of Parishes swelled the ranks of the congregation of St Fin Barre's cathedral, Cork, for Evensong on Sunday, 24th November when the Reverend Canon Elaine Murray was installed as Prebendary of Desertmore and Killanully. Also present were members of the Cork Three Faiths Forum – Christian, Muslim and Jewish faiths – in which Canon Murray is actively involved. Present also were members of the Cork, Cloyne and Ross Children's Ministry Group which the Canon convenes. Canon Elaine Murray with her family – Áine, Liam and Conor – at her Installation as Prebendary of Desertmore and Killanully, at Saint Fin Barre's Cathedral, Cork. Picture: Jim Coughlan.
Jonathan Swift Festival press comment
The panel discussion event at St Patrick's Cathedral, Dublin as part of this year's Jonathan Swift Festival certainly evoked many column inches in the media. See –
https://www.irishtimes.com/news/social-affairs/religion-and-beliefs/mary-mcaleese-irish-people-have-no-right-to-be-racist-1.4093391
https://www.irishtimes.com/news/social-affairs/religion-and-beliefs/head-of-anglicans-hopes-conservative-wing-will-not-spur-schism-1.4093388
https://www.belfasttelegraph.co.uk/news/republic-of-ireland/51-in-republic-of-ireland-want-vote-on-unification-in-next-five-years-latest-opinion-poll-says-38722078.html
https://www.independent.ie/breaking-news/irish-news/irish-people-have-no-right-to-be-racist-says-mcaleese-38721402.html
Prayer vigil and support for Women's Aid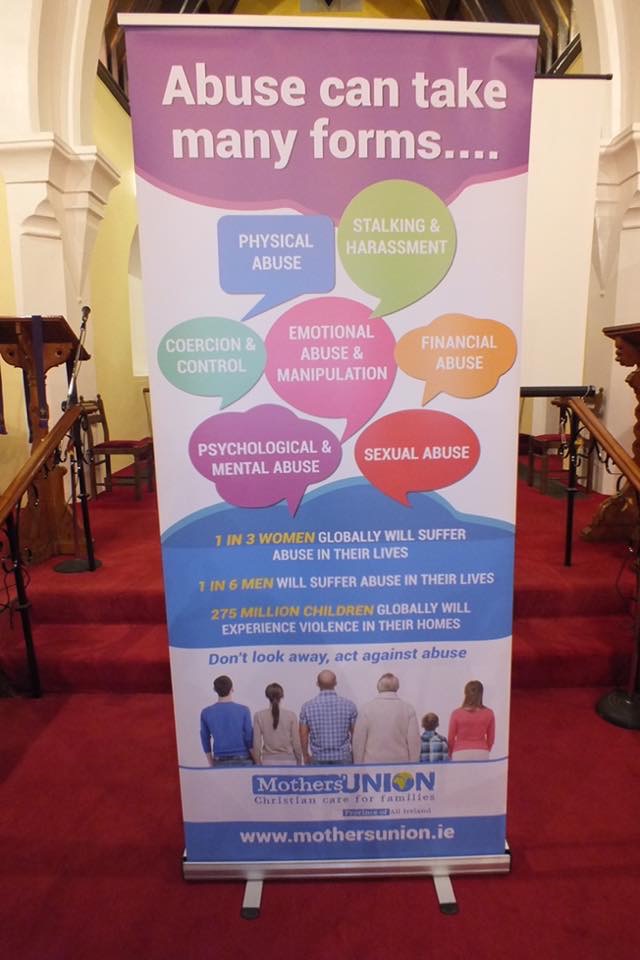 A Prayer Vigil was held in Garvary Parish Church on Tuesday night. Canon Betty Thompson welcomed everyone. The Chaplain Rev Charles Eames introduced the Hymns. The Opening Prayers were read by Diocesan President, Irene Boyd.
The Bible Readings were read by Ann Rowley, Ivy Edwards, Fred Beacom and Freda Burleigh. Valerie McMorris introduced and welcomed the speaker, Mervyn Smyth from the Group 'Ardstraw Against Trafficking.' Mervyn did a very interesting Presentation, highlighting, what is happening in our own area. He urged all present to contact Crime Stoppers if they had any concerns about what was happening around them.
The prayers of intercession were read by Barbara Mason, Kathleen Kettyles and Sadie Curran. Dr Margaret Knox thanked Mervyn and presented him with a gift.
Rachel Gataora from Women's Aid thanked the Members present for all their generosity in donating so many gifts on the night to Women's Aid.
SAMS Ireland Annual General Meeting
The South American Mission Society (SAMS) Ireland would like to give notice of their Annual General Meeting to be held on Monday 16th December 2019 at 12.30pm in Edenmore Golf Club, Magheralin. For further information please contact the office: Phone: 028 3831 0144. Email: o[ffice@samsireland.com]
Castlecaulfield Boys Brigade 90th Anniversary
1st Castlecaulfield Company of the Boys Brigade celebrated their 90th Anniversary with the annual service of enrolment in St Michael & All Angels' Church, Castlecaulfield, on Sunday 17th November. The company was founded in 1929 by the Revd Richard Blackwell-Smyth, who was appointed rector of St Michael's in 1928, and has gone from strength to strength over the past nine decades. The company now numbers over 70 boys and 14 officers, led by the Company Captain, Roy Marshall. The service was conducted by the current Rector of the parish and Chaplain to the company, Canon Peter Thompson, assisted by the local Presbyterian minister and Assistant Chaplain, Revd Mark Dodds. The preacher was the local Methodist minister, the Revd William Newell.
Broughshane parish Mental Health Sunday
St Patrick's Parish Church, Broughshane, welcomed Hope4Life to its first Mental Health Sunday service. This was part of an initiative undertaken by the church to tackle the stigma surrounding mental ill-health in the village. Read more at [https://bit.ly/2KKxrou]
Rev Tom Banham: 'To live in the hearts of those we leave behind is not to die'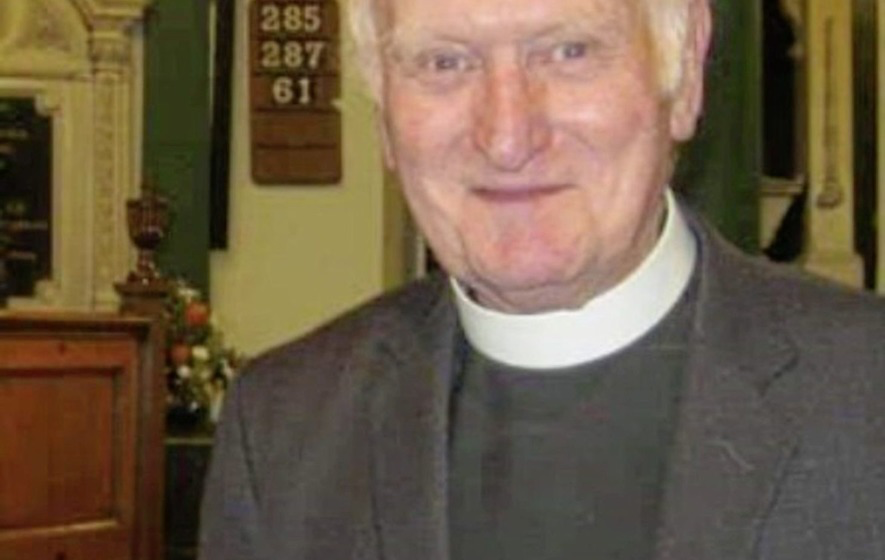 Rev Tom Banham was a hugely influential figure in the Non-Subscribing Presbyterian Church in Ireland.
As minister at First Presbyterian Church in the heart of Belfast city centre throughout most of the Troubles, he was also praised for his generosity and commitment to cross-community dialogue during the most testing of times.
Born in Devon in southern England, Rev Banham had a 20-year career in the Royal Navy before becoming a fisher of men.
He felt called to religious life while running a Sea Scouts group in a chapel in Bristol and trained at the Unitarian College in Manchester to serve in the Non-Subscribing Presbyterian Church, a liberal denomination which rejects 'man-made' doctrines and places on emphasis on individual reason and conscience.
After four years as minister of Ballycarry and Raloo in Co Antrim – one of 34 congregations across Ireland – he was called to First Church in Rosemary Street in the centre of Belfast in 1975.
Co Down minister Rev David Steers told his funeral at Roselawn Crematorium that it was a challenging post.
"The previous minister had been killed in a tragic road accident, the Troubles were at their height, the city centre was under considerable pressure, and the church itself had been badly damaged in a bomb attack; leaving the windows smashed and the eighteenth-century ceiling on the floor.
"Tom was the right man, in the right place, at the right time; and under his leadership the church was resurrected and able to flourish once more."
Rev Banham would combine his talents as a preacher, pastor, theologian and educator with great practical skills.
He established an academic training board to provide courses for ministers and lay people and devised a new version of the communion service which was widely adopted – but was just as happy carrying out odd jobs for parishioners with his tool box.
He was also strongly ecumenical and was one of the founders of the Northern Ireland Inter-Faith Forum and took part in joint carol services with the other two churches in Rosemary Street.
Rev Steers said much of the life of the Non-Subscribing Presbyterian Church has been shaped by his vision and endeavour.
"Tom was someone who was always keen to contribute to society, to make a difference to those in need," he said.
"A few years ago Tom gave me his old Book of Occasional Services. In one of the annotations he has written: 'To live in the hearts of those we leave behind is not to die.'
"I am sure that is true, and we will all long remember Tom as the valued colleague or minister or friend he was to us."
Rev Tom Banham died aged 90 on August 14.
Irish News – 28 November, 2019
DraggedImage.12ec064f26eb4337b00ab157fbd563c6.png
Image-1.88fd546e495e4153a6805b9e5aa050ef.jpg
DraggedImage.b5f32a167c684845af3e6cd2e901198d.png
IMG_2924.c3e050c42c0e412b816be205af67c412.jpg
DraggedImage.6bca03e29c42408687b7122732ef5d9b.png
Image-1.e32b4810aa4b49f5b37733e240e9ec65.jpg
Image-1.b3d77faf43d84233b60cc37c23ff7645.jpg
DraggedImage.e561b46e5cd04a41aa03cbf3f032cd3d.png