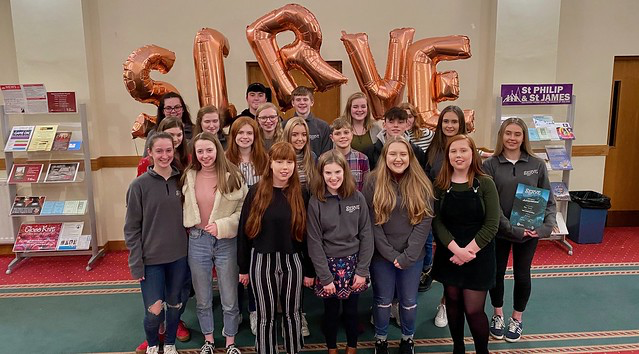 Celebrating with SERVE class of '19
Twenty–one young people from across the diocese have just celebrated their graduation from the SERVE Young Leaders' Training Course.
Lots of parents, grandparents, brothers and sisters came along in support and enjoyed a meal and graduation ceremony in Holywood Parish Centre on 27 November.
In an evening bursting with potential, the SERVE participants, all aged between 15 and 18, took the lead in worship, reading, praying and sharing.
Archbishop's Commissary, Archdeacon Roderic West, presented the graduation certificates and gave a short message. He encouraged the young people to seek out the things and people that would motivate them to read the Bible and pray and grow, and to allow their relationship with God to touch every aspect of their lives.
The Class of '19 is the third group to complete the course which began in September and ran on Wednesday evenings in Church House.
They came from diverse parishes – Shankill Lurgan, Garvaghy, Seapatrick, Portaferry, Moira, Ballybeen, Bangor Parish, Lower Kilwarlin, Newtownards and Carryduff – and every one of the graduates would recommend SERVE to other young people in the diocese.
"I came in not really expecting the typical leader to be the most outgoing in the group, but I've realised through this that you don't have to be like that to lead," said one.
"The week when we gave the speeches really impacted me when we had to be open and sharing and hear what everybody else had to say. It really helped us trust each other," said another.
Course leader Tim Burns praised the group and reminded them what SERVE was about: "It's not just getting to this service and doing a thing in front of your parents; it's an encouragement to keep going in your faith and keep growing and moving on."
About SERVE
SERVE came from a vision to develop the young people who were coming through the Kilbroney Adventure Camps and in general to develop young leaders across the diocese. Written by Tim Burns, Down and Dromore's Youth Development Officer, it's an eight–session discipleship course with four core elements: dinner together; a spiritual discipline 'taster'; a chapter review of 'Storylines' by Mike Pilavachi and Andy Croft; and finally, teaching and discussion guided by the SERVE material. The participants also get some practical experience when they go along to the Kilbroney Blast Weekend as leaders.
Bishop impressive winner in clergy golf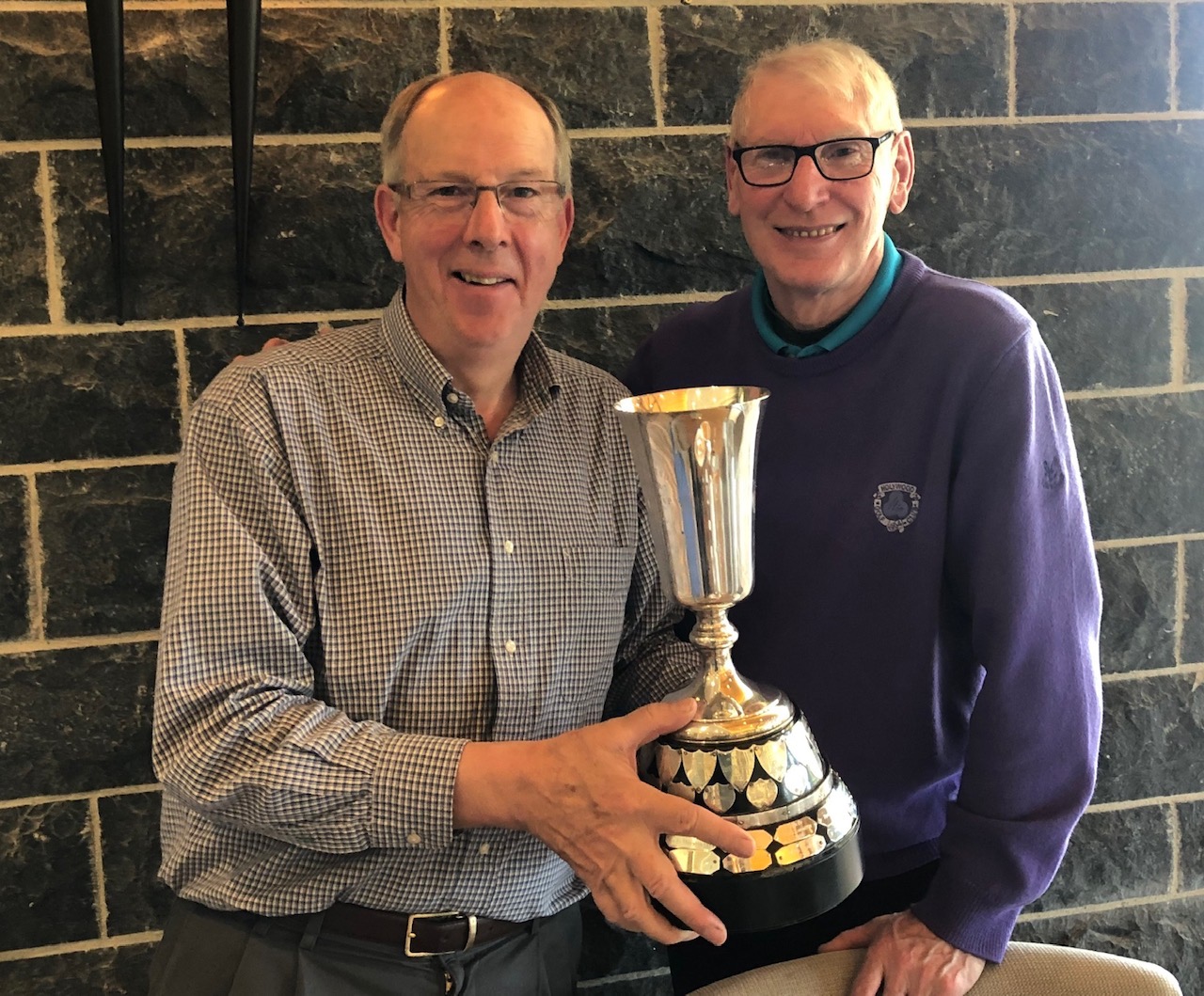 Being a good snooker player has long been regarded as a sign of a misspent youth, so what does his emphatic victory in a golf tournament for Church of Ireland clergy tell us about Bishop Ken Good's retirement?
The former Bishop of Derry & Raphoe has won the 2019 Milne Barbour Cup – which is competed for annually at Malone Golf Club – and he did it in some style. The tournament organiser, Archdeacon Terry Scott, said Bishop Good spread-eagled the field to run out an impressive winner. Another Derry and Raphoe 'old boy', Canon Raymond Fox, finished runner-up.
The competition is contested using the Stableford points system, so the ease of Bishop Good's victory stunned the rest of the field. "It was an excellent performance by Bishop Good," Archdeacon Scott said, and he should know – being a nine-times winner of the Milne Barbour Cup.
Opponents will be hitting the practice greens ahead of next year's tournament to try and stop the Good juggernaut in its tracks but – considering how much time Bishop Good (who's pictured with Canon Fox) has been able to devote to his favourite pastime since laying down his crozier – this may prove to be something of a forlorn hope.
Could you be a Neighbours in Need elf this Christmas?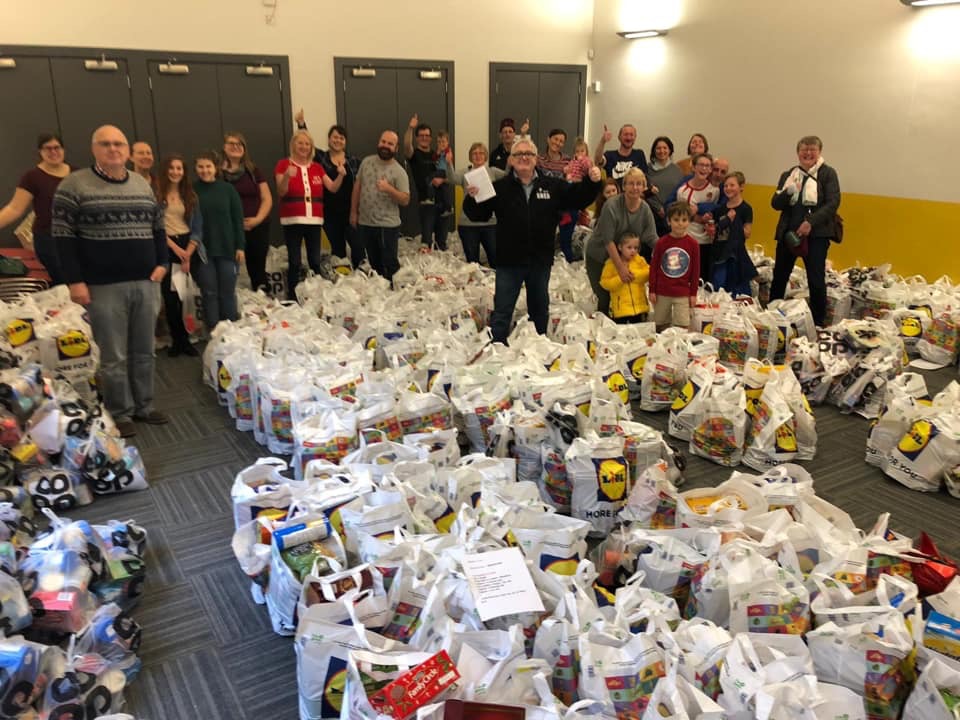 The East Belfast Mission needs volunteers to help them on Friday 6th Dec 6-8pm set up of the food and Saturday 7th 10-12am for putting hampers together! "If you could spare a couple of hours it would make a huge difference to us as we strive to make sure everyone in our community has food this Christmas! If you think you could help call us on 028 9045 8560"
Clontarf Choral Competition 2020 – now taking entries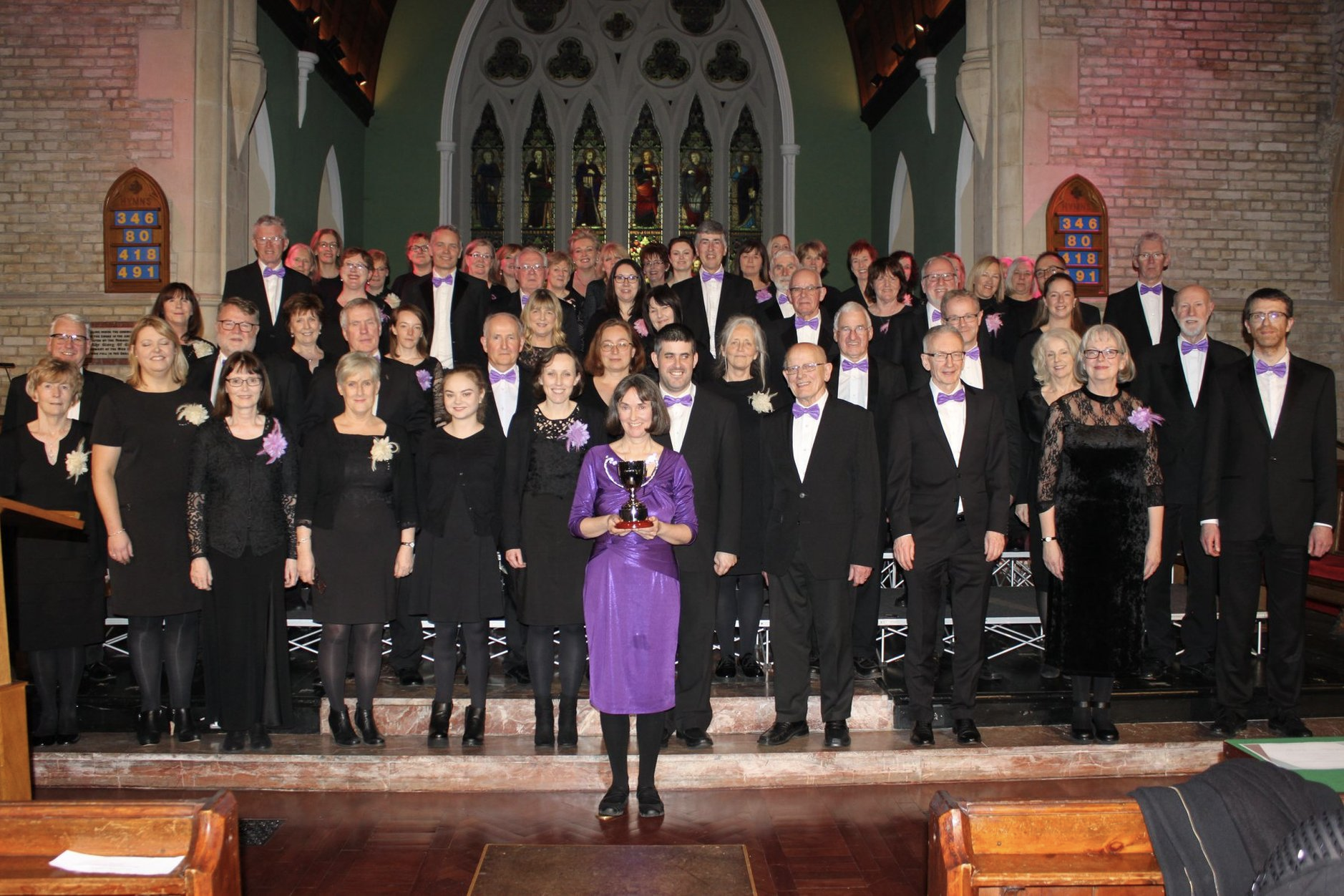 Photo – Last year's senior choir winners, Dolce.
Clontarf Parish, the Church of St John the Baptist, is pleased to announce details of the third annual Clontarf Choral Competition. The competition, which aims to promote the performance and enjoyment of hymns and spiritual songs, will take place on Sunday March 1 2020.
The competition is open to all amateur choirs of eight or more members. This year, in addition to the senior and junior categories, a new category has been added especially for church choirs.
Entrants will sing two pieces: the first piece will be an arrangement of one hymn from the prescribed set–list (to be found on the website) and the second piece will be a hymn/psalm/religious song of the choirs' own choosing. The theme of this year's set list is Irish Hymn Writers. Choirs entered in the senior and parish choir categories must sing in at least two–part harmony. The times of the competitions will be announced once all entries have been received.
The distinguished adjudicating panel will comprise of Dr Orla Flanagan, Assistant Professor of Music, Trinity College Dublin and Director of the award–winning Mornington Singers; Stephanie Maxwell, Parish Organist and graduate of the Archbishop of Dublin's Certificate in Church Music; and the Revd Jack Kinkead, Chairperson of Church Music Dublin, and Rector of the parishes of Wicklow and Killiskey.
The closing date for entries for the 2020 competition is Friday February 7 2020.
Details and Entry Forms on [www.clontarfchoralcomp.wordpress.com]
Raphoe Cathedral to be spruced up for Christmas festival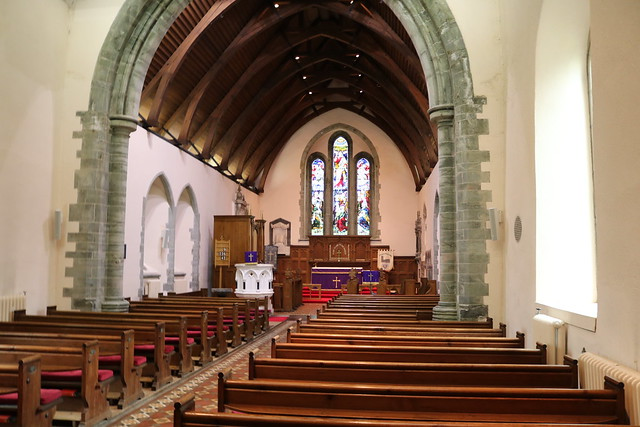 The historic cathedral of St Eunan's in Raphoe will be transformed next week when it is decorated with around 50 Christmas trees for the church's first ever Christmas tree festival.
The 'Festival of Christmas Trees' will open on Friday, 6th December, and continue until Sunday, 8th December. A Community Carol Service will be held at 8pm on the Friday to launch the festival formally.
The Dean of Raphoe, the Very Revd Arthur Barrett, has extended an open invitation to the public to include a visit to the festival as part of their Christmas preparations. "Our 'Festival of Christmas Trees' will be a memorable experience for our parishioners," Dean Barrett said, "and will offer a remarkable spectacle for the whole community as people prepare to celebrate the birth of Jesus."
Such festivals are common in other Church of Ireland parishes but this will be the first time in its 800–year history that a Christmas tree festival will have been held in the Cathedral Church of St Eunan in Raphoe.
Dean Barrett has acknowledged the efforts of his parish team and the help of the wider community in making the event possible. "I am very grateful to the many individuals, groups, businesses and organisations who have 'invested' in our celebration by providing Christmas trees. Our festival is going to feature around 50 trees – of various shapes and sizes – all of which will attest to the ingenuity and creativity of their creators.
"If you've never been to a Christmas Tree Festival before, why not give ours a try? They provide a truly wonderful spectacle and offer a welcome respite from the hassle and pressure that are for many people nowadays an unavoidable feature of the festive season."
Dean Barrett also invited people to 'kick–start' their holiday season by attending the Community Carol Service in Raphoe Cathedral at 8pm on Friday 6th December. "The Service will be a joyful way of celebrating the beginning of our 'Festival of Christmas Trees' and a great opportunity for people to come together in fellowship with their neighbours. Whatever their denomination, whether they're people of faith or not, our doors are open and people will be welcome to join us at our Carol Service."
St Eunan's Cathedral in Raphoe will be open for the 'Festival of Christmas Trees' from 12 noon to 7pm on Friday 6th December; 10am to 7pm on Saturday 7th December; and 2pm to 7pm on Sunday 8th December. All proceeds will go to the parish's 'Cathedral Restoration Project 2020'.
DraggedImage.bed12bdaf48d4b02870c8c23d9e86bdf.png
DraggedImage.2351df385708405da7177820a31fc39a.png
IMG_2941.cc2eecabb0ea43ff8dcd860c7ff5ca0d.jpg
IMG_2943.5c202f15bda5443c92ef06f4e16b0ece.jpg
DraggedImage.68657e45546b403f80d75821e54ae5cc.png