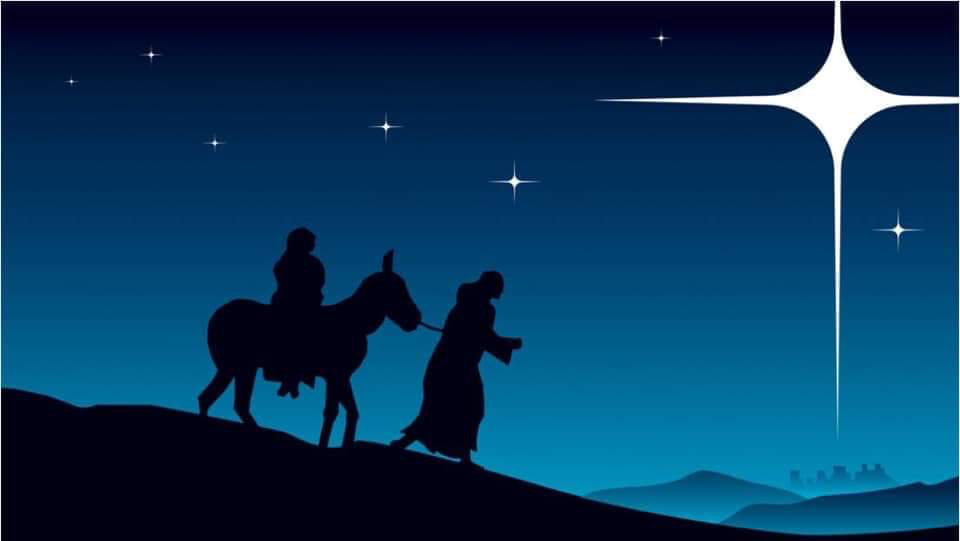 Towards Bethlehem: An Advent Journey with Mary & Joseph at QUB
Using imaginative contemplation on scripture passages, art and poetry, Sr Eileen O'Connell OP and Emily Nelson will give the first of two Advent reflections this Tuesday evening at 7pm in the Bangor Room at the Catholic Chaplaincy at QUB. Everyone welcome.
Limerick Christmas talks offer hope and encouragement
Limerick City Parish's series of talks leading up to Christmas continues on Friday in St Michael's church, Pery Square, at 1pm when the speaker will be Joe Slattery, Coordinator of the North Star Family Support Project. These talks are aimed at all who experience overwhelming circumstances and difficulties within their lives. Each session will offer hope, encouragement and perhaps a way forward. Within the talk there will be time for questions interaction and refreshments. Further information may be had from the Revd Paul Fitzpatrick on (086) 4113 989.
Seasonal Musical events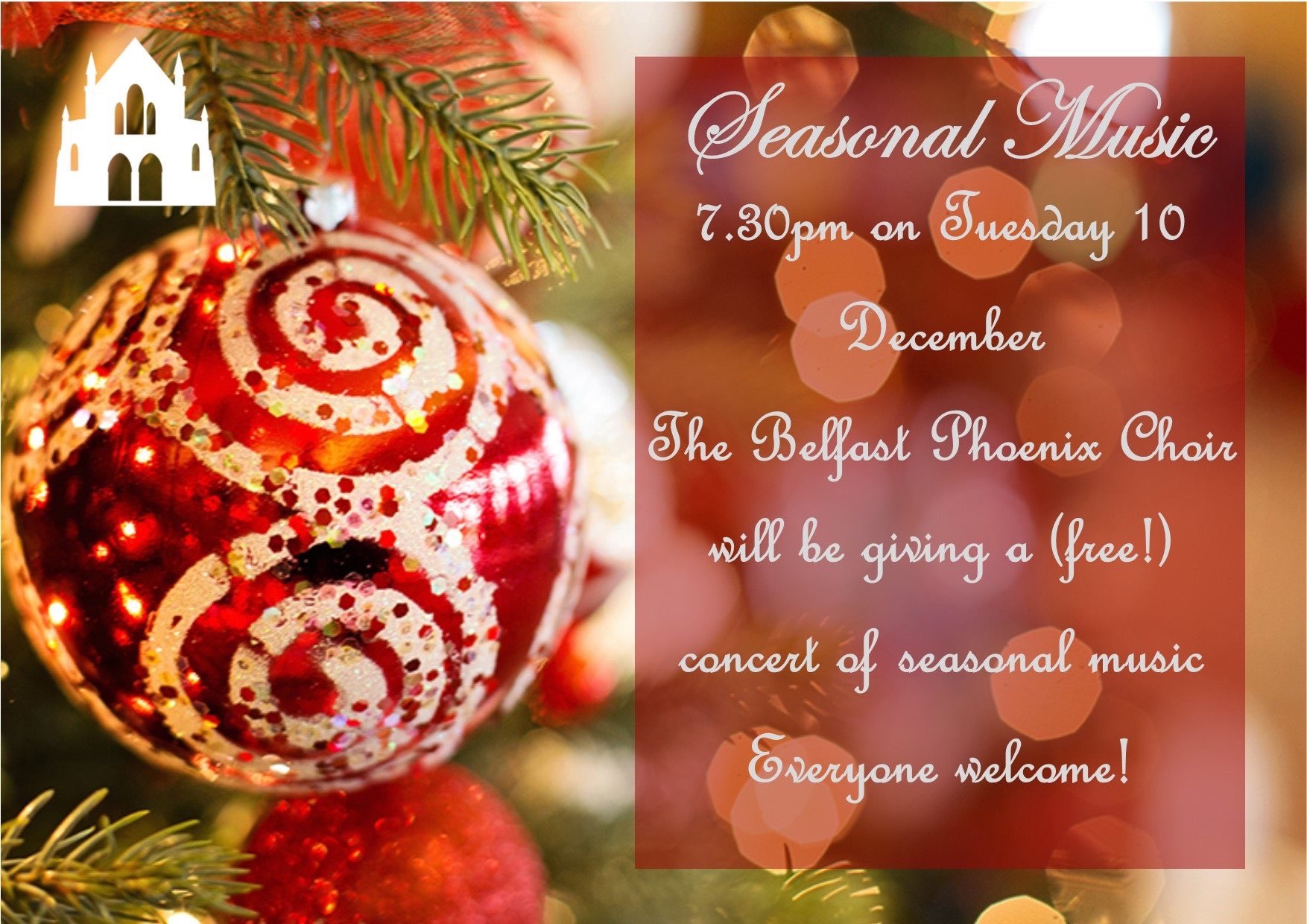 Belfast Phoenix Choir say – "We're starting to get the Christmas tingles with all the carols we've been singing! Come and join at the Reform Presbyterian Church on Belfast's Dublin Road for Christmas cheer and mince pies!"
Choral Compline resumes at Sandford Parish Church, Ranelagh, on Friday evening at 7pm. All are welcome to come to this beautiful meditative service, which provides a welcome respite from the busy Friday rush–hour.
On Saturday 7 December there will be a Christmas Concert in aid of parish funds in St Patrick's church, Donabate, at 8pm with soprano Niamh Fitzgerald and baritone David Scott and accompanied by David O'Shea.
Christmas Crafts and InSpire Kids Trail at Belfast Cathedral
Get along to Belfast Cathedral on Saturday 7th December 2019 from 11:00am-2:00pm for a day of excitement and family fun with Christmas Crafts and Christmas themed art for the children to get involved in. They can also go on the InSpire Kids Trail.
A Cathedral spokesperson told CNI: "A variety of Christmas themed arts and crafts will be available, alongside our InSpire Kids Trail! Come in out of the cold this winter, for a day with the family. We look forward to welcoming you to the Cathedral. Normal admission fees apply, refreshments will be provided."
Belfast Cathedral is located at Donegall Street, Belfast BT1 2HB. For information of other events and news at the Cathedral, check out their website – [[] https://www.belfastcathedral.org/ ]
Dublin Christmas Tree decoration workshop
Christ Church cathedral, Dublin, will host a Christmas Tree Decoration Workshop on Saturday 7 December from 2–4pm. This event will be for children and adults, 8 years and upwards. All materials will be supplied and the event is free with the cathedral entrance fee. Pre–booking is required and intending participants should email the cathedral's Head of Education, Dr Ruth Kenny, at ruth.kenny@christchurch.ie
New minister for Derry church
There is to be a new Reverend at Carlisle Road Presbyterian Church, it has been announced.
Rev. Ross Kernohan is to succeed Rev. Dr. Robert Buick who retired in July last year.
Mr Kernohan grew up within Kells Presbyterian Church and attended Antrim Grammar School. He went on to study Computing Sciences at University of Ulster in Coleraine and worked in that area with Christ Evangelism Fellowship and Samaritans Purse, before becoming a Youth Minister at Church in Scotland.
Afterwards, Mr Kernohan went to Switzerland to work with a Christian humanitarian aid organisation called Medair. While there he met his German wife, Fanny, who was also working with the organisation. They have three children, 8-year-old Benjamin and 6-year-old Jacob 6 and 4-year-old Gabi.
Medair gave the family opportunities to travel to Africa and "God opened the doors for us to serve in Uganda as Pastor of Kampala International Church, Bugolobi (KICB)," Mr. Kernohan said.
"Now He has given us the opportunity to be Minister of Cross Roads and Carlisle Road Congregations."
He commented: "The church needs to continue to step into the gap and continue to be the hands and feet of Jesus.
"We want people to share that same level of love, support and encouraged that we enjoyed.".
The Installation is to take place on Friday December 13 in Carlisle Road Church at 7.30pm.
Called to Aghadowey
The Rev. Knox Jones is resigning his charge of Fahan and Waterside Presbyterian Churches after receiving a Call to the Congregations of Aghadowey and Crossgar in the Presbytery of Coleraine and Limavady.
Mr. Jones said: "I am delighted to accept the Call.
"I have seen significant changes over the fourteen years I have ministered in the City. I have enjoyed working with the Kirk Sessons."
His Installation is also to take place on Friday December 13 in Aghadowey Church.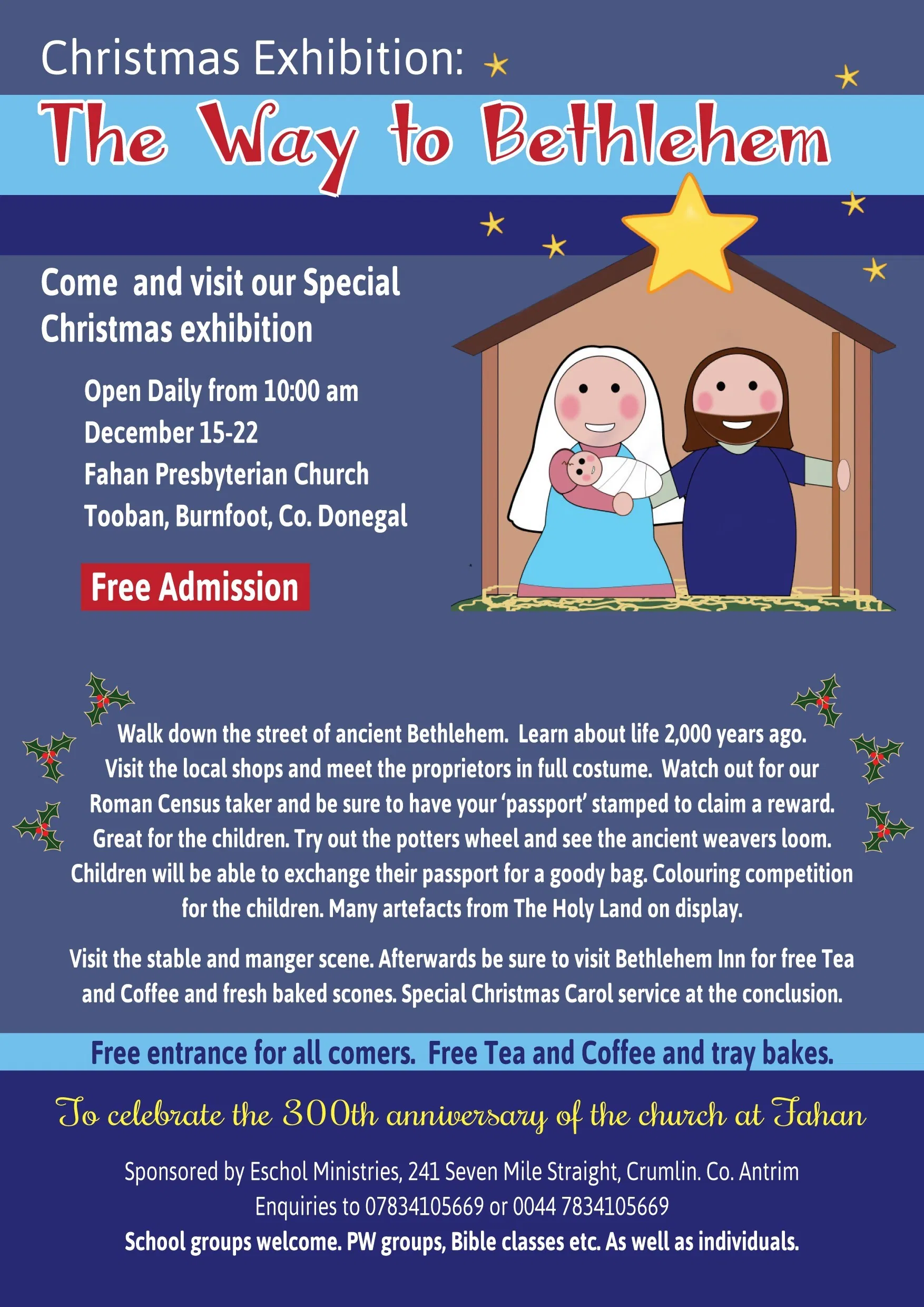 DraggedImage.eff4b92879a94869adf0544cf1df27b5.png
Image-1.0e28697041fd4e1da4fbd155dec58e20.jpg
Image-1.cc636984b8d74400a84ddfe9959be92b.png