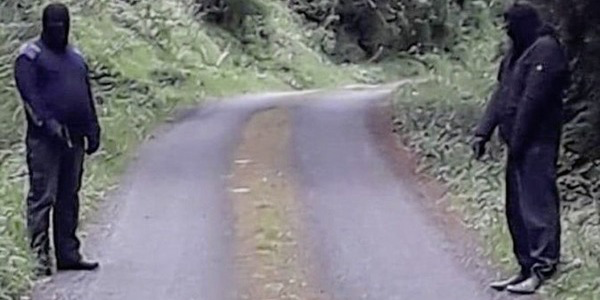 Photo above – Continuity IRA 'patrol' roads in rural Fermanagh
The organisation has been recruiting and regrouping in the Fermanagh area and a statement with the pictures claimed it shows "the CIRA can operate at any time day or night in south Fermanagh"
NI education minister Peter Weir confirmed that schools in Northern Ireland will not be returning at all in June.
The minister did say that certain groups could return in August, but he also explained that there would be a 'phased return' in September, with pupils combining remote learning with some attendance at school.
Teachers support Archbishop Martin's call to cancel 11-plus
Education Minister Peter Weir said there was no "viable alternative to put in its place"
Another crucial issue was discussed on Thursday, the possibility of Stormont lifting restrictions on people from different households meeting up indoors.
However, the Executive decided against lifting this restriction at present. This was among the issues covered in the live blog running through the day on the News Letter website. You can read the blog here
It was encouraging to read that EasyJet have confirmed plans to reopen flights out of Belfast International Airport from the middle of June.
The routes included will be Belfast to Birmingham, Bristol, Edinburgh, Glasgow, London Gatwick, Liverpool and Newcastle.
Taoiseach hopes to 'accelerate' reopening of society
Leo Varadkar said the public's actions have worked as the Republic is reporting a very small number of new Covid-19 cases every day
NI Equality Commission warns that Protestant boys more likely to be unfairly disadvantaged by missing school
[[] https://www.newsletter.co.uk/education/equality-commission-warns-protestant-boys-more-likely-be-unfairly-disadvantaged-missing-school-2860749 ]
Bishop Noel Treanor on reopening of churches
[[] https://www.catholicbishops.ie/2020/05/18/statement-from-bishop-noel-treanor-on-the-re-opening-of-churches-for-private-prayer/ ]
Derry parishioner senses 'drawing together' as churches reopen
The Irish Times
For parish priest Father Michael Canny it has been a relief to reopen the doors. … In the Church of Ireland, the Bishop of Derry and Raphoe, the Rt Rev …
[[] https://www.irishtimes.com/news/ireland/irish-news/derry-parishioner-senses-drawing-together-as-churches-reopen-1.4258583 ]
DraggedImage.ab59340b1330429790bffd51026f7444.png