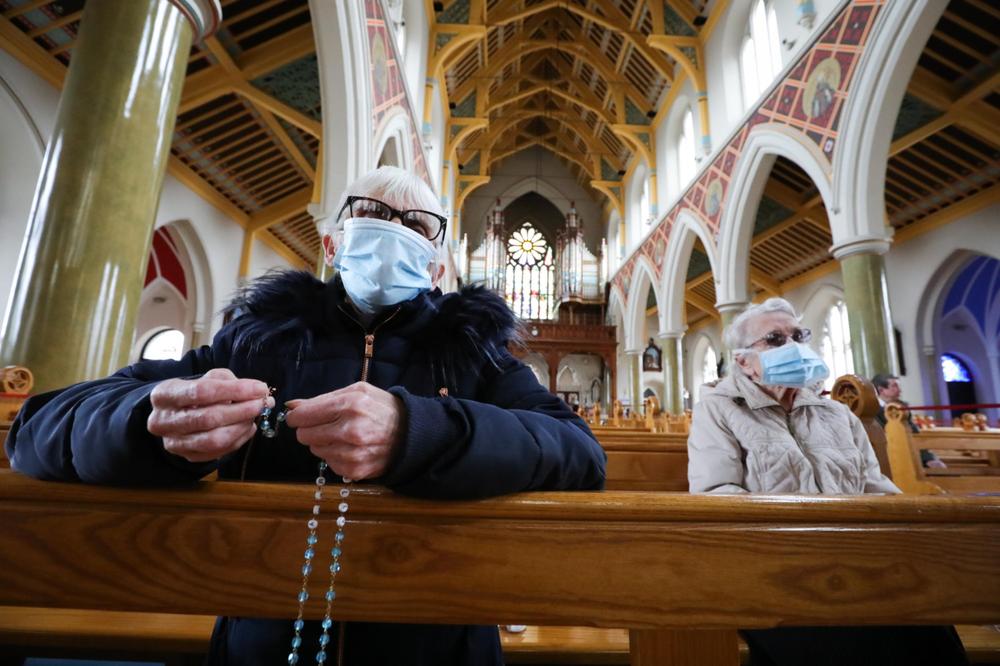 Survey a "wake-up call" for the Catholic Church
Photo above – One in five may never go back to Mass after Covid
Two Belfast priests say new research, which reveals that one in five people who went to Mass regularly before the pandemic may not now return, is a "wake-up call" for the Catholic Church, Lauren Harte writes in the Belfast Telegraph
While just 4% of people surveyed said they had no intention of returning to Mass after the pandemic, a further 19% of people who previously attended regularly before the Covid-19 restrictions came into force indicated that they did not know if they would ever return.
Meanwhile, 36% said they had already returned to attending Mass regularly since services resumed almost three months ago.
The details emerged in research carried out by Amarach on behalf of the Iona Institute, a Christian advocacy and research organisation, and published in The Irish Catholic newspaper.
Churches in Northern Ireland closed their doors to the general public in mid-March as the UK went into lockdown.
Buildings were initially allowed to reopen for private prayer with social distancing being observed on May 20.
The full resumption of services with worshippers back in the pews for the first time in 15 weeks followed on June 29.
Since then the numbers attending services has been substantially reduced and with every other pew roped off to enable social distancing.
Among the other new measures introduced was the required use of hand sanitisers, worshippers exiting and entering from different doors if possible, encouraging the wearing of face masks, and the distribution of communion bread only.
In early May, Fr Paddy McCafferty of Corpus Christi parish in west Belfast began hearing confessions outside his Ballymurphy church ahead of its full reopening.
He said the latest findings don't alarm him in the slightest as most members of his congregation are returning either on Sunday or weekdays.
"As a Church we are still very restricted in terms of the numbers allowed into the church for safety reasons so at the moment everyone isn't back at Mass yet.
"It's reality and to be expected that some people won't come back as they will have got out of the habit. Perhaps that's the only reason that they went and now that habit has been broken so naturally they won't return.
"There are others who are waiting for the right time to physically return to Mass and they are continuing to join in via the webcam every Sunday or daily in some cases. They are feeling cautious because this pandemic has by no means gone away and people have to be and feel safe."
During lockdown, churches became creative in their use of webcams and social media but regulations preventing many weddings, christenings and restrictions on funerals proved a difficult cross to bear.
Only 6% of those surveyed who are not currently attending Mass said they are happy to continue watching online instead.
"The online offering is the best we can do in the present situation but it's not ideal," Fr McCafferty added.
"The ideal is participation with the community worshipping God together."
But Fr McCafferty said the research findings are a "wake-up call at a wider level" for bishops and priests.
"There is an opportunity here for the Church to look seriously at addressing why people are drifting away from the faith and not just because of the coronavirus pandemic," he added.
But Fr Gary Donegan from the Passionist Community in Crossgar believes it is still early days.
He said: "A lot of elderly and infirm people have now got used to watching Mass online and at the start of the pandemic a few clergy did ask if they would ever go back to being physically present. Previously we devoted every first Friday to visiting the sick but that has now extended to Wednesdays and Thursdays as the lists have grown ever longer because so many people are still choosing to remain at home.
"Will we see those people coming back in the doors? The reality is that I'm just not sure and it's possibly because of fear.
"At the moment I think it's too early to call and like many things until any semblance of normality comes back and if and when there's a vaccine then we can't judge it," he added.
"There are also people tuning in online who would never have been near a church. That's something I've discussed with clergy from other denominations too because it's been so surprising.
Fr Donegan, who has been nicknamed 'the priest with the jeans' for his work on the street, believes the pandemic has provided the Church with a fresh chance to reach out to practising Catholics who have left the pews.
"For many this is a chance to climb off the perches they were on and get down into the hood as it were — go and find whatever medium they need in order to
engage with people," he said.
"I know that if you're sitting waiting for an 80% practice rate again, you might as well be orbiting Saturn. That 80% is actually out of the street and now there's an opportunity to reinvent."
Courtesy The Belfast Telegraph
September 18, 2020
St-peters-Cathedral.jpg