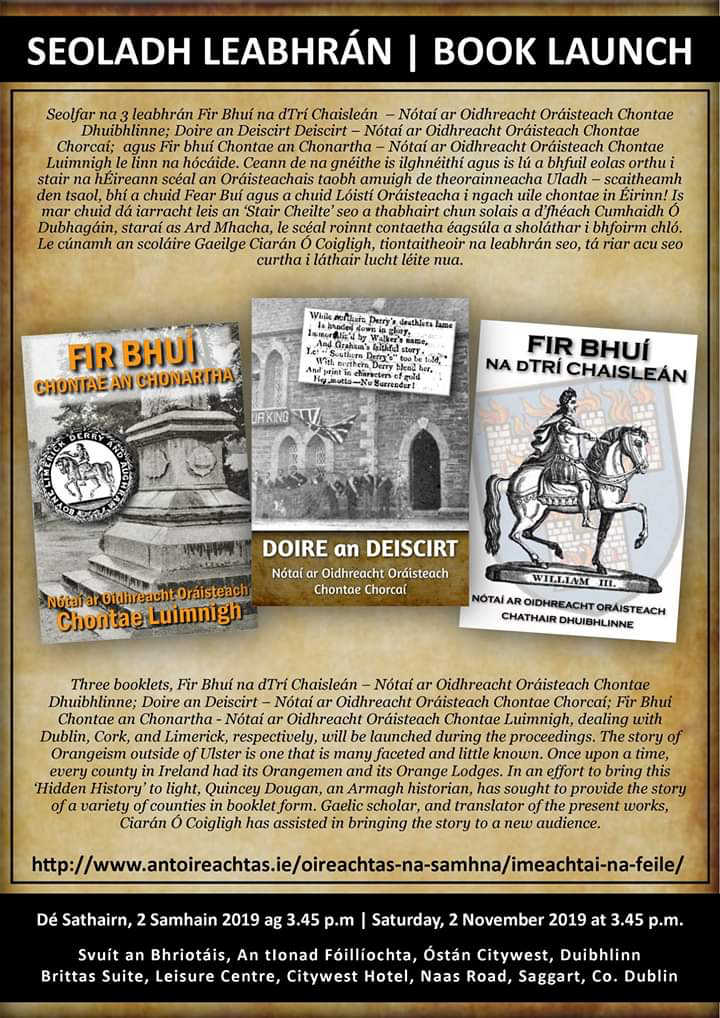 Yesterday CNI reported that booklets in Irish about the Orange Order in the Republic of Ireland were to be presented at a conference in Dublin.
The booklets are part of a personal project by Co Armagh historian Quincey Dougan (45) to bring the forgotten history of Orangeism outside Ulster to a wider audience.
The following is a statement by historian Quincey Dougan –
"Today I attended the largest Irish language festival in the Republic of Ireland- a truly massive event in the Citywest Hotel and conference centre Dublin that takes place over 5 days. The purpose was to launch three booklets covering Orange heritage and history in Irish (a first) translated by my good friend Ciaran, illustrating that my community respects the language. I was also there however to explain why my community opposes an Irish language act. It turned out to be very much a day of two sides….
"A slow start saw a decent crowd gather in the room. Credit where it is due and despite many many other events occurring, the Director of the Festival came along to meet Ciaran and I, and welcomed me. Ciaran got proceedings underway, unsurprisingly totally in Irish although with English translation on a projector screen. He focused on the background to the booklets, and the importance of introducing this part of Irish history, orangeism, to a new audience.
"Next I took to the floor. The room listened attentively while I gave a summary of Orangeism outside Ulster, after which I moved on to the 'elephant in the room'- an Irish language act. I got as far as explaining that I opposed such an act, as did the majority of my community, and started to explain why.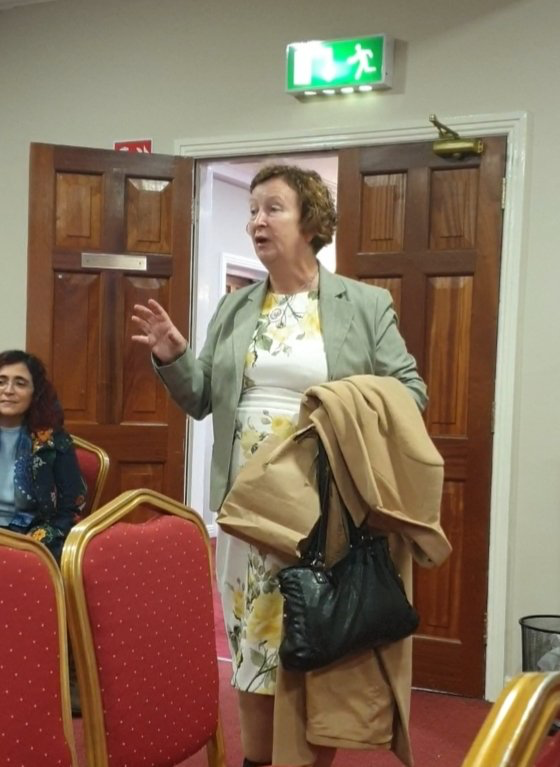 "At that point a lady in the room rose to her feet and began to address the room in 'energised' form. I'm told the broad scope of her comments were that she wasn't going to listen to this rubbish, and that I should not be speaking english at this event. She was asked to sit several times and she would be afforded a chance to speak following my address, all of which she ignored. When her rant was finished she stormed from the room followed by an entourage. What's important to mention is that this lady is a former president of the Gaelic League, a very prominent Irish language advocate, and Irish Republican in ideology.
"On her exit I resumed my address explaining WHY there is opposition to an act, with my closing remarks that Unionism was not the enemy of Irish- the enemy of irish is Sinn fein.
"From that point the remainder of the event was mostly positive. Some argument resulted in all questioning having to be asked in Irish then translated for me which proved cumbersome and dare I say lacking in respect for me personally, but we soldiered through. Difficult questions were posed and they were answered. After the close I had english discussions with several of those present. I have to be clear that I was warmly welcomed by nearly everyone who came along, and despite expressing views they totally disagreed with, they were open to the debate.
"Overall the day was a useful one though with two sides. The majority were open to discussion, however the protest of Íte Ní Chionnaith did reinforce that the fears of Unionism are not just an irrational pipe dream. There is a fascistic and absolutist minority within the Irish language movement that demands it gets what it wants in the name of respect, yet has no interest in expressing respect or even listening to the concerns of those coming from a different perspective.
"I want to pay a special tribute to Ciaran who had organised this event. Sometimes as Unionists and Loyalists we get caught up in what is difficult for us, but today I saw first hand the sorts of pressures that are being exerted on others who deviate from the norm. Ciaran is only interested in disseminating seldom heard history and with it encouraging conversations, and yet he is under tremendous strain as he challenges set norms. Remembering this is a community he has been a part of for decades and people that he knows all his life. Thank you to Ciaran for taking these risks and dare I say sacrifices.
"For clarity this exercise involved no funding from ANY source, body or individual. "
The statement also included the following information –
Dublin Orange Lodge has 3 brethren who are fluent in Irish. One is a native Irish speaker and 2 are degree educated Irish speakers one is Irish language school teacher and the other, a retired Irish Government civil servant. The Language should not be allowed to be turned into a weapon by Sinn Fein.
A unique day. I hope I've left some understanding better why I and other oppose an Irish language act. As I have said however, unfortunately that opposition was reinforced"
Image-1.34087479bcba47d49840df2b1ab99030.png
Image-1.d58c7b765fa04590a0b3f83b33ca3960.png