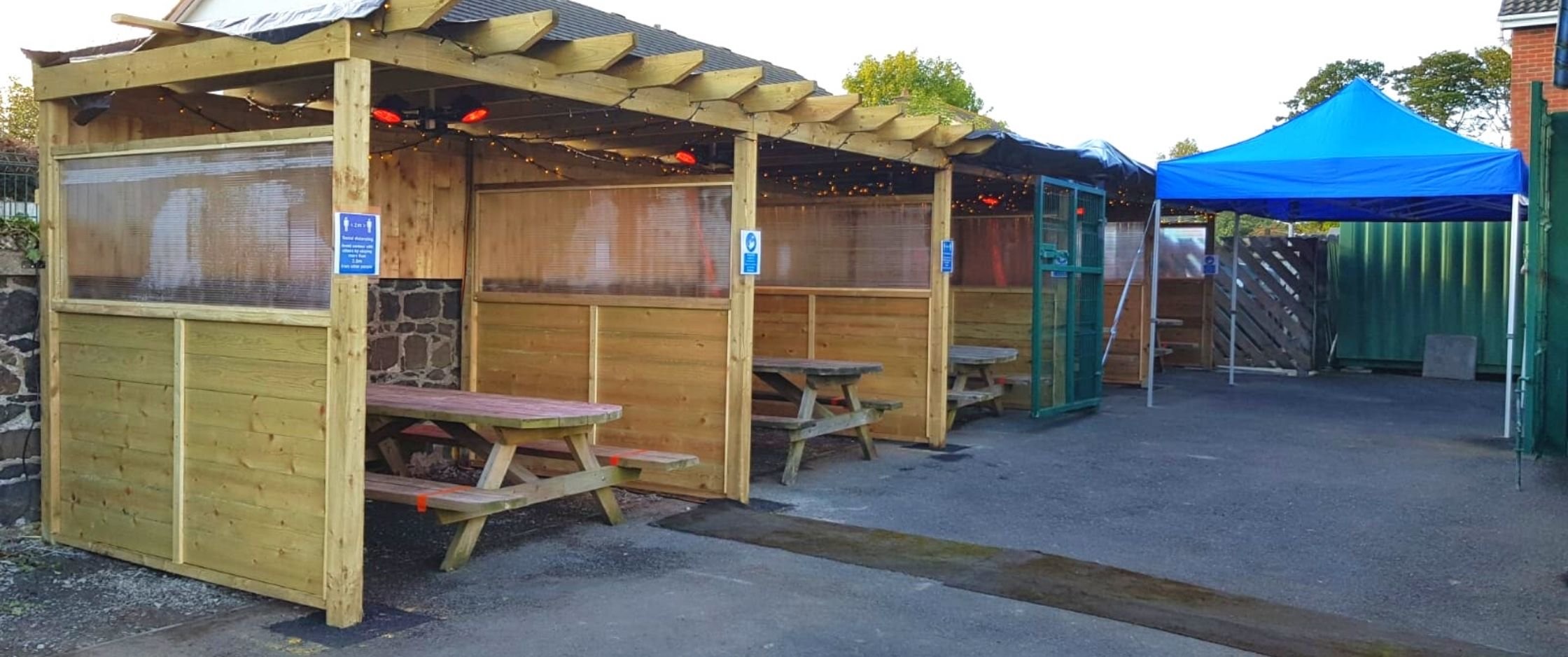 A further 30 seats to add to the 22 spaces inside
"Since lockdown and the restrictions that came with it, I have been trying to work out how we can continue working face to face with our young people," says LOGIC Café Development Officer, Matt Peach. "Our attitude at LOGIC has always been "What can we do?" as opposed to "What can't we do?"​
The answer, it turns out, was to build a series of five outdoor wooden 'pods' complete with heat and some atmospheric lighting.
The 'drop–in style club is an initiative of St John's, Moira, and plays an important role in the lives of the young people in the village. As with almost everything else, the work moved online in March, but the team always saw it as a temporary fix.
When restrictions allowed, the centre began 'Lunch on the Lawn', a simple but very successful programme that ran from late July until the schools opened. Parents signed up their children for a 45–minute lunch slot and local businesses supplied lunch packs. Apart from one exceptionally wet and windy day, the gazebos, lighting and heaters purchased with some summer funding worked very well.
Faced with the limitations of a relatively small building, it made sense to run LOGIC outside, but with autumn and winter approaching they realised they would need something more substantial than gazebos.
A 'eureka' moment
Inspired by the 'pods' outside a local coffee shop, Matt and the team began planning their own outdoor solution to the problem of increasing their capacity whilst ensuring social distancing. They identified a perfect spot on site and with the blessing of the rector and vestry plus a generous gift to add to their funds, they set to work.
"With the help of some great volunteers we were able to cut down a hedge, clear the ground and build the pods within 11 days," says Matt. "We built 5 pods in total, all fitted with outdoor heaters and fairy lights. Each pod seats 6 young people (whilst maintaining social distancing) so this has given us a further 30 seats to add to the 22 spaces we have inside. The whole project cost about £3,000."
LOGIC opened up at the end of September with the best set of "raring to go" volunteers, eager to meet with and care for the young people. "On the first night we were blessed to welcome 45 young people into the grounds including 15 new members. Things of course are different – we now take temperatures of everyone at the gate, ask the set COVID questions, have gallons of hand sanitiser on tap and continually encourage social distancing. To go inside the building for a game of pool or X–Box you have to book a slot and the staff on the front desk or in tuck shop wear visors/PPE, but it's worth it. Our God has been faithful, he is our provider and he continues to bless this work."
Logic-cafe.jpg