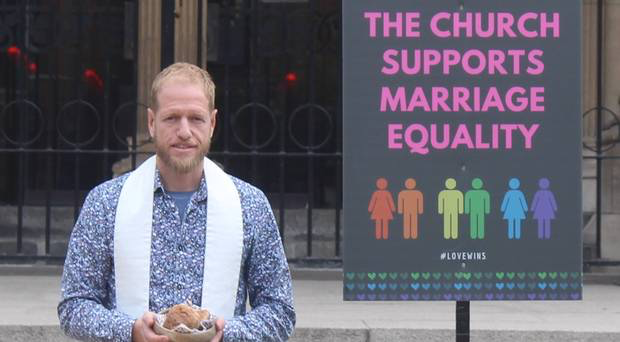 Pastor Steve Ames of Harbour Faith Community in Carrickfergus
A Co Antrim church has expressed its dismay after the Christian Institute threatened legal action against Secretary of State Julian Smith if incoming same-sex marriage laws for Northern Ireland do not protect "religious freedoms", Ralph Hewitt reports in the Belfast Telegraph.
Harbour Faith Community in Carrickfergus, which campaigned for same-sex marriage here, believes no one should feel excluded from any church based on a person's gender or sexuality.
The Christian Institute, which backed Ashers Baking Company in its row over a cake with a slogan supporting same-sex marriage, claims the laws coming to Northern Ireland in January will not include provisions to protect religious freedoms and free speech in the way that they do in England, Scotland and Wales.
The Christian body may take court action over gay marriage laws
Extend same-sex marriage right to all couples, Conor McGinn says
A law to legalise same-sex marriage here was passed by Westminster in July.
The Christian Institute stated last week that religious bodies and celebrants must have protection so they cannot be forced to take part in a same-sex wedding.
However, the pastor of Harbour Faith Community, Steve Ames, believes that the Christian Institute's threat of legal action has only brought further negativity from the church towards the LGBT community.
"We feel that the LGBT community receives enough hostility as it is from the wider community and that often comes from Christian voices, sadly," he said.
"For us, the Christian Institute seeking protections from having to marry same-sex couples is sending a further negative symbol that there is something wrong with same-sex relationships. That for us is frustrating.
"There have been incidents of mental health, anxiety and depression issues amongst the LGBT community.
"We would like to see the church being a more compassionate and helpful voice."
Mr Ames added his church wants to marry same-sex couples in its congregation and said the CI's concerns over religious protections are "completely unfounded".
In response, Simon Calvert of the Christian Institute said it was "untrue" to suggest that believing in the Bible's teaching on marriage means you don't love family or friends in the LGBT community.
He said: "Christ said: 'A man shall leave his father and his mother and hold fast to his wife'. He also said: 'You shall love your neighbour as yourself'.
"Christians who take His words seriously are perfectly capable of upholding both these teachings at the same time."
Mr Calvert also stated that after the Ashers cake row "no one doubts" that people will attempt to use the law to attack those who believe in traditional marriage and called on the Northern Ireland Office to prevent that.
A Government spokesperson previously stated the Secretary of State informed Parliament last month that a public consultation on the issue of religious same-sex marriage and protection of religious freedoms in Northern Ireland is being prepared for publication, subject to confirmation by an incoming government.
Belfast Telegraph, November 26, 2019
DraggedImage.a2ef0770e9124bb0bfc8ba176837c053.png