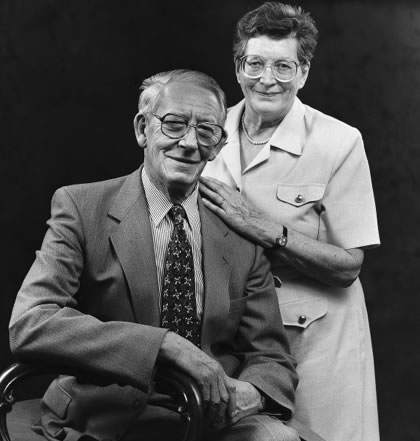 Jim Rea tells how dad of victim met UVF men despite bomb fears
Photo above – Senator Gordon Wilson and his wife.
A former president of the Irish Methodist Church has told how the venue for a secret meeting he arranged between Enniskillen peacemaker Gordon Wilson and the UVF had to be changed twice because of fears that it could be bombed.
The Rev Jim Rea says in a new book that Mr Wilson, whose daughter Marie was killed in the 1987 Enniskillen bombing, was unfazed by the danger and the early 1990s meeting, at which he urged the loyalist terrorists to renounce violence, went ahead.
Mr Rea explains in Reflections From the Road that Mr Wilson, who died in 1995, told him he was disappointed when a similar clandestine meeting with the Provisional IRA yielded little progress.
Despite that, the peacemaker accompanied him when he went to meet three UVF leaders on Belfast's Shankill Road after the original venue of the meeting was switched over bomb fears.
"I watched the UVF men moved to tears as Gordon pleaded with them to give up guns and move forward," Mr Rea says.
"It was obvious he was sowing the seeds of hope when they admitted to him that the Troubles had to end because there was no future in violence."
The efforts of Mr Rea, a regular contributor to Radio Ulster's Thought For the Day, helped create the conditions that led to the IRA and loyalist paramilitaries declaring ceasefires and backing the Good Friday Agreement a few years later.
His book also details the heartache he felt after chance meetings with Mr Wilson's daughter Marie and another future victim, Paul Maxwell from Fermanagh, who was killed alongside Lord Mountbatten in the IRA's Mullaghmore boat bombing.
The cleric says that he drove Paul and his father John to a rugby match between Ireland and Scotland at Dublin's Lansdowne Road in 1974.
Mr Rea recalls Paul, a friend of a friend, as a "pleasant, well-mannered young man" who was excited by Ireland's victory.
In August 1979, he discovered to his horror that Paul, who had been working as a boatman for Lord Mountbatten, had died in the bomb attack.
He says he thought of him as he watched Prince Charles visiting Mullaghmore in August last year for a memorial service.
Mr Rea also recalls meeting Marie Wilson a year before her murder.
After he preached at a Methodist church in Enniskillen, she approached him and asked him if he could give her a lift back to the Royal Victoria Hospital in Belfast, where she was a nurse.
Mr Rea, who was a minister in the east of the city at the time, says he was unable to help because he was staying in Fermanagh for another service the next day.
"I still regret not having that couple of hours with her on the journey back to Belfast that evening," he adds.
The book is not all pain and heartbreak, however. In a lighter moment, Mr Rea tells of an episode in the 1960s when Catholic friends walked in a Twelfth of July parade in Belfast.
At the time, he was a member of the now defunct Belfast Military Band, which accompanied an Orange lodge on the march.
One year, however, six musicians from St Peter's Brass and Reed Band, from the Falls Road, accepted an invitation to join them on the parade.
The west Belfast bandsmen's Protestant friends called them by their Christian names only during the procession — and no one was any the wiser.
* Reflections From the Road, by Jim Rea – available on Amazon
Report by Ivan Little, courtesy Sunday Life, 15 November 2020
Senator_Gordon_Wilson.jpg