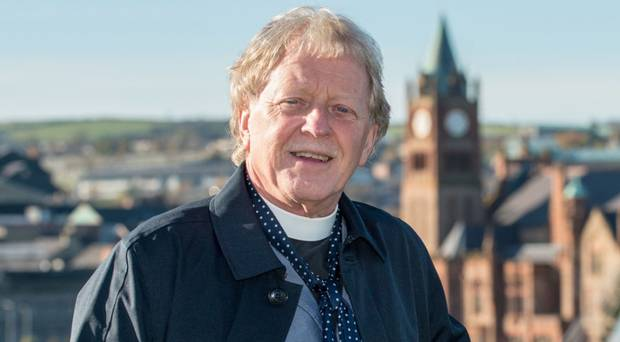 A Presbyterian minister whose friendship with the late Martin McGuinness split his congregation has announced his retirement.
Rev David Latimer has revealed he will step down in the new year.
The 68-year-old arrived in Londonderry over 30 years ago and stood in front of First Derry Presbyterian Church.
Situated on a notorious interface between the loyalist Fountain and republican Bogside, it was spattered with paint and sheltering behind high security fences.
While the building has lost its war-torn exterior after Rev Latimer made a direct plea to Mr McGuinness in 2008, the number of families who gather to worship and hear him preach each Sunday has decreased as a direct result of the unlikely friendship between the two men.
Rev Latimer said that while it saddens him the congregation is smaller than when he arrived, he takes heart that numbers at Monreagh Church in Co Donegal, where he is also minister, have flourished.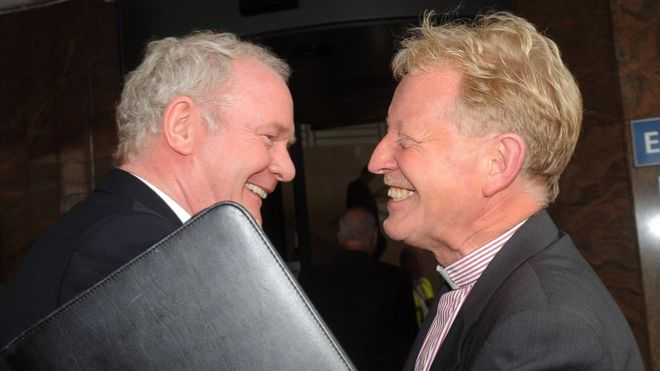 Martin McGuinness and Rev David Latimer at Sinn Fein's annual conference in 2011
In retrospect he thinks the work towards building peace he began with Mr McGuinness, who died in 2017, is what God called him to do.
And he said this will be the focus of his retirement years, along with time spent with his wife Margaret, three daughters and the couple's grandchildren.
Speaking to the Belfast Telegraph, Rev Latimer said: "In the new year it will be exactly 32 years since I first preached in the pulpits of Free Derry and Monreagh.
"We have just opened a new hall at the Monreagh church last weekend, a milestone for the congregation that dates back to 1644 and First Derry is in pristine condition, so I think that maybe this is the time for a different approach and a fresh face and voice to come in and take the congregation a bit further.
"Margaret and I came in late 1987 to see the church and we stood outside in Upper Magazine Street and looked at a building that had nothing attractive about it – big wire mesh fencing, with plastic bags stuck to it, all the windows covered in stained bullet proof covers.
"Inside the church, even with the lights on, it was not bright and looking back we wonder what drew us. And yet we felt it was the right thing to do."
He recalled how his unlikely friendship began.
"The church was on the front line and it was the target for regular attacks," he said.
"Then one morning, after I was told the church had again been splashed with paint and without telling anyone, I went on the radio and appealed to the only man who could sort it out, and I named him as 'Martin'.
"When I wonder if there was a reason for David Latimer coming to Derry, I am convinced that reason was for David Latimer and Martin McGuinness to meet up. I am absolutely convinced of that.
"We really had something very special. It shouldn't have happened. A British Army chaplain and an IRA commander: it's the stuff of fiction and yet it became real.
"It confounds the critics who in the course of my journey with Martin would have been pointing the finger and saying 'David Latimer doesn't know what he is doing, he is being sucked in by Sinn Fein', but there was nothing of that in it at all."
Among those who were critical of his growing friendship with Mr McGuinness were around 30 families who no longer attend First Derry.
Rev Latimer said: "As I look back and see the impact that it had and the turbulence it created amongst people which led to many of them leaving the church, I say to myself: 'How did I do that?'. And yet I recognise it was the right thing to do.
"First Derry is smaller today than it was before I reached out to Martin and became friendly with him."
Rev Latimer also spoke at the Sinn Fein ard fheis in Belfast in 2011, while in 2017 he addressed mourners at Mr McGuinness's funeral. Their friendship is fully chronicled in a book published 14 months ago.
He added: "I lost people at the time of the ard fheis speech, more at the time of Martin's funeral, and others left when I wrote the book.
"Many of those have been people who have not suffered directly as a result of the Troubles, which puzzles and saddens me.
"I have other people in the church who have suffered and lost loved ones who remain and who would be very supportive of me and would encourage me to keep on doing what I am doing.
"And yet in contrast to First Derry, my church at Monreagh, along the border just six miles from Derry, has grown over the years and the support I have there is virtually 100%."
Rev Latimer said he will not return to First Derry or Monreagh in any capacity as it would be unfair to his successors, but he does intend to remain in the city and continue his peace-building work.
He said: "The city has over the years welcomed us and really treats me like one of its sons.
"That informs me that I would want to spend the rest of my life living in Derry among the people that I have grown to love."
Donna Deeney in Belfast Telegraph, 9 November, 2019
DraggedImage.22693678822140f290c767ce95b34150.png
DraggedImage.b4de1b96bc024f31aab528ba6cf6abe9.png