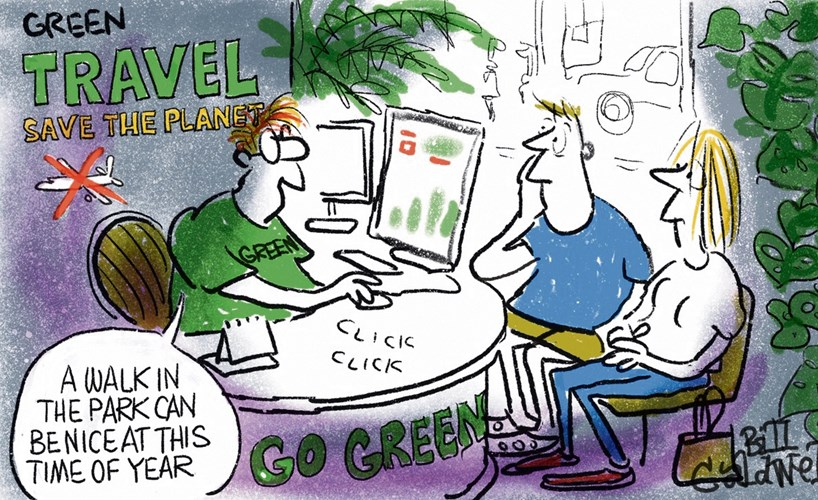 Leaving it to national governments and international agreements may no longer be enough, says David Chillingworth in The Church Times
A FRIEND said that it was time to consider not flying off to the far side of Europe as a group of friends, just for the fun of it. For me, that was the moment when response to climate change began to become a personal challenge.
Up to now, we have tended to wait for national governments and for painfully slow international negotiation — which always delivers less than we hope for and never moves quite fast enough. Our personal response has been more about stirring that national and international response than thinking that we ourselves can make a difference.
But, suddenly, a moment of change has arrived. There is new urgency in the language: climate crisis, global heating, and climate-change deniers. Striking schoolchildren jolt us out of our complacency (News, 15 March). Greta Thumberg demands change at the World Economic Forum at Davos and lets her actions speak as she travels from Sweden by train. Emma Thompson's flight from Los Angeles to join the Extinction Rebellion protests is rightly seen as inconsistent.
THE obvious question to ask is whether the actions of a single individual can make any meaningful difference. Sadly, the answer must be that they cannot in that direct and immediate sense. In his recent book, Climate: A new story (North Atlantic Books, 2018), Charlies Eisenstein acknowledges that, partly because of the ongoing systemic nature of climate change, one flight to New York not taken cannot be causally connected to one particular piece of Arctic sea ice not melted.
But this is not the only way of looking at the question. The environmentalist Derrick Jensen argues that we should not see ourselves as separate from the earth. "We are nature," he says. "Of course results matter to you, but they don't determine whether or not you make the effort."
I am also painfully aware of what some call "generational injustice". Our children and grandchildren are going to have to live their lives more thoughtfully and with a much reduced carbon footprint. Those of us who are baby-boomers need to signal some solidarity with that.
I think that the time is coming when each of us is going to have to decide what our response is going to be. The climate scientists are quite clear that this means "Fly less; drive less; eat less."
There are some signs that these changes are already under way. "Flyskam" has quite dramatically reduced flying in Sweden: it is down by five per cent in the first quarter of 2019. But more is needed. The Energy Saving Trust suggests that the carbon-dioxide emissions per person for a trip from Edinburgh, where I live, to London are 144kg for a plane and 29kg for the train. I'm feeling the start of a reluctance to fly long-haul just because I enjoy travel.
The world of personal car-ownership and use is increasingly in flux. We are getting closer to the point when electric cars may become the norm — but in range, cost, and charging infrastructure, we have some distance to go.
Questions of diet have been changing for a long time. A casual glance at the weekend papers shows that food has become recreational and a significant component of a healthy lifestyle. Many of us have become flexitarians: not doctrinaire vegetarians or vegans, but happy to eat in that way. The "planetary health diet" is the result of findings from the one source of advice on this. The EAT-Lancet Commission on Food, Planet, Health suggests that Europeans would need to eat 77 per cent less red meat and 15 times more nuts and seeds.
IMPORTANT as all this is, I suspect that more fundamental changes are needed and are on the way. In May, the Prime Minister of New Zealand, Jacinda Ardern, introduced a radical budget. She called for "spending dictated by what encourages the 'well-being' of citizens rather than focusing on bottom line measures like productivity and economic growth". It takes a brave political leader to suggest to her electorate that perpetually rising economic output and prosperity will not always be self-evident goods.
But there are straws in the wind. Recent efforts to promote a four-day working week in the UK are based on research that suggests that people may be more productive if they are encouraged to have a better work-life balance.
Whatever form it may take, it is clear that change is coming and coming quickly. Today's protesting schoolchildren will very soon be tomorrow's voters. Exceptional climate events, such as this summer's record temperatures, are likely to become the norm. It is inconceivable that there will not be a steady — even if undramatic — personal response that becomes a broad movement.
The Rt Revd David Chillingworth is a former Primus of the Scottish Episcopal Church.
DraggedImage.646e9bfbbd0b47d9854a05a6fec28bb6.png