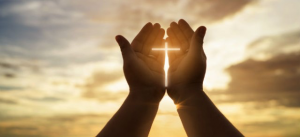 "And he told them, "Look, I see the heavens opened and the Son of Man standing in the place of honour at God's right hand!""
Acts 2:46 NLT
A year after my first wife, Katey, was forced to retire from teaching due to multiple sclerosis, she suddenly collapsed and was rushed into hospital. I was away in the USA, preaching, so our extended household took charge and fed me the news. They advised I stay where I was and came home as planned, since Katey was not in immediate danger and there was little I could do. Four days later as I flew over the Atlantic no one could reach me with the news that Katey was deteriorating.
It came down to Katey's ability to fight for her life, while the rest of us prayed. Within 48 hours Katey showed some signs of improvement and did in fact recover. However, after a four-week stay in hospital, she was never able to walk again. There was still great joy, as we had been forced to prepare for the worst, but Katey returned from the brink of death.
As Katey lay fighting for life, I was battling with the reality of God's promise. Was it best for Katey to remain with me or to enter into the place of complete healing that is eternity? Was the Easter promise a solid one in which I might trust, or a polite way of dealing with the inconvenience of untimely death?
Death is final in all cases, except one. There are gospel stories of Lazarus and Jairus' daughter who were brought back to life, but each later died again. Jesus, however, was resurrected unlike any other person. He did not return to his old body but emerged from the tomb with a resurrected body that was no longer subject to physical constraints.
The power in the resurrection is that it is true and has the capacity to transform our whole approach to life. This same Jesus who was lifeless and lay in a stranger's tomb was resurrected by the power of God and emerges to reassure you that not only is there life eternal, but that there is abundant life now, wherever you find yourself.
A question: How confident are you in God's promise of resurrection?
A prayer: Lord Jesus, I thank and praise you that you are the resurrection and the life.
Bend-on-the-Bann.jpg